Zoë Bakes Cakes Cookbook Giveaway with an Anolon Baking Set
March 16, 2021 by Jenny
Happy Publication Day to Zoë François! Enter our US/worldwide giveaway to win a copy of Zoë Bakes Cakes: Everything You Need to Know to Make Your Favorite Layers, Bundts, Loaves, and More. The publisher is providing one copy to US members and EYB is offering one copy worldwide.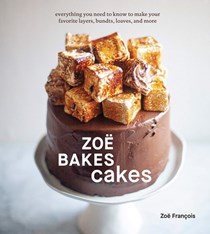 Back in 2018, I shared one of my cookbook dreams: "I wish that Zoë François would do a cookbook devoted to desserts because the sweet plates she shares on social media look divine. Holiday and Celebration Bread Book will be published in October and maybe she can start that dessert cookbook after that! Do you hear me, Zoë?" She heard me!
My cookbook dreams came true when Zoë François wrote Zoë Bakes Cakes: Everything You Need to Know to Make Your Favorite Layers, Bundts, Loaves, and More. It is a spectacular book with an extra bonus – the how-to (so many images) and author photos in the book were taken by Sarah Kieffer (a baker extraordinaire in her own right). Filled with all the cake knowledge that Zoë processes, recipes that inspire and impress all levels of bakers and the stunning photography – this book is a hit.
This stunner of a book is organized as follows:
Introduction (background on the baking guru)
Ingredients (a breakdown of ingredients)
Equipment (everything you need to should have for baking great cakes)
Cake academy (super-helpful cake techniques and food science)
Pound cakes, quick breads and bundts
Fruit-studded cakes-upside down or otherwise
Soaked cakes
Cake layers, loaves, and sheets
Light-as-air cakes
The layered cakes
Rolled and fancy cakes
Icing, frostings, buttercreams and ganaches
Fillings and flourishes
Our
takes you inside this beautiful book and features the following
The recipes provide measurements in both weight and volume. You needn't worry that the bakes here are too advanced, Zoë is with us every step of the way. There are more elaborate cakes but with the guidance and detailed instructions bakers of any level can achieve success.
I plan on making a few delicious treats from this book very soon with the first recipe being the Chocolate devil's food cake. I may head into the kitchen after this is posted to start it – it is a part of my job right?
Zoë recently provided details her new baking show – Zoë Bakes so be sure to check that out! Next Monday Zoë joins Brian Hart Hoffman to bake up some magic with Williams Sonoma. I'll be there – come join me. Lastly, the author offers some insight on this title on her site.
To celebrate this release our friends at Anolon are providing the US winner with a set of their bakeware shown above. This five piece set contains Two 9-Inch Round Cake Pans, One 9-Inch Square Cake Pan, a 14-Inch x 16-Inch Cookie Sheet, and an 11-Inch x 14-Inch Cooling Rack. Thanks Anolon!
Special thanks to the publisher for providing one copy of this book in our giveaway open to US members and EYB is providing one additional copy worldwide. Entry options include answering the following questions in the comments section of this blog post.
Which recipe in the index would you like to try first?
For another entry visit Anolon and leave a second comment about a product you would like to try.
Please note that you must be logged into the Rafflecopter contest before posting or your entry won't be counted. For more information on this process, please see our step-by-step help post and this forum post. Once you log in and enter your member name you will be directed to the next entry option – the blog comment. After that, there are additional options that you can complete for more entries. Be sure to check your spam filters to receive our email notifications. Prizes can take up to 6 weeks to arrive from the publishers. If you are not already a Member, you can join at no cost. The contest ends at midnight on June 26th, 2021.
a Rafflecopter giveaway