Baked to Order Cookbook Giveaway
March 18, 2021 by Jenny
Enter our US giveaway to win one of two copies of Baked to Order: 60 Sweet and Savory Recipes with Variations for Every Craving by Ruth Tam.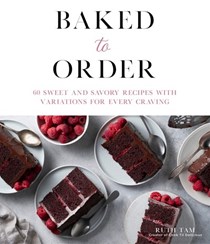 Ruth Tam is the creator of Cook Til Delicious where she documents home food experiments and shares some of her favorite recipes — some passed down, and some developed in her kitchen.
She started baking after moving to Canada (while waiting for her work eligibility to kick in; she's a professional harpist) by checking out library books, reading blog recipes and spent a cold Canadian winter next to the stove for warmth and to feed her creativity. Due to her obsessive and perfectionist nature, she ended up mastering the art of baking and eventually applying to be on the Great Canadian Baking Show in 2017 (I don't believe she made it past the auditions which is the show's loss).
If you follow her blog and look at the recipes in this gorgeous book you'll find that Ruth has the soul of a baker.
Our
takes you inside this beautiful book and features the following
Ruth's stunning book is filled with creative twists on both sweet and savory bakes, measurements are given in both volume and weight with step-by-step photos of several techniques. Recipes range from Blueberry streusel muffins to a gorgeous Almond-buttermilk layer cake and will definitely please bakers of all skill levels.
Special thanks to the publisher for providing two copies of this title in our promotion. Entry options include answering the following question in the comments section of this blog post.
Which recipe in the index would you like to try first?
Please note that you must be logged into the Rafflecopter contest before posting or your entry won't be counted. For more information on this process, please see our step-by-step help post and this forum post. Once you log in and enter your member name you will be directed to the next entry option – the blog comment. After that, there are additional options that you can complete for more entries. Be sure to check your spam filters to receive our email notifications. Prizes can take up to 6 weeks to arrive from the publishers. If you are not already a Member, you can join at no cost. The contest ends at midnight on June 28th, 2021.
a Rafflecopter giveaway