Clodagh's Weeknight Kitchen Cookbook Giveaway
April 8, 2021 by Jenny
Enter our US giveaway to win one of three copies of Clodagh's Weeknight Kitchen: Easy & Exciting Dishes to Liven Up Your Recipe Repertoire by Clodagh McKenna. EYB is providing one additional copy worldwide.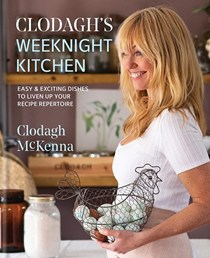 Clodagh's Weeknight Kitchen was published in the UK last October and released in the US this February. With 100 interesting, simple recipes from meat-free meals to quick-fix dishes and cupboard suppers, Clodagh offers the answers to all our weeknight dinner dilemmas.
There are loads of great cookbooks with simple weeknight recipes. The bonus here is that each recipe has the author's special twist with many dishes having international flavors.
Do you have meat lovers and vegetarians in your home? Make the Spiced chicken and chickpea curry and the Coconut, cauliflower chickpea curry for the non-meat eaters. There are similar spices and ingredients in both recipes so it will not feel like making two separate meals. Not all recipes are that interchangeable but those are two I noticed as I was reading through the book.
---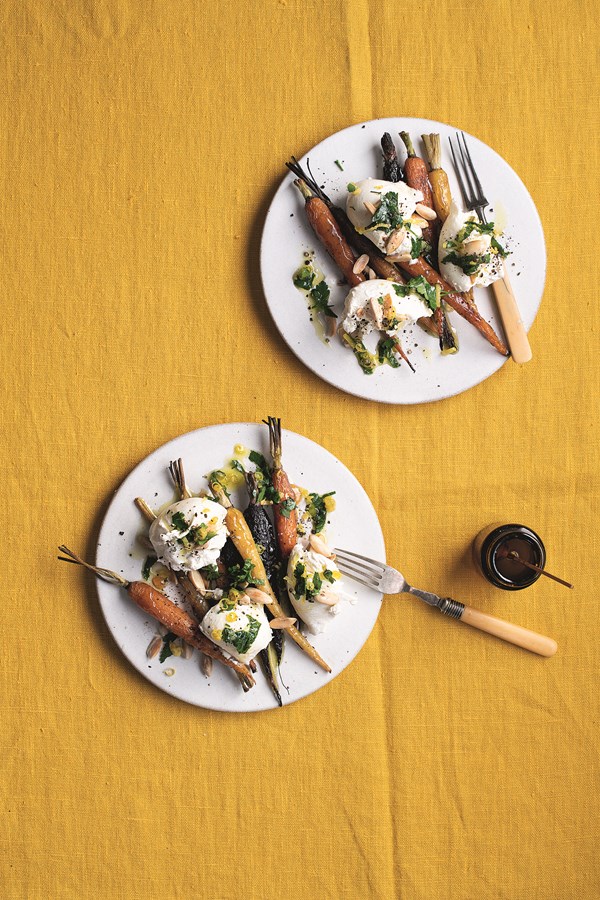 Honey-roasted carrots with torn burrata and salsa rustica
Add this recipe to your Bookshelf (click the blue +Bookshelf button).
Roasting carrots in honey is an absolute must! The sweetness of the honey with the carrots is just so delicious. You can also use butternut squash, pumpkin or courgettes instead of the carrots. If you have the carrot tops (the green leaves from the carrots) chop them up and add them to the salsa. Burrata is a soft cow's milk cheese made in Puglia, Italy. It could be mistaken for fresh mozzarella as they look similar from the outside, but once you tear a burrata open you will see it is filled with soft milk curds and cream.

Serves 4
16 small carrots
100ml (3½fl oz) olive oil
2 tablespoons freshly chopped flat-leaf parsley
2 tablespoons freshly chopped mint
100g (3½oz) whole almonds, chopped
zest and juice of 1 lemon
2 medium burrata balls
sea salt and freshly ground black pepper
Preheat the oven to 200°C/400°F/gas mark 6.
Put the carrots in a roasting tray, toss with 2 tablespoons of the olive oil and season with salt and pepper. Roast for 25 minutes, shaking the tray occasionally, until the carrots are tender and slightly blackened in places. Leave the carrots to cool slightly, then transfer to a serving platter.
Meanwhile, make the salsa rustica. Combine the chopped herbs, almonds, lemon zest and juice and the remaining olive oil in a bowl and season to taste with salt and pepper.
To serve, use your hands to tear each ball of burrata into large pieces, then set on top of the carrots and spoon the salsa rustica over the top. Finish with a little flaky sea salt and a twist of black pepper.
Classic Tiramisu
Add this recipe to your Bookshelf (click the blue +Bookshelf button).

I think tiramisu has to be my all-time favourite dessert, and this is my top way to make it. I am not going to give any alternatives because, for me, adding fruit or flother flavours just takes away from this perfect pudding – creamy with thin layers of velvet chocolate and notes of coffee throughout. You can make these individual desserts a day ahead.

Serves 4

3 medium free-range egg yolks
80g (2¾oz) caster sugar
450g (1lb) mascarpone cheese
200ml (7fl oz) strong brewed coffee or espresso, cold
14 boudoir biscuits (ladyfingers)
150g (5½oz) cocoa powder, plus extra to serve
Using an electric whisk, beat the egg yolks and caster sugar together in a large bowl until pale and thick. Add the mascarpone and whisk slowly until the mixture is pale and smooth. Stir in 50ml (2fl oz) of the coffee until completely combined.
Dip half the boudoir biscuits into the remaining coffee. Place equal amounts into the bottom of four glass coffee cups or small serving bowls. Alternatively, put the ingredients in a single glass bowl to make one large tiramisu. Spoon over half the coffee-mascarpone mixture and sprinkle with half the cocoa powder. Repeat with the remaining coffee-dipped biscuits, coffee-mascarpone and cocoa powder. Cover with clingfilm and chill in the fridge for 2 hours, then dust with a little extra cocoa powder before serving.
Recipes used with permission of Kyle Books.
---
Special thanks to the publisher for providing three copies of this title to members in the US and EYB is providing one additional copy worldwide. Entry options include answering the following question in the comments section of this blog post.
Which recipe in the index would you like to try first?
Please note that you must be logged into the Rafflecopter contest before posting or your entry won't be counted. For more information on this process, please see our step-by-step help post and this forum post. Once you log in and enter your member name you will be directed to the next entry option – the blog comment. After that, there are additional options that you can complete for more entries. Be sure to check your spam filters to receive our email notifications. Prizes can take up to 6 weeks to arrive from the publishers. If you are not already a Member, you can join at no cost. The contest ends at midnight on July 8th, 2021.
a Rafflecopter giveaway