The Modern Hippie Table – Cookbook Prize Package
October 29, 2022 by Jenny
Enter our US giveaway to win one of four prize packages containing a copy of The Modern Hippie Table: More Than 60 Recipes for Eating Simply and Living Beautifully by Lauren Thomas, Burlap & Barrel dishtowel and bottles of their Royal Cinnamon and Smoked Pimenton Paprika, and a Cheese Board and set of 4 cheese knives from Zwilling. Please check out our Calendar with Lauren's events.
The Modern Hippie Table: More Than 60 Recipes for Eating Simply and Living Beautifully by Lauren Thomas invites you to slow down and create a sanctuary at home, using food and conversation to bring people together, strengthen family bonds, and forge lifelong friendships.
The more than 70 recipes are elevated, yet simplified, with a mix of fresh fruits and vegetables plus quality prepared ingredients, ensuring the host has plenty of time to enjoy the gathering too. Gorgeous, doable decorating ideas for the tabletop include the use of flowers, linens, and surfaces in a unique way to set the scene quickly and economically and create an atmosphere of laid-back elegance.
With a selection of menus to help plan any meal, big or small, this lifestyle cookbook encourages everyone to find joy in the art of cooking and entertaining in a fun, relaxed, and approachable way.
Thanks to the publisher for sharing two recipes from this title for our Members to try now.
Loaded twice-baked potatoes
Add this recipe to your Bookshelf (click the blue +Bookshelf button)
Serves 4

Who doesn't love a baked potato loaded with sour cream, bacon, and cheese? It's a meal in itself, and I like to serve these with a basic side salad or as a side dish with the "Pittsburgh Style" New York Strip Steak
4 large russet potatoes
1⁄2 cup sour cream
2 tablespoons butter, melted
6 slices cooked bacon, chopped into large bits
1⁄2 cup chopped scallions
Salt and black pepper
1 cup shredded Cheddar cheese
Preheat the oven to 400°F.

Using a fork, poke holes in the potatoes in several places to allow for even heat distribution while it bakes. Place the potatoes in a baking dish, cover with foil, and bake for 11⁄2 hours, or until the potatoes are soft when poked with a fork. Let the potatoes cool just until you can pick them up with your hands. Cut the top one- third lengthwise off the potato and set aside. Using a spoon, scoop out the insides of the potato tops and bottoms, making sure to leave about 1⁄4 inch around the inside of the bottom potato sections, and place in a medium bowl. Set the skins aside. Turn the oven to a low broil.

Mash the potatoes in the bowl. Add the sour cream, butter, bacon, scallions, and salt and pepper to taste and stir until well combined. Stuff the potato skins with enough filling so that it makes a dome on the top. Evenly distribute the cheese on top. Place the potatoes on a baking sheet. Broil until the cheese is melted, about 2 minutes. Let cool for 5 minutes before serving.
---
Orange cranberry flax muffins
Add this recipe to your Bookshelf (click the blue +Bookshelf button)
Makes 24 muffins
Every time I make these delicious healthy muffins, I think of my cousin Dawn, who passed away too young from breast cancer. My mother-in-law found a similar recipe in a newspaper section dedicated to breast cancer awareness month and we both found comfort in making them. These freeze well and you can thaw them one at a time as needed. My favorite way to eat them is to slice them in half, stick them under the broiler for 1 minute, and top with butter. I think they are best served warm.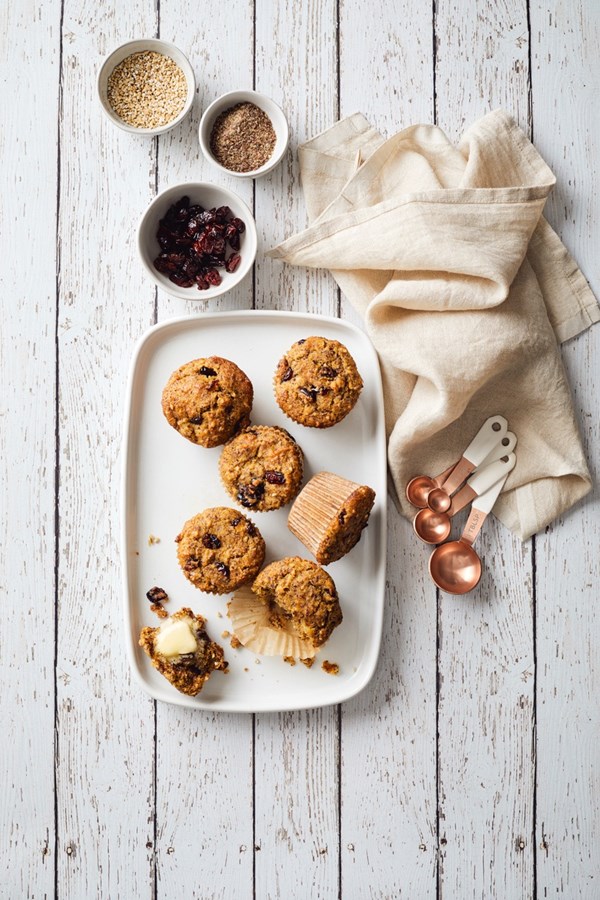 2 oranges
1 cup all-purpose flour
1 cup cornmeal
1 cup ground flax seeds
1/2 cup oat bran
1 tablespoon baking powder
1 1/2 cups dried cranberries
1/2 teaspoon salt
1 cup brown sugar
1 cup buttermilk
2 eggs
1/2 cup avocado oil
1 teaspoon baking soda
1/3 cup agave syrup
Preheat the oven to 375°F. Lightly grease two 12-cup muffin pans or use individual muffin cups.

Peel the oranges and discard the rinds. In a blender or food processor, purée the oranges until thick.

In a large bowl, combine the flour, cornmeal, flax seeds, oat bran, baking powder, cranberries, and salt and set aside.

In a medium bowl, combine the brown sugar, baking soda, buttermilk, orange pulp, eggs, oil, and agave syrup and mix well. Pour the wet ingredients into the dry ingredients and mix until well blended. The batter will be thick.

Fill the muffin cups two-thirds full and bake for 20 to 25 minutes, or until a tooth- pick inserted into the muffin comes out clean. Serve warm or at room temperature.
Reprinted with permission from The Modern Hippie Table by Lauren Thomas, The Collective Book Studio, October 2022.
Photo credit by Kristy Horst
Special thanks to the publisher, Burlap & Barrell and Zwilling for providing four copies of this title along with four sets of the products mentioned above in our promotion open to US addresses only. Entry options include answering the following question in the comments section of this blog post.
Which recipe in the index would you like to try first?
Please note that you must be logged into the Rafflecopter contest before posting or your entry won't be counted. For more information on this process, please see our step-by-step help post. Once you log in and enter your member name you will be directed to the next entry option – the blog comment. After that, there are additional options that you can complete for more entries. Be sure to check your spam filters to receive our email notifications. Prizes can take up to 6 weeks to arrive from the publishers. If you are not already a Member, you can join at no cost. The contest ends at midnight on January 2nd, 2023.
a Rafflecopter giveaway