Trap Kitchen Mac N All Over the World: Quick Bites – Cookbook Giveaway
October 30, 2022 by Jenny
Enter our worldwide giveaway to win one of two copies of Trap Kitchen: Mac N' All Over The World: Bangin' Mac N' Cheese Recipes from Around the World by Malachi Jenkins and Roberto Smith.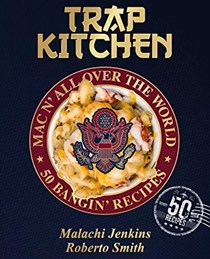 Trap Kitchen: Mac N' All Over The World: Bangin' Mac N' Cheese Recipes from Around the World by Malachi Jenkins and Roberto Smith: Three years after the release of their first cookbook Trap Kitchen: Bangin' Recipes From Compton and a whirlwind of success, former rival gang members turned famous chefs Malachi "Spank" Jenkins and Roberto "News" Smith are back with a second serving.
Their new title combines the soul of macaroni and cheese from the heart of Compton with global flavors. Sweet baby cheeses, this book is filled with a mac and cheese lover's dreams: German spaetzle bratwurst mac and cheese; Ikea mac – Swedish meatball mac and cheese and a world of other decadent recipes. Next March 2023, look for Trap Kitchen: The Art of Street Cocktails!
Our
takes you inside this book and features the following
I have made mac and cheese using their flourless cheese sauce and it was so much less work and delicious. Will be on my rotation to make again.
---
The authors/chefs took some time to answer a few questions for our members: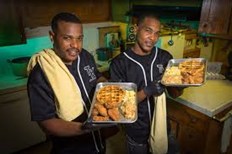 Malachi Jenkins (@trapkitchenofficial_) and Roberto Smith (@trapkitchen_news) are childhood friends from neighboring rival gangs, brought together by their two passions: food and girls. Today, they are the cofounders and owners of Trap Kitchen. The underground culinary experience was completely fueled off Instagram. Their colorful past has made them media darlings, having appeared on the Today show, Martha & Snoop's Potluck Dinner Party, VICE, Fox 11 News, and BET. Their popular Instagram pages feature videos of them cooking as well as some of their recipes and have over 200K followers.
Q: What first triggered your interest in cooking? Do you remember your first cooking memory?
We were motivated by trying to find a way to transition from being in the streets to being more progressive with our lives. We wanted to make our families and the people around us proud of our accomplishment.
Q: If you had to describe your cooking style, what would it be? (Besides absolutely delicious!)
Our cooking style is free format. I say this because we can go anywhere with it. We like to be challenged and to incorporate food from different cultures.
Q: Do you all have any cookbooks in your collection that you turn to for inspiration?
We really like, From Crook to Cook by Snoop Dogg, shout out to Snoop Dogg, Trejo's Tacos by Danny Trejo*, Bludso's BBQ Cookbook by Kevin Bludso and Jubilee by Toni Tipton Martin
*Note Danny Trejo has Trejo's Cantina: Snacks, Cocktails, and Amazing Non-Alcoholic Drinks from the Heart of Hollywood slated for release in April.
Q: What is the best part of your job? Do you sometimes feel like working with food all day keeps you from wanting to get creative in the kitchen?
Working with food is like being in our happy place. It brings peace and allows us to figure out new ways to perfect recipes.
Q: What is your go to for a quick dinner – quick dessert?
We love Tacos for dinner and home-made cookies for dessert.
Q: Tell us about your cookbooks or any future projects you are working on?
We just released our new cookbook Trap Kitchen: Mac N All Over The World: Foreword by Snoop Dogg, The book has 50 Mac N Cheese recipes with ingredients from all over the world. Next year we will release our first cocktail book, Trap Kitchen: The Art of Street Cocktails.
Special thanks to the publisher for providing two copies of this title in our promotion. Entry options include answering the following question in the comments section of this blog post.
What is your favorite add-on to jazz up your macaroni and cheese?
Please note that you must be logged into the Rafflecopter contest before posting or your entry won't be counted. For more information on this process, please see our step-by-step help post. Once you log in and enter your member name you will be directed to the next entry option – the blog comment. After that, there are additional options that you can complete for more entries. Be sure to check your spam filters to receive our email notifications. Prizes can take up to 6 weeks to arrive from the publishers. If you are not already a Member, you can join at no cost. The contest ends at midnight on December 31st, 2022.
a Rafflecopter giveaway