Malta – Cookbook Giveaway
August 27, 2023 by Jenny
Enter our US/UK/AU/NZ giveaway to win one of three copies of Malta: Mediterranean Recipes From the Islands by Simon Bajada.
Malta: Mediterranean Recipes From the Islands is a richly photographed cookbook which takes you to the captivating archipelago between Sicily and the North African coast, with 70 recipes showcasing the country's vibrant Mediterranean cuisine.
Many empires have influenced the Maltese kitchen over the centuries, leaving a seductive blend of Arab, French, Italian and English flavours. The result is a balance of raw agrarian produce, fruits of the sea, and well-honed technique against a backdrop of breathtaking rocky outcrops and spectacular blue water.
In this beautiful ode to Maltese cooking, author Simon Bajada (Baltic, The New Nordic) captures the everyday food of Malta for the home cook, including dishes such as Ftira, a flattened sourdough bread loaf drenched in tomato with tuna capers and olives; Aljotta, a hearty fish stew; and Bigilla, a broad bean paste used as a delicious dip.
Malta is a one-way ticket into the heart of one of Europe's most captivating hidden gems.
Our
takes you inside this beautiful book and features the following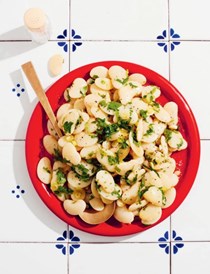 Special thanks to the publisher for providing three copies of this title in our promotion. Entry options include answering the following question in the comments section of this blog post.
Which recipe in the index would you like to try first?
Please note that you must be logged into the Rafflecopter contest before posting or your entry won't be counted. For more information on this process, please see our step-by-step help post. Once you log in and enter your member name you will be directed to the next entry option – the blog comment. After that, there are additional options that you can complete for more entries. Be sure to check your spam filters to receive our email notifications. Prizes can take up to 6 weeks to arrive from the publishers. If you are not already a Member, you can join at no cost. The contest ends at midnight on October 27th, 2023.
a Rafflecopter giveaway