Bread and Roses Prize Package Giveaway
November 14, 2023 by Jenny
Enter our US giveaway to win one of three prize packages which include a copy of Bread and Roses: 100+ Grain Forward Recipes Featuring Global Ingredients and Botanicals by Rose Wilde and a Hedley and Bennett apron; a five pound bag of of Whole Grain from Barton Spring Mill and a bottle of Graza Olive Oil. (Style of apron and whole grain may be different than as pictured below.) Rose has a number of events scheduled – be sure to see if she will be in your area.
In her extraordinary debut cookbook, Rose Wilde shares her joy of grain. From buckwheat, barley, and brown rice to spelt, sonora, and sweet corn, Bread and Roses is a comprehensive guide to choosing ingredients with an impact beyond the plate, resulting in delicious results.
Wilde's recipes are inspired by her global travels and include more than 100 unique bakes. Readers will learn the origins and basic science behind more than fifteen ancient, heirloom, and alternative grains; how to enhance depth of flavor by tasting for tannins, body, acidity, strength, and hydration; and the proper way to source and preserve ingredients from local farmers and their own backyard. The possibilities for grain-based goodies are endless as Wilde encourages bakers of every level to develop their relationship with grains and grow confidence and creativity in an eco-friendly kitchen.
The first sixty pages of this remarkable book provides an education in baking with grains. Following these informative pages is a two page "food map of the world" marking the regions where particular ingredients/grains are popular.
The book is divided by global regions beginning with Asia and ending with Western Asia and North Africa. Each chapter is filled with beautiful recipes incorporating those ingredients and grains. For instance, the Asia chapter covers rice, barley and buckwheat grains and shares recipes such as Brown rice chamomile shortbread, Buckwheat brown sugar crumble carrot peace icebox cake, and Brown rice scallion pancake with chive blossoms.
Bread and Roses is not only a gorgeous book filled with stunning imagery, it makes whole grains crave worthy and delicious. Special thanks to the publisher for sharing the following recipe for our Members to try now.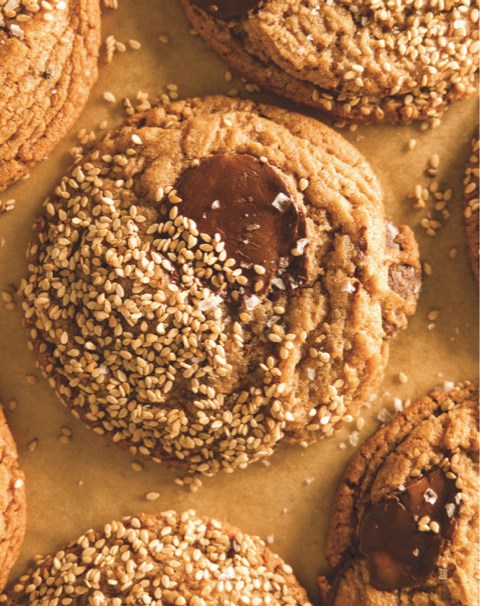 Barley miso chocolate chunk cookies
Add this recipe to your Bookshelf (click the blue +Bookshelf button)
Makes 24 to 30 large cookies
I first made these cookies for a pop-up in Los Angeles in partnership with a small, curated grocery shop in Chinatown called Sesame LA. I wanted to create a signature chocolate chunk cookie that honored the shop in some way. Sesame and barley are both nutty, a natural match. Miso is a ferment of soybeans, sometimes combined with rice or barley, and used extensively in savory cooking, but is fantastic in desserts like salt but with tons of umami. You can use any color miso you like, but my favorite is red, for its intense flavor. I make my own, but store-bought is fine! The addition of miso to these cookies makes them instantly craveable. I like to dip the cookies halfway in seeds to achieve a two-toned look, but if you are a seed lover, feel free to roll the entire cookie in sesame seeds; it will add extra crunch. The cookie dough lasts for 2 weeks in the fridge or 3 months in the freezer. Baked cookies keep for 2 weeks at room temperature in an airtight container.
550 g unsalted butter, at room temperature
150 g red miso
500 g dark brown sugar
8 g salt
150 g barley flour
650 g all-purpose flour
350 g granulated sugar
12 g baking powder
8 g baking soda
200 g dark chocolate discs
350 g milk chocolate discs
3 large eggs
300 g or more sesame seeds for rolling

Preheat the oven to 325°F. Line two sheet trays with parchment paper. Set aside.

In a stand mixer fitted with the paddle attachment, cream the butter, miso, brown sugar, and salt on medium speed until light and fluffy. You'll see the color lighten as well; this process will take 5 to 7 minutes. Meanwhile, in a separate bowl, whisk together the flours, granulated sugar, baking powder, and baking soda. Set aside.

Add the eggs, one at a time, to the butter mixture, beating on medium until completely incorporated. Scrape down the sides completely between each addition.

Add the dry mixture to the wet mixture and mix on low until combined. Add the dark and milk chocolate and mix for another minute on medium. Place the sesame seeds in a bowl. Scoop about 2-ounce portions to form cookies. Roll half of each cookie in sesame seeds. Place the seed-covered balls 3 inches apart on the prepared sheet tray, about six total on each pan.

Bake for 10 minutes, then open the oven and quickly lift each sheet tray 1 inch off its rack and let it drop back down. Bake for another 5 to 6 minutes, until golden brown.


---
To celebrate this book we have three prize packages as set forth above in our giveaway.

Special thanks to the publisher and author for providing three prize packages in our promotion. Entry options include answering the following question in the comments section of this blog post.
Which recipe in the index would you like to try first?
Please note that you must be logged into the Rafflecopter contest before posting or your entry won't be counted. For more information on this process, please see our step-by-step help post. Once you log in and enter your member name you will be directed to the next entry option – the blog comment. After that, there are additional options that you can complete for more entries. Be sure to check your spam filters to receive our email notifications. Prizes can take up to 6 weeks to arrive from the publishers. If you are not already a Member, you can join at no cost. The contest ends at midnight on December 27th, 2023.
a Rafflecopter giveaway