The New Pie – Interview with Chris Taylor and Paul Arguin
February 1, 2019 by Jenny
Baking cookbooks,
watching others bake
and the act of baking, brings me joy. Cooking is a passion, but one borne out of necessity and love. It makes me happy to share my food with others, but baking is therapeutic for me. The excitement of a new baking book opens a whole new world of possibilities.
In 2017, I read about the award-winning pie team of Chris Taylor and Paul Arguin and remembered thinking "please write a cookbook". The cookbook gods answered my plea and next month (on March 12th)
The New Pie: Modern Techniques for the Classic American Dessert
will hit the shelves.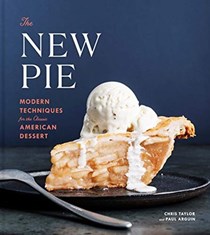 Chris reached out to me after seeing my 2019 preview post in a professional culinary group and I jumped at the opportunity to interview the couple, find out more about their book and get the down-low on their own cookbook collection.

Before we get to that, I want to share a bit about this exciting book. Clarkson Potter graciously forwarded an early press copy to me and I have spent a great deal of time in its pages. Do not let that gorgeous apple pie lead you to believe that this is just a "pie cookbook". These are not your grandmother's pie recipes. This is high octane pie and it is delightful and refreshing.

The photography is stunning (we will be getting an EYBD Preview up as soon as possible), the detailed instructions are invaluable, and the pie recipes are everything. Flaky crusts, creamy fillings, swirling whipped cream, and torched meringues like no others you have come across before. This is the new pie. They mention Stella Parks below in our interview and the first thing I thought of when I cracked open their book was the attention to detail which is very similar to Stella's Bravetart book.
There are so many unique and delightful recipes that I guarantee that even the most experienced pie baker will be impressed. How about a Toffee cream with crunch or a Clemenza's cannoli or even a Caramel popcorn pie? And what really blew up my skirt was the showpiece pies chapter – Strawberry chocolate cosmos! Bubbling butterbeer! Order this book now so that you have it on the day of release. You will not be disappointed. I foresee The New Pie being a selection for our EYB Cookbook Club (update: It's a selection for May!)
Update: This weekend I attempted the Checkerboard Peanut Butter Pie. I thought I had enough peanut butter but ran out with two more layers to go. Let me tell you, if the pie is this amazing (I adapted by adding pretzels and chocolate dots on the top) even missing two layers – I can't imagine how great it will be when I make the entire pie.
The authors' events are on our calendar, we are indexing this title now so the index will be available on publication date, and we will get up a EYBD Preview and promotion in the near future.

Photograph of the authors ©2019 Andrew Thomas Lee



Now to our interview:
EYB: Paul and Chris – congratulations on your upcoming book! I am so excited for its release. Tell us how your journey into pie baking began and did you ever imagine it would turn into 500 plus awards and now a cookbook!?
Chris: Thank you! We had both been bakers before we met, but neither of us had really baked many pies. In 2011, I discovered a pie baking contest about an hour away from us in Atlanta. It was our first baking competition, and I won a blue ribbon for my Summer Strawberry Pie (and we share the recipe in the book)!
Paul: After that first competition, we started entering other contests-local competitions, county and state fairs, and even the National Pie Championships. We really enjoyed competing and developing recipes for the competitions. When Chris won the Best of Show award at the National Pie Championships, our story was featured in the New York Times. After the Times story, we were approached about writing a cookbook. As self-taught home bakers, it's been really been gratifying to write a cookbook because we've learned so much from cookbooks ourselves.
EYB: Tell us about the book writing process did you fall back on many of your prize-winning recipes or are these recipes all new?
Chris: A little bit of both! Several pies in the book have earned blue ribbons, and even for some of those winners, we've made the recipes even better by either streamlining the recipe or changing it as we learned more during the last seven years of pie baking. As we're inspired by flavors or new techniques, we keep a running list of pie ideas that we'd like to try. So while many of the recipes haven't been entered into contests, they're not exactly new because we've been building them in our heads for years!
EYB: For a novice baker, which recipe would you recommend they try first from your book? Which recipe is your favorite?
Paul: One of the great features of The New Pie is that we have a rating for each pie on how difficult it is to make, if it uses any specialty ingredients, and if special equipment is needed. Some of the easiest recipes in the book are the German Chocolate Pecan (a pecan pie version of the cake), the PB&J (peanut butter cream with raspberry jam), and a boozy cappuccino cream pie called The Nicolé.
EYB: What are your top three tips for pie bakers?
Weigh your ingredients! Baking is so much better when you weigh ingredients instead of measuring by volume. Pie crust is especially important to weigh the ingredients because flour measures differently by how heavy it's packed or how it's scooped into a cup. Because only a few tablespoons of water are used to make a pie crust, it's so important to make sure that the flour is measured accurately so the pie dough won't be too dry to roll or too wet to handle effectively. Weighing ingredients also allows for consistency in baking so a baker can be sure that a recipe will work time and time again.
Don't be afraid of pie crust! We talk to so many people who love pie and want to bake pie, but they don't because they're afraid of pie crust. One of the keys to a successful pie dough is weighing the ingredients (see Tip #1). In the book, we walk readers through making great pie crusts. Of course, if you have crust recipe that works, feel free to use it. If you have to use a commercial pie dough, (ours is certainly better), go ahead and do it if it gets you in the kitchen to make pie. Pie is such a piece of Americana, don't let crust hold you back.
Don't be afraid to try new flavors or techniques! The New Pie has recipes with some creative and new flavors and techniques. A lot of people are familiar with making apple pie or blueberry pie, but pie is an American dessert and what is more American than innovation? We really wanted to step outside the box and look at pie in a whole new way. We've incorporated fun flavors like root beer floats, mango coladas, bubble gum, and Tahitian pineapple into our pies. Some of the fruit pie recipes use a sous vide technique, where fruits are cooked outside of the pie at a precise temperature to ensure that the pectin sets and results in an apple slice or blueberry that is cooked but still keeps a great texture without being soggy.
EYB: Rose Levy Beranbaum is a good friend. I read that the first baked good you made together was her Scarlet Empress. Who would you say inspires you? Who are your pastry heroes?
Paul: Certainly Rose, for sure. As scientists, her scientific approach to baking is really inspiring to us. Years ago, her recommendation to weigh ingredients really changed how I baked. Dominique Ansel, the creator of the Cronut and other fantastical creations, is another inspiration because of how he innovates to create things we've never seen before. The same for pastry chef and cookbook author, Christina Tosi of Milk Bar who pioneered the naked layer cake and developed her delicious Cereal Milk inventions.
Chris: We read a lot of cookbooks and cooking blogs, so there are almost too many people to name who inspired us. Stand outs including David Lebovitz, Stella Parks, and Erin Jeanne McDowell, who is a pie tour-de-force herself. We'd be remiss if we didn't mention our fellow competitors at the National Pie Championships who keep us on our toes every year and really keep us striving to innovate and create the next award-winning pie recipe.
EYB: Besides pies what other types of baking do you enjoy?
Paul: D, all of the above! Yeast breads, quick breads, cakes, pastries, and of course cookies are all in our repertoire. I tend to do more of the savory items and Chris makes all of the really pretty things. With these complimentary skillsets, it is a joy when we get to work on projects together. I might bake the cake layers and assemble the cake while Chris makes the frosting and decorates it.
EYB: As cookbook lovers here at EYB, we have to know do you have a cookbook collection? If so, how many? Which are your favorites?
Chris: We're both scientists by training, so we're book learners by nature. We love having a great library to turn to for guidance on when we're trying to figure something out in the kitchen. We currently have about 550 books in the cookbook library. We may need to start an annex soon! There are so many that we could call out here for different reasons. We both love Ina Garten's books because her recipes are so well-crafted and always work. Rose's Heavenly Cakes is jam-packed with so many delicious options we go back to it frequently. And I know that Bread by Jeffrey Hamelman is Paul's main source for reliable yeast breads.
Paul: It is true. If you weigh out all of your ingredients according to one of his recipes, you will produce beautiful loaves of bread every time. In fact, that is a common theme in most of our favorite cookbooks. That right balance of precision, reliability and flavors.
EYB: What's next for you both? Another book in the pi(p)eline?
Chris: We're enjoying the ride that that this first book is taking us on. We've gotten the opportunity to work with some incredibly talented people outside our usual sphere such as a food photographer, prop stylist, and art director for the book. We've had the opportunity to meet some of our culinary idols along the way too (including Rose). It has been a tremendous learning experience. So yes, of course we'd like to keep doing it.
Paul: Agreed! We're constantly trying new things and have many more ideas that are waiting to be tested. Maybe several more books.
Update: The authors just sent me a photograph of their living room which is a Bundt® paradise!