Living Bread – Daniel Leader – Giveaway
October 31, 2019 by Jenny
Enter our giveaway to win a copy of Daniel Leader's Living Bread: Tradition and Innovation in Artisan Bread Making. The author has been touring and we have his remaining dates shared on our calendar.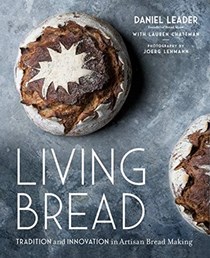 Living Bread: Tradition and Innovation in Artisan Bread Making is a masterpiece devoted to bread. Leader, the pioneer behind Bread Alone, revolutionized American artisan bread baking. Professional bakers and bread enthusiasts from all over the world flock to Bread Alone's headquarters in the Catskills to learn Leader's signature techniques and baking philosophy.
Here he delivers 60 recipes inspired by bakers from around the world. A culture of flour, water, and yeast begins the journey to amazing creations. Recipes include Fried calzone (Panzanella), Chocolate sourdough babka, and Rosemary and walnut schiacciata along with ways to use up the leftover starter and so much more.
This beautifully photographed and comprehensive book will awaken the bread baker hidden inside. Still considering himself a student, he soaks up baking knowledge wherever he can and in turn, shares what he has gathered over the years with us. We, too, can learn the secrets of making good bread.
I've been so busy over the last year that I've only been able to do two additional recipes from Modernist Bread. I have had no time to even document those recipes here. However, I won't give up my quest to work my way through Modernist Bread but now I have added Living Bread to my long list of titles I wish to work my way through.
Recently, I've gotten my hands messy working with pasta and focaccia dough. These experiences have sparked a desire to start making more scratch recipes. There just is an incredible difference in taste and an enormous sense of pride when kneading together flour and a few ingredients to create something spectacular.
Every baker must seek out Living Bread. Special thanks to Avery for providing the following recipes for our members to try and for offering copies of this title in our giveaway below.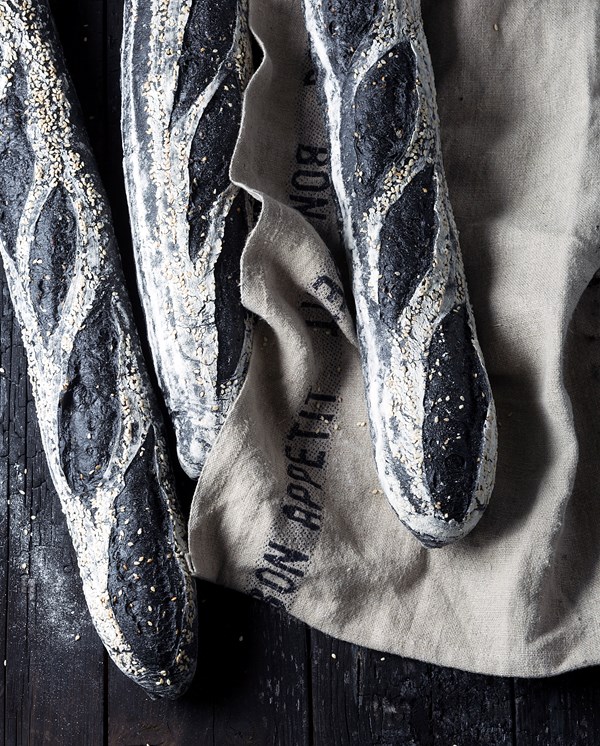 Baguette au charbon vegetal
Add this recipe to your Bookshelf (click the blue +Bookshelf button).
In Paris, everyone has an opinion about where to buy the best bread. I was sitting on a bench in the Luxembourg Gardens one morning, tearing into three baguettes I had just purchased from three different bakers, when two women, on either side of me, asked me what I was doing with so much bread. When I explained that I was always looking for the best bread in Paris, they gave me their own recommendations. The older woman was devoted to the classic miche at Max Poilâne, a bread that I was well acquainted with. The younger insisted, "You've got to get the Baguette au Charbon Vegetal at Boulangerie Utopie." She described a jet-black bread with a dark, earthy flavor akin to the hint of volcanic ash in Morbier cheese. I literally sprung from the bench, ran to the Metro, and rode to the Place de Republique.
Boulangerie Utopie partners Sébastien Bruno and Erwan Blanche divvy up the baking, one in charge of bread and the other in charge of pastries. As a result, and unlike at most Paris bakeries, both bread and pastry here are top-notch. There were dozens of people patiently waiting in line outside the shop on the Rue Jean- Pierre Timbaud, everyone chatting about their favorite Utopie item. Charbon vegetal actif, or active charcoal, can be found in natural foods stores. Relatively unknown in the U.S., it has long been embraced in France for its benefits as a digestive aid and beauty product. It certainly produces a striking bread, a baguette so dark that it looks like someone left it in the oven two hours too long. The charcoal flavor itself is subtly astringent, just sharp enough to make the bread interesting as well as beautiful. Take care when first mixing the dough by hand, so that the charcoal doesn't fly out of the mixer bowl and coat your kitchen with black dust.
Start to Finish: 13 to 14 hours
poolish: 8 hours
au tolyse: 30 minutes
knead: 10 minutes
first fermentation: 2 ¼ to 2½ hours
rest: 40 minutes
final proof: 40 to 50 minutes
bake: 25 minutes
Makes: three 327-gram loaves
---
---
1. Make the poolish: In a small bowl, stir together the flour, warm water, and yeast until well incorporated. Cover and let ferment at room temperature (68 to 77 degrees) until doubled in volume, about 8 hours.
---
2. Autolyse: Combine the poolish, flour, charbon vegetal actif, and water in the bowl of an electric mixer fitted with a dough hook. Mix with a spatula just until a rough dough forms. Cover and let rest 30 minutes.
---
3. Make the final dough: Add the sesame seeds, salt, and yeast to the bowl. With the dough hook, mix on low speed (2 on a KitchenAid mixer) for 10 minutes. The dough should have a silky and elastic texture.
---
4. First fermentation: Transfer the dough to a lightly oiled, clear 4-quart container with a lid. Turn the dough over so all sides are oiled. Cover and let stand 60 minutes. Turn the dough out onto a lightly floured counter. Pat into a 6-by 8-inch rectangle and fold like a business letter. Slide both hands under the dough and flip it over so the folds are underneath. Slip it back into the container, cover, and let stand another 45 minutes. Repeat the folding and turning, return to the container, and let stand until the dough is pillowy, another 45 minutes to 1 hour.
---
5. Rest: On a lightly floured countertop, divide the dough into three equal pieces, pat into rectangles, and gently fold into cigar-like logs, 4 inches long and 3 inches wide. Dust with flour and cover with plastic. Let rest for 40 minutes.
---
6. Final proof: Cover a baker's peel or rimless baking sheet with parchment. Shape each piece of dough into a baguette about 12 inches long. If the dough resists, cover and let it rest 15 minutes before shaping again to the full length. Dust the parchment-covered peel or baking sheet with flour and place the baguettes on the parchment, seam side down, 3 inches apart. Lift the parchment paper between the loaves, making a pleat and drawing the loaves close together. Alternatively, use baker's linen instead of parchment. Tightly roll up two kitchen towels and slip them under the parchment paper on the sides of the outer loaves to support each baguette. Dust with flour and drape with plastic wrap. Let rise until pillowy, 40 to 50 minutes.
---
7. Bake: About 1 hour before baking, place a baking stone on the middle rack of the oven and a cast-iron skillet on the lower rack. Preheat the oven to 425 degrees for 1 hour. Uncover the breads, remove the rolled-up towels, and stretch the parchment paper out so that it is flat and the loaves are separated. With a pastry brush, lightly brush the tops of the loaves with water and then sprinkle with the sesame seeds. With a lame, a single-edged razor blade, or a serrated knife, make three slashes, 2½ inches long and slightly angled, down the center of each loaf. Slide the loaves, still on the parchment, onto the baking stone. Place 1 cup of ice cubes in the skillet to produce steam. Bake until the loaves are well risen and the crust is well developed about 25 minutes. Slide the loaves, still on the parchment, onto a wire rack and let cool completely. Store in a brown paper bag at room temperature for up to 2 days.
---
Notes for Professional Bakers
It is always a good idea to mix this dough last during production as the charbon vegetal actif will leave black dough residue in the mixer that might color the next batch. Also, it is important to carefully time the bake of this bread as the color of the crust is naturally dark and can't be used as a control point to define the end of the bake.
---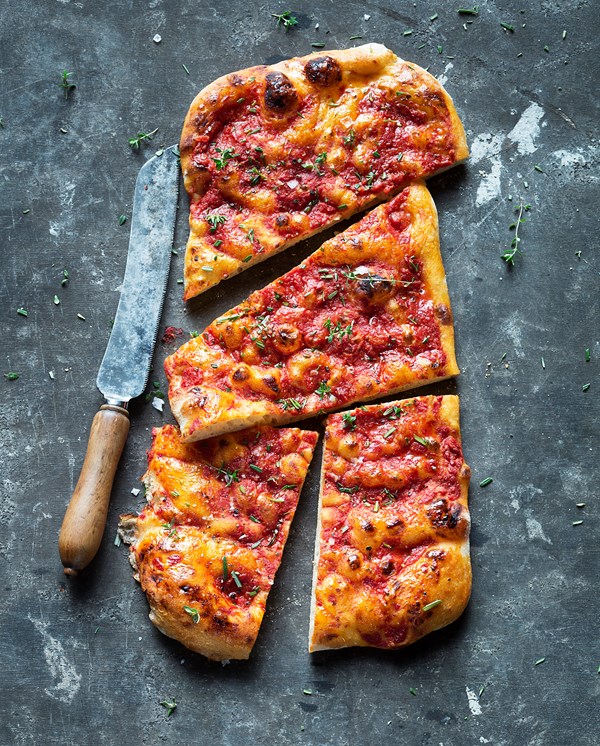 Pizza bianca di Forno Campo de' Fiori
Add this recipe to your Bookshelf (click the blue +Bookshelf button).
Because the price of bread is traditionally low in Italy, bakers are always trying to find ways to sell flour and water for more money. Pizza bianca is probably three times the price per kilo as bread. Maybe this is one of the reasons it has become a classic Roman street food. One of my favorite pizza places is Forno Campo de' Fiori, where I enjoy a slice while strolling through the piazza on market days, taking in the colorful sight of fruit and vegetable stalls. Bernardino Bartocci and his cousin Fabio kindly let me spend a few days baking pizza with their team. Every morning and evening, they mix a bubbly, super- soft, nearly pourable dough and ferment it in 2-kilo pieces in large tubs, very slowly at room temperature for 6 hours or more. They then divide the dough into 2-kilo pieces and shape the pieces into large ovals. The ovals are refrigerated for 2 to 10 hours, to relax. After the dough has warmed to room temperature, it is gently pulled and pressed, dimpled, and pulled and pressed again, until it is stretched to 8 feet in length. Topped with a little olive oil and sea salt, crushed tomatoes, or seasonal specialties like shaved artichokes or zucchini blossoms, it is loaded into the oven on an extra-long peel and baked. The hot baked pizzas may be sprinkled with herbs. Every 15 minutes a fresh pizza is pulled from the oven. Customers order the pizza by length, and it is sliced, weighed, wrapped in paper, handed over, and most likely eaten while walking out the door.
Making this style of pizza at home is easy—instead of stretching the dough to 8 feet, you only have to get it to cover the baking stone. It does require many minutes of kneading, a long fermentation, and your confidence that a dough this soft will become extremely elastic and transform in the oven into delicious, bubbly pizza. Ice water keeps the dough cool and ensures slow fermentation.
Start to Finish: 21 to 28 hours
knead: 22 minutes
first fermentation: 1 hour
Retard: 18 to 24 hours
warm up: 1 hour
Rest: 30 minutes
Bake: 15 to 20 minutes per pizza
---
Makes: two 490-gram flatbread pizzas
---
1. Make the final dough: Combine the flour, 375 g of the ice water, the salt, and yeast in the bowl of an electric mixer fitted with a dough hook. Stir with a rubber spatula just until a rough dough forms. With the dough hook, mix on low (2 on a KitchenAid mixer) for 4 minutes. Turn the mixer to medium-high (8 on a KitchenAid mixer) and continue to mix, very slowly drizzling in the remaining 50 g water over the course of another 12 minutes. The dough will be very loose, almost liquid. Continue mixing for 3 to 4 minutes, until the dough comes together. Turn the mixer to the highest speed and mix until the dough pulls away from the sides of the bowl, another 2 to 4 minutes.
---
2. First fermentation: Transfer the dough to a lightly oiled, clear 4-quart container with a lid. Cover and let stand at room temperature for 2 hours.
---
3. Retard: Refrigerate the dough for 18 to 24 hours.
---
4. Warm up: Remove the dough from the refrigerator and let sit on the counter to warm up, about 1 hour.
---
5. About 1 hour before baking, place a baking stone on the middle rack of the oven. Preheat the oven to 500 degrees. Pour the dough onto a lightly floured countertop and gently press into a rectangle measuring 12 by 20 inches. Use a bench scraper or sharp chef's knife to cut the dough into two rectangles measuring 6 by 20 inches. Lightly drape with plastic wrap. Let rest 30 minutes.
---
6. Bake: Line two baker's peels or rimless baking sheets with parchment. Dust with flour. Transfer the rectangles to the peels or baking sheets and dimple the dough all over with your fingertips. Lift two corners of a rectangle from the peel, stretching it as you lift, and place it back down on the peel several times to stretch the dough to 12 by 18 inches. Gently dimple the dough again. Brush with olive oil and sprinkle with sea salt to taste and rosemary. Repeat with the remaining dough rectangle. Slide one pizza, still on the parchment, onto the baking stone. Bake until the pizza is bubbled and golden brown, 15 to 20 minutes. Slide the pizza, still on the parchment, onto a cutting board. Repeat with the remaining pizza. Slice and serve immediately.
---
Note for Professional Bakers
To increase dough extensibility and facilitate the stretching of the dough, an autolyse could be used during the mixing process. Alternatively, to decrease the elastic resistance of the dough, you could add 0.1 to 0.2 percent deactivated yeast to the formula.
---
Recipes excerpted from LIVING BREAD by DANIEL LEADER with LAUREN CHATTMAN, OCTOBER 2019 by AVERY, an imprint of Penguin Random House, LLC. Copyright © 2019 by DANIEL LEADER
Thanks to the publisher for providing three copies of the above-referenced title in our giveaway open to EYB Members in the US. One of the entry options is to answer the following question in the comments section of this blog post.
Which recipe in the index would you try first?
Please note that you must be logged into the Rafflecopter contest before posting or your entry won't be counted. For more information on this process, please see our step-by-step help post and this forum post. Once you log in and enter your member name you will be directed to the next entry option – the blog comment. After that, there are additional options that you can complete for more entries. Be sure to check your spam filters to receive our email notifications. Prizes can take up to 6 weeks to arrive from the publishers. If you are not already a Member, you can join at no cost. The contest ends at midnight on January 8th, 2020.
a Rafflecopter giveaway