A Table for Friends – Cookbook Giveaway
July 21, 2020 by Jenny
Enter our US/UK giveaway to win a copy of A Table for Friends: The Art of Cooking for Two or Twenty by Skye McAlpine.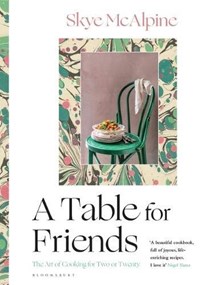 Skye is the author of A Table in Venice: Recipes from My Home one of the books that resides on my kitchen bookshelf. This high-rent space is limited and reserved for only the best. I need quick access to the recipes I have made and enjoyed and don't wish to dig through my stacks in my office and elsewhere. You can read more about this title in my promotion post from 2018.
When an author writes a book that I fall in love with, I am excited and hesitant about any titles that follow. Will it be as lovely? Will I be disappointed? These questions are especially worrisome when I have met the author and her husband and think that they are just great people. I can truthfully state that A Table for Friends is just as brilliant, if not more so, than its predecessor.
This new cookbook is organized as follows: stars (entrees as well as recipes that can be paired with a salad for a meal), sides, sweets, and extras (bread, cocktails, and condiments) along with chapters on how to cook by season; how to cook by numbers, and how to cook by timings (time needed for each course and tips for a last-minute get together or a planned party). The how to cook by season chapter outlines dishes for particular activities along with the page number for the recipes and the cook by numbers section provides instructions for the cook on how much of each recipe is needed for any number of guests from two to twenty. A Table for Friends is your essential guide to cooking for friends and family no matter how many those numbers may tally and which occasion you may be celebrating.
Skye combines her cultural melting pot of cuisines that reflects her husband's Australian background, her British and Italian living experiences in foolproof and failsafe recipes. Tips on how to plan a menu and setting the scene are included. This talented woman has inspired a line of products at Anthropologie (my poor credit card).
This book is stunning with photographs taken by the author herself. The dishes are simple but elegant. The brilliance here is that Skye provides us with recipes and detailed instructions that will make our family and friends feel loved and cared for without causing the host undue stress and anxiety.
Our
takes you inside this beautiful book and features the following
A Table for Friends is in the category of cookbooks that brings the reader comfort and inspires them to nourish ourselves and others with platters of delicious offerings without being stuffy or stressful. These dishes are blessings to both the cook and her guests. This book is squeezing in beside A Table in Venice on the kitchen bookshelf.
Please join Skye (virtually) for @goodhousekeepinguk's Big Summer Book Day: this Sunday (26th July) at 11.30 am (GMT) She'll be baking a Flourless Chocolate Chestnut and Rosemary Cake from her kitchen in Venice and chatting about some of the cookbooks that she is loving most right now – a mix of old favorites and new finds. The event is free and you can register through the @goodhousekeepinguk website.
Special thanks to Bloomsbury for providing three copies of A Table for Friends (US) and one copy (UK) in our giveaway. Entry options include answering the following question in the comments section of this blog post.
Which recipe in the index would you try first?
Please note that you must be logged into the Rafflecopter contest before posting or your entry won't be counted. For more information on this process, please see our step-by-step help post and this forum post. Once you log in and enter your member name you will be directed to the next entry option – the blog comment. After that, there are additional options that you can complete for more entries. Be sure to check your spam filters to receive our email notifications. Prizes can take up to 6 weeks to arrive from the publishers. If you are not already a Member, you can join at no cost. The contest ends at midnight on February 19th, 2021.
a Rafflecopter giveaway