Flavor for All and a John Boos Board Giveaway
December 7, 2020 by Jenny
Enter our US/CA giveaway to win one of three copies of Flavor for All: Everyday Recipes & Creative Pairings by James Briscione and Brooke Parkhurst with one US grand prize winner also receiving a John Boos Newton Prep Master II.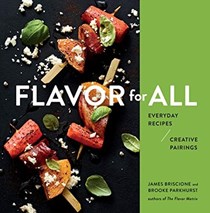 The dynamic husband and wife team, James Briscione and Brooke Parkhurst are back with Flavor for All: Everyday Recipes & Creative Pairings that shares their collective culinary knowledge especially with regard to flavor. In 2018, the first flavor focused cookbook The Flavor Matrix: The Art and Science of Pairing Common Ingredients to Create Extraordinary Dishes from the pair set into motion great things for cookbook lovers (see my review).
In the new book, the authors' goal is that we become better cooks intuitively. From listing the various types of fats and their smoking points to how to cook better vegetables at home, each facet of information will help hone our skills. Not only do they provide the hows but also the whys – such as "why do we cook chicken to 165 degrees" or tips like "you can add the sweet potatoes earlier if you must for convenience, but they may turn out a little mushy" in a stew recipe. Throughout the book, recipes have arrows from an ingredient or instruction to a fact-filled nugget of information. For example, see the photo below:
The dishes here are not over-the-top but approachable and geared toward taking our home cooking to new heights. There is one online recipe that you can try now: Frico, crispy cheese cakes.
I cannot express how much I love James and Brooke's books – they are must-haves for cooks. If you are debating on which Flavor title to buy (and can only pick one) start with Flavor for All as it is a book any level of cook will love. Then down the road pick up The Flavor Matrix. You will not be disappointed.
To celebrate this new book, we are partnering with John Boos to provide one US grand prize winner my new favorite board EVER! Seriously, this board is the perfect size for a home cook and I love the rocker knife indentation!
John Boos Newton Prep Master II is a combination of a prep board with a pan for storing your chopped ingredients and the curved section and the rocker knife is perfect for chopping herbs. This gorgeous board is made from solid northern hard rock maple and is a generous size of 18″ x 18″ x 2 1/4″. The bonus is that it is reversible.
Special thanks to the publisher for offering three copies of this title to our members in the US and CA and to John Boos for providing one of their gorgeous boards as shown above to a member in the US. Entry options include answering the following questions in the comments section of this blog post.
Which recipe in the index of this title would you make first?
Visit John Boos and check out their amazing products and leave a second comment on a board or product that catches your eye.
Please note that you must be logged into the Rafflecopter contest before posting or your entry won't be counted. For more information on this process, please see our step-by-step help post and this forum post. Once you log in and enter your member name you will be directed to the next entry option – the blog comment. After that, there are additional options that you can complete for more entries. Be sure to check your spam filters to receive our email notifications. Prizes can take up to 6 weeks to arrive from the publishers. If you are not already a Member, you can join at no cost. The contest ends at midnight on April 7th, 2021.
a Rafflecopter giveaway
Appreciation goes out to John Boos for providing me with a board to use and love and to Houghton Mifflin for providing me a review copy of Flavor for All.