The Book on Pie and a JK Adams Pastry Board Giveaway
December 16, 2020 by Jenny
Enter our US/CA giveaway to win one of three copies of The Book on Pie: Everything You Need to Know to Bake Perfect Pies by Erin Jeanne McDowell with one grand prize winner in the US receiving The Ultimate Pastry Board from JK Adams as well!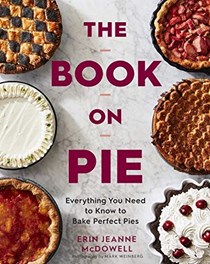 The Book on Pie: Everything You Need to Know to Bake Perfect Pies by Erin Jeanne McDowell starts with the basics, including techniques, conversions, make-ahead tips, and styling tricks, before diving into 100 of her unique and intriguing recipes. This is a stunning book filled with photographs and all the expertise that Erin has stored in her baker's brain. Erin wants us to embrace pie with intensity and without fear. Erin has a sneak peek on her website.
There is a wealth of great pie books out there with each offering that particular baker's own style. knowledge, and love of pie. However, Erin wins best in show this year as she has delivered a book that not only shares tried and true recipes but also so much more such as "the whys of pie" which are spread throughout the book. In these helpful nuggets, she informs us what a deep dish pie is and what that means for your crust, filling, and bake time or the whys of using other fats and so forth. She covers freezing pies, sprinkles pie-deas throughout, pie pep talks for getting the texture right for fruit fillings and so very much more.
To celebrate this spectacular book, our friends at JK Adams is offering one US winner an Ultimate Pastry Board shown pictured below. I cannot express in adequate terms how much I love this board. I've used it for biscuits and cookies already and the divet for the rolling pin is brilliant. I appreciate having a separate board/surface that is only for baking and flour related tasks and that I know has not been subjected to the list of questionable things that touch our countertops daily. Of course, I bleach my countertop daily but it is an extra relief having this board for all pastry work and that I can easily move to the dining room table for bigger projects is another bonus.
The Ultimate Pastry Board from JK Adams is perfect for rolling out pie and tart doughs with diameters engraved with the 5 common sizes for pies, rulers on both horizontal and vertical size for pastry measurements, made of American maple with a walnut cleat, on one side, to brace against the edge of the counter, a rolling pin rest has been notched out in the corner to keep your pin in place and the reverse side is flat for everyday prep.
Special thanks to the publisher for offering three copies of this title to our members in the US and CA and to JK Adams for providing one of their gorgeous pastry boards as shown above to a member in the US. Entry options include answering the following questions in the comments section of this blog post.
Which recipe in the index of this title would you make first?
Visit JK Adams and check out their amazing products and leave a second comment on a board or product that catches your eye.
Please note that you must be logged into the Rafflecopter contest before posting or your entry won't be counted. For more information on this process, please see our step-by-step help post and this forum post. Once you log in and enter your member name you will be directed to the next entry option – the blog comment. After that, there are additional options that you can complete for more entries. Be sure to check your spam filters to receive our email notifications. Prizes can take up to 6 weeks to arrive from the publishers. If you are not already a Member, you can join at no cost. The contest ends at midnight on May 14th, 2021.
a Rafflecopter giveaway