Mastering Bread – Shun Bread Knife Giveaway
December 31, 2020 by Jenny
Enter our US giveaway to win one copy of Mastering Bread: The Art and Practice of Handmade Sourdough, Yeast Bread, and Pastry by Marc Vetri along with a Shun bread knife.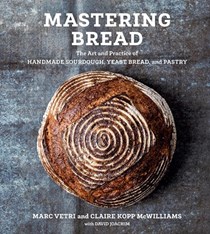 ---
The Vetri Cucina Bread Program began over ten years ago in an effort to reclaim high-quality bread as a cornerstone to our food culture. In his latest book, Vetri and his former head baker, Claire, illustrate how home cooks can create simple breads with unique flavors at home.
Mastering Bread is exactly what you would imagine and what you come to expect from the Italian chef. From all the basics of bread to pastry as well as foods to eat with the bread, Marc covers it all. This guy knows his stuff and his books are stellar.
Before fermentation and recipes are even approached, Vetri begins with the importance of measuring by weight instead of volume, details grains as well as the specific job that each ingredient in bread performs. Photographs and illustrations are shared throughout this volume to guide us through various techniques such as shaping and scoring.
Our
takes you inside this beautiful book and features the following
---
We expend the effort to create beautiful loaves of bread and then struggle with a mediocre knife when slicing. I have mangled a loaf or three in my time with the wrong knife. Shun makes a stunning bread knife that is the next best thing to sliced bread – see what I did there?
After a chef's knife and a paring knife, some cooks say that the knife they most can't live without is their bread knife. I agree with this one hundred percent. People ask me all the time for knife recommendations and I agree that all a cook needs is a great chef knife, paring knife and bread knife. For more serious cooks, I would add a boning knife to that list and everyone needs a sturdy pair of kitchen shears.
If you're looking for a new bread knife, this blonde-handled version of Shun's Classic Bread Knife is a beautiful choice. Don't ruin a fresh loaf of bread by squashing it beneath the blade of a dull knife. Instead, use the wide, "low frequency" serrations of the Shun Classic Blonde Bread Knife to simply glide through crusty or tender bread. The undulating serrations provide the power you need to gently saw through a crusty loaf without tearing the tender interior. And it works equally well on very soft breads and even pastries.
Slice tender or crusty breads with no ripping, squashing, or tearing
Proprietary VG-MAX cutting core is wear and corrosion resistant, strong, and very fine-grained to enable a razor-sharp, long-lasting 16° edge
34 layers of stainless Damascus cladding each side (68 total); support the core, add stain resistance, and help food release from the blade
D-shaped blonde PakkaWood® handles are comfortable for both left- and right-handed users; durable, beautiful, and won't harbor bacteria
Full composite tang for light weight and perfect balance
Handcrafted in Japan
Special thanks to the publisher for offering a copy of this title to our members in the US and to Shun for providing one of their gorgeous bread knives as shown above to a member in the US. Entry options include answering the following questions in the comments section of this blog post.
Which recipe in the index of this title would you make first?
Visit Shun and check out their amazing products and leave a second comment on a board or product that catches your eye.
Please note that you must be logged into the Rafflecopter contest before posting or your entry won't be counted. For more information on this process, please see our step-by-step help post and this forum post. Once you log in and enter your member name you will be directed to the next entry option – the blog comment. After that, there are additional options that you can complete for more entries. Be sure to check your spam filters to receive our email notifications. Prizes can take up to 6 weeks to arrive from the publishers. If you are not already a Member, you can join at no cost. The contest ends at midnight on March 6th, 2021.
a Rafflecopter giveaway