Baking Day with Anna Olson: Recipes to Bake Together Cookbook Giveaway
January 26, 2021 by Jenny
Enter our US/CA giveaway to win a copy of Baking Day with Anna Olson: Recipes to Bake Together by Anna Olson.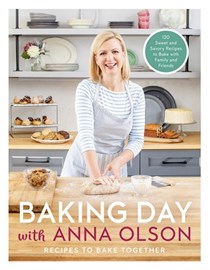 Anna Olson is Canada's baking sweetheart, and with her positive and common sense approach in the kitchen, she has become one of the country's most recognizable television chefs. Anna was born in Atlanta, Georgia, but grew up in Toronto, noting her grandmother as an early influencer of her love of the kitchen. She has degrees from Queen's University in Kingston, Ontario and Johnson and Wales University in Vail, Colorado. After working in the United States, Anna returned to Canada to settle in Niagara's wine country with her chef husband Michael Olson.
Anna's latest title, Baking Day with Anna Olson: Recipes to Bake Together encourages us to spend time with our loved ones, baking along with her easy-to-follow, delicious recipes for all our favourite treats. This is a cookbook to bring family and friends together, and to bond over quality time spent baking. With over 120 recipes for all skill levels, there is a baking project here for everyone. We have one online recipe that you can try now: Chewy chocolate ginger molasses cookies.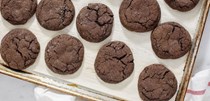 Anna has great baking tips on her website and her books are great sources of tried and true recipes.
Special thanks to the publisher for providing three copies of this title in our promotion. Entry options include answering the following question in the comments section of this blog post.
Which recipe in the index would you like to bake up first?
Please note that you must be logged into the Rafflecopter contest before posting or your entry won't be counted. For more information on this process, please see our step-by-step help post and this forum post. Once you log in and enter your member name you will be directed to the next entry option – the blog comment. After that, there are additional options that you can complete for more entries. Be sure to check your spam filters to receive our email notifications. Prizes can take up to 6 weeks to arrive from the publishers. If you are not already a Member, you can join at no cost. The contest ends at midnight on March 31st, 2021.
a Rafflecopter giveaway