Three by Selin Kiazim Cookbook Giveaway
January 19, 2022 by Jenny
Enter our US/UK/AU/NZ giveaway to win one of three copies of Three: Acid, Texture, Contrast: The Essential Foundations to Redefine Everyday Cooking by Selin Kiazim.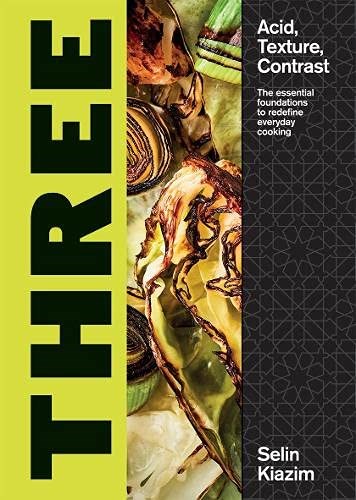 Three looks at the magic elements that make a plate of food truly come into its own: acid, texture and contrast – the fundamental building blocks that will transform a modest dish into the star of the show.
Selin Kiazim is the author of Oklava: Recipes from a Turkish–Cypriot Kitchen (review /ebook $3.99 £3.99) and the owner of the London restaurant by the same name. Her latest work provides us with the know-how on how to use ingredients from the store cupboard or fridge and combine them in a way that elevates every single element. Whether you want a simple midweek meal or a dish to impress your dinner guests, there's something for all occasions.
Starting with a guide to the basic foundations of a dish, along with clever ideas for pickles, dressings and condiments to get the balance right, the recipes are then divided by type of food – alliums, beans, greens, pulses and grains, brassicas, fruit, nightshades and mushrooms, nuts, poultry and meat, seafood, and roots and tubers.
Selin's recipes show that a meal can be so much more than the sum of its parts through the simple guidelines of using acid, texture and contrast in each dish.
Our
takes you inside this beautiful book and features the following
Special thanks to the publisher for providing three copies of this title in our promotion. Entry options include answering the following question in the comments section of this blog post.
Which recipe in the index would you like to try first?
Please note that you must be logged into the Rafflecopter contest before posting or your entry won't be counted. For more information on this process, please see our step-by-step help post. Once you log in and enter your member name you will be directed to the next entry option – the blog comment. After that, there are additional options that you can complete for more entries. Be sure to check your spam filters to receive our email notifications. Prizes can take up to 6 weeks to arrive from the publishers. If you are not already a Member, you can join at no cost. The contest ends at midnight on March 25th, 2022.
a Rafflecopter giveaway