Save-It-Forward Suppers -Cookbook Giveaway
February 10, 2022 by Jenny
Enter our US giveaway to win one of three copies of Save-It-Forward Suppers: A Simple Strategy to Save Time, Money, and Sanity by Cyndi Kane.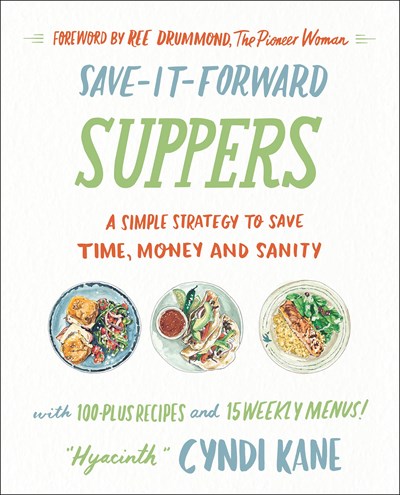 Fans of The Pioneer Woman know Cyndi Kane as Hyacinth, Ree's best friend. Ree gave her that nickname twenty years ago. Cyndi has now written a time, money and sanity saving cookbook design to get supper on the table. In the foreword of this title, Ree writes that Hyacinth is a far better home cook than she is and promises us that the recipes here are far from mundane. You have to trust Ree right?
The book is organized by "weeks": Week 1: Simple Meats and Veggies through Week 15: Mad Skills Week. Our EYBD Preview below shares the Foreword, Introduction, Contents and two recipes.
Our
takes you inside this book and features the following
The author states that cooking an entire meal from the "ground up" every night is exhausting. So her "save-it-forward" method means that as you are cooking weekly meals you will prepare extra components that can be used to create an entirely different meal later in the week.
Save-it-Forward Suppers is beautifully illustrated and full of tips and secrets to infuse new life into your weekly menus. I particularly love the options certain of the recipes provide: such as Beef fried rice, two ways-fancy or simple or Tomato tart, cheesy version or Tomato tart, hummus and pesto version. There are global influences in this recipe collection as well: Asian flank steak; Cuban sliders; Farro fried rice and Cheater's posole for example.
I am impressed with this gorgeous book which just arrived today and look forward to spending more time with it.
Update Feb 28, 2022: There are two additional online recipes from the title to try from Cyndi's appearance on Good Morning America (you may watch the video at that link):
I made the London broil using Cyndi's method. I am not a fan of London broil it was always shoe leather no matter who made it. I am now a convert. This recipe was so easy and delicious – I can add London broil to our dinner rotation! I hope to make the Beef fried rice in the next day or two using the small amount of leftovers (because my menfolk ate two huge servings!).
I've gotten to know Cyndi through emailing and she is an absolute delight and this book will be a go-to for me in the kitchen.
Special thanks to the publisher for providing three copies of this title in our promotion. Entry options include answering the following question in the comments section of this blog post.
Which recipe in the index would you like to try first?
Please note that you must be logged into the Rafflecopter contest before posting or your entry won't be counted. For more information on this process, please see our step-by-step help post. Once you log in and enter your member name you will be directed to the next entry option – the blog comment. After that, there are additional options that you can complete for more entries. Be sure to check your spam filters to receive our email notifications. Prizes can take up to 6 weeks to arrive from the publishers. If you are not already a Member, you can join at no cost. The contest ends at midnight on April 16th, 2022.
a Rafflecopter giveaway