Food IQ: Cookbook Giveaway
February 23, 2022 by Jenny
Enter our US giveaway to win one of three copies of Food IQ: 100 Questions, Answers, and Recipes to Raise Your Cooking Smarts by Daniel Holzman and Matt Rodbard.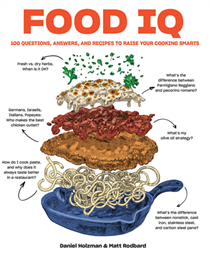 Food IQ: 100 Questions, Answers, and Recipes to Raise Your Cooking Smarts by Daniel Holzman and Matt Rodbard features 100 essential cooking questions and answers; 113 recipes and instructions for a variety of dishes that utilize a wide range of ingredients and methods; and essential information every home cook needs on a variety of cooking fundamentals. Food IQ explains which onion you want to use (red, white or yellow) and then how to slice it; the difference between a $30 knife and a $150 knife (the answer is not $120); how to pick the right potato for the job and loads more.
Holzman is the author of The Meatball Shop Cookbook and Rodbard the author of Koreatown: A Cookbook and Editor in Chief of Tastecooking. The authors have a Food IQ website where you can sign up for their newsletter.
Our
takes a look inside this book which will surely join the ranks of Salt, Fat, Acid, Heat and The Food Lab as must-haves for the home cook. On the first page of the preview you will find the contents listed:
The pages that follow in our preview gives a picture of the content in Food IQ: valuable ingredient and product information, chef profiles, recipes and more. I particularly love the gorgeous illustrations throughout.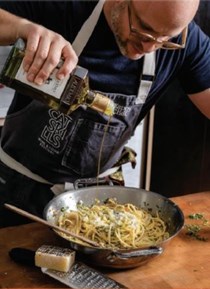 The recipe in our preview above is for the Toasted garlic and olive oil (Spaghetti aglio, olio, e peperoncino). Other dishes in this standout book include recipes for some of my favorite condiments: Nuoc cham and Japanese chile crisp (Taberu rayu) as well as detailed instructions for making "The best meat loaf: beef, pork, and jamón", "Forty-eight-hour marinated buttermilk fried chicken", "Shabu shabu" (a flavor packed Japanese noodle dish) and "New York-style pizza dough and sauce".
There is something for everyone here and I feel my food IQ already rising. We will keep you posted if the authors set up any events to promote this title.
Special thanks to the publisher for providing three copies of this title in our promotion. Entry options include answering the following question in the comments section of this blog post.
Which recipe or technique listed in the index would you like to try first?
Please note that you must be logged into the Rafflecopter contest before posting or your entry won't be counted. For more information on this process, please see our step-by-step help post. Once you log in and enter your member name you will be directed to the next entry option – the blog comment. After that, there are additional options that you can complete for more entries. Be sure to check your spam filters to receive our email notifications. Prizes can take up to 6 weeks to arrive from the publishers. If you are not already a Member, you can join at no cost. The contest ends at midnight on April 23rd, 2022.
a Rafflecopter giveaway