Sweet Paris, Cake Server and Parisian Tea Towel Giveaway – Quick Bites
April 29, 2022 by Jenny
Enter our worldwide giveaway to win an autographed copy of Sweet Paris: Seasonal Recipes from an American Baker in France by Frank Adrian Barron, an antique cake server and a Parisian tea towel. There are two sets of this prize available.
This gorgeous book brings the timeless allure of Paris into our home kitchens. Not only is Sweet Paris filled with stunning photography and inspirational recipes, Frank shares Paris-insider information such as "treasure hunting at a Paris flea market" or "must-not-miss summer experiences in Paris". Imagery of the recipes as well as the city of Paris are plentiful and make us long for the city of lights and a Parisian dessert.
The recipes are a brilliant mix of approachable for the novice baker: the Blood orange mini bundt cake or Raspberry caves (Hallongrotta) are a cinch to pull off. And, there are "sure to impress" desserts: an elegant Ivoire Parisienne or Lemon meringue cake (Gâteau au citron). Frank also includes sections entitled "blooms in my basket" with seasonal floral details including edible flowers. Measurements are both in weight and volume.
Frank has a few events here in the US this coming week. On Apr 30th in San Diego at Barnes & Noble (Hazard Center) from 12-2pm and on May 3rd, in San Francisco at Extraordinary Desserts. And if you are in New York, Frank will be at Mah-Ze-Dahr bakery on the 6th of May (West Village location – 28 Greenwich Avenue – 5:30pm) and Kitchen Arts & Letters is having the author stop by on the 7th of May at 3pm to sign books.
Our
takes you inside this beautiful book and features the following
I have several recipes to bake from this title marked and now that the rush of April is over I'll be getting into the kitchen soon.
---
Even with his hectic schedule Frank took a few minutes to answer some questions for us:
Q: What first triggered your interest in baking? Can you share your first baking memory with us?
Homesickness was my personal baking trigger. It was after that first year of moving to Paris when I started craving something familiar. The kinds of cakes I grew up with like coffee cake with crumble topping, classic layer cakes covered in buttercream and cinnamon swirl bundt which was my mom's signature cake!
Q: If you had to describe your baking style, what would it be? (besides absolutely gorgeous!)
Merci! I'd say my baking style is rooted in American classics but with a strong influence from the French Pâtisserie that I've fallen in love with here in Paris.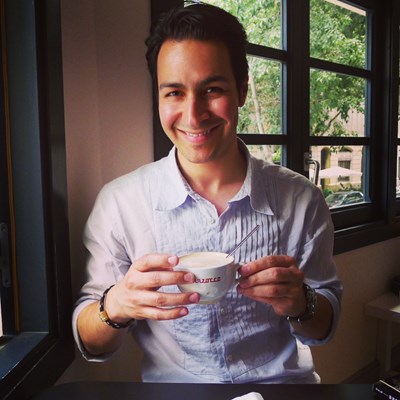 Q: Are you a cookbook collector? If so, tell us about your collection – number of books, favorite genre, favorite author?
Yes. I love cookbooks and especially baking books, of course. I must have at least 20-30 titles just on cake making/decorating alone. One of my favorite sweet authors is Linda Lomelino who is based in Sweden. I have every book she has ever published, not only are her photographs gorgeous but the recipes are always delicious.
Q: What do you look for in a cookbook?
A: I like when cookbooks tell a story with their recipes, Michelle Polzine's latest cookbook, "Baking at 20th Century Cafe" is filled with heritage recipes and cakes with long and fascinating pedigrees.
Q: What is the best part of your job? Do you sometimes feel like working with food all day keeps you from wanting to get creative in the kitchen?
The best part has been seeing everybody express their own unique designs when it comes to my cake decorating workshops. It's fascinating to have a group of people who all have access to the same ingredients and each person creates something totally unique and very much their own vision. It inspires me to keep things creative when I don my apron.
Q: What is your go to for a quick dinner – quick dessert?
My go to quick dinner is always a lemon cream pasta with spinach and lots of Parmesan. For a quick dessert I can't resist poached fruits (like apricots or pears) served with a dollop of crème fraîche.
Q: Tell us about your cookbook or any future projects you are working on?
A: My cookbook, "Sweet Paris-Seasonal Recipes from an American Baker in France" has just released and is a celebration of baking through the seasons in France. I tried to go further with this book by also offering up tips on shopping Parisian markets, navigating brocantes, seasonal florals and what fabulous things not to miss in Paris in each season.
Follow Frank on Instagram and be sure to visit his beautiful website.
Special thanks to the publisher for providing two copies of this title in our promotion. We are so in love with this book we wanted to add a little something special to the promotion – a cake server and tea towel as pictured and ordered from Etsy.
Entry options include answering the following question in the comments section of this blog post.
Which recipe in the index would you like to try first?
Please note that you must be logged into the Rafflecopter contest before posting or your entry won't be counted. For more information on this process, please see our step-by-step help post. Once you log in and enter your member name you will be directed to the next entry option – the blog comment. After that, there are additional options that you can complete for more entries. Be sure to check your spam filters to receive our email notifications. Prizes can take up to 6 weeks to arrive from the publishers. If you are not already a Member, you can join at no cost. The contest ends at midnight on June 19th, 2022.
a Rafflecopter giveaway