The New Cooking School Cookbook: Advanced Fundamentals Cookbook Giveaway
January 17, 2023 by Jenny
Enter our US/CA giveaway to win one of three copies of The New Cooking School Cookbook: Advanced Fundamentals by America's Test Kitchen.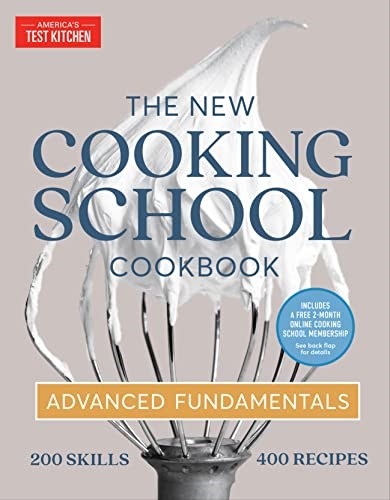 The New Cooking School Cookbook: Advanced Fundamentals by America's Test Kitchen: Last year, ATK published The New Cooking School Cookbook: Fundamentals which shared over 80 themed courses geared to teach more than 200 skills and cook 400 recipes.
This year, Advanced Fundamentals shares 100 advanced courses filled with 400+ recipes and new-school techniques provided by 20 expert test-kitchen instructors. This is a cookbook written for confident home cooks ready to explore new territory and learn by cooking spectacular recipes. Travel beyond the basics into 100 engaging themed courses such as Stuffed Pasta, Pho, Grilled Salad, Koji Magic, and Soufflés.
Within the course structure, recipes are supplemented by illustrated core techniques, food science sidebars, and infographic resource pages packed with valuable behind-the-recipe information. You will confidently learn to: • make your own cheese • be your own butcher • fearlessly fry • bake challah, baguettes, and croissants • put the icing on all kinds of cakes.
Our
takes you inside this beautiful book and features the following
Enhance your culinary prowess with this amazing title that has it all from the trusted folks at America's Test Kitchen.
Special thanks to the publisher for providing three copies of this title in our promotion. Entry options include answering the following question in the comments section of this blog post.
Which recipe in the index would you like to try first?
Please note that you must be logged into the Rafflecopter contest before posting or your entry won't be counted. For more information on this process, please see our step-by-step help post. Once you log in and enter your member name you will be directed to the next entry option – the blog comment. After that, there are additional options that you can complete for more entries. Be sure to check your spam filters to receive our email notifications. Prizes can take up to 6 weeks to arrive from the publishers. If you are not already a Member, you can join at no cost. The contest ends at midnight on March 25th, 2023.
a Rafflecopter giveaway