Fish Butchery – Cookbook Giveaway
September 23, 2023 by Jenny
Enter our US/UK/AU/NZ giveaway to win one of three copies of Fish Butchery: Mastering The Catch, Cut, and Craft by Josh Niland.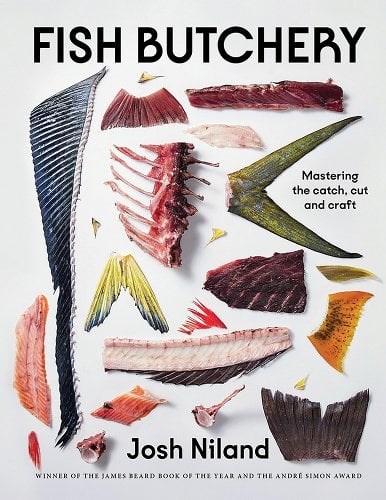 James Beard award-winning author and culinary game-changer Josh Niland returns with the ultimate guide to the art of fish butchery, with expert techniques and ground-breaking recipes that are an urgent call for action on culinary sustainability. Josh's multi award-winning debut The Whole Fish Cookbook created a new blueprint for fish cookery, while its bestselling sequel Take One Fish unpacked 15 different species to reveal their true gastronomic potential.
In this latest book, Josh continues to open our eyes to the potential of fish in the kitchen. Presented in three stunning sections – Catch, Cut and Craft – and illustrated by legendary artist and musician Reg Mombassa, it's both a challenge to the food industry to do things differently and a dazzling manual to the eye-popping potential in each and every fish. Featuring detailed instructions on how to prepare fish – from reverse butterfly to double saddle – as well as over 40 brilliant recipes for everything from fish sticks to pies, sausage and chorizo, Fish Butchery will disrupt, challenge and inspire the next generation.
Our
takes you inside this beautiful book and features the following
The photographs and instructions on butchery – example above – are something I sorely need. I put the "butcher" in butchery. It is my hope that with Josh's book I can fillet a fish and have it still resemble a fillet. My grandmother was one of the first female butchers in the East St. Louis slaughter houses way back when – I did not inherit any of her skills. Josh is the ultimate seafood expert and this may be his best book yet.
Special thanks to the publisher for providing three copies of this title in our promotion. Entry options include answering the following question in the comments section of this blog post.
Which recipe in the index would you like to try first?
Please note that you must be logged into the Rafflecopter contest before posting or your entry won't be counted. For more information on this process, please see our step-by-step help post. Once you log in and enter your member name you will be directed to the next entry option – the blog comment. After that, there are additional options that you can complete for more entries. Be sure to check your spam filters to receive our email notifications. Prizes can take up to 6 weeks to arrive from the publishers. If you are not already a Member, you can join at no cost. The contest ends at midnight on December 4th, 2023.
a Rafflecopter giveaway