Jubilee – Cookbook Giveaway
February 4, 2020 by Jenny
Enter our giveaway open to US/CA to win a copy of Jubilee: Recipes from Two Centuries of African-American Cooking by Toni Tipton-Martin from the publisher. EYB is providing one copy outside US/CA worldwide.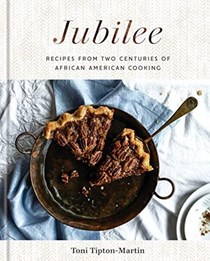 Jubilee: Recipes from Two Centuries of African-American Cooking by Toni Tipton-Martin is a celebration of two hundred years of African-American cooking. The author's vast research is shared in the stories and recipes developed by the black professional culinary class from butlers to ranch hands to classically trained chefs. She gathered over 400 cookbooks written by black authors some dating back to 1827. Half of those titles were reborn in her award-winning The Jemima Code: Two Centuries of African American Cookbooks.
Jubilee pays homage to the cooks and chefs who have for centuries honored food and traditions. Toni is a story-teller and her words are a joy to read as this book is a gift to all of us who love food. Filled with a history we all must soak up and rich with great food, it is sure to be another award winner. The book has made my best books of 2019 and has received many prestigious mentions including the best of the best list.
I've made the Pork chops with rich caper-lemon sauce and I don't think I ever need another recipe for pork chops again. These chops were tender and scrumptious. Even a great cook can screw up pork chops but there is no failing with this recipe. I have dozens of recipes on my list including her Extra-light buttermilk cornbread, Sweet potato salad, and her Caramel cake. Buy the book for the recipes but treasure it for the countless souls before us who have shaped our culinary world.
---
Our
takes you inside this beautiful book and features the following
Special thanks to the publisher for providing the materials for our preview above and for offering a copy of this title in our giveaway below.
Thanks to the publisher for providing one copy of the above-referenced title in our giveaway open to EYB Members in the US and Canada. EYB is providing one copy outside the US and Canada. One of the entry options is to answer the following question in the comments section of this blog post.
Which recipe in the index would you try first?
Please note that you must be logged into the Rafflecopter contest before posting or your entry won't be counted. For more information on this process, please see our step-by-step help post and this forum post. Once you log in and enter your member name you will be directed to the next entry option – the blog comment. After that, there are additional options that you can complete for more entries. Be sure to check your spam filters to receive our email notifications. Prizes can take up to 6 weeks to arrive from the publishers. If you are not already a Member, you can join at no cost. The contest ends at midnight on August 5th, 2020.
a Rafflecopter giveaway