Beyond the North Wind – Cookbook Giveaway
February 11, 2020 by Jenny
Enter our US giveaway to win a copy of Beyond the North Wind: Russia in Recipes and Lore by Darra Goldstein. Please note the author is touring and her events are on our calendar.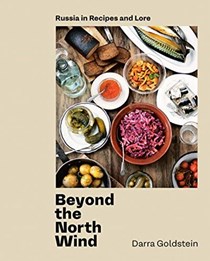 Beyond the North Wind is an intriguing, thoughtful study of Russian cuisine and culture brought to us by Darra Goldstein who has been immersed in the field for nearly fifty years. Politics aside, I have been enamored with Russian culture for some time myself. What sealed the deal was watching Paul Hollywood's City Bakes show featuring the bakeries of St. Petersburg. A small clip from this episode can be found here.
Normally, one wouldn't think of Russia as being a world food capital but Darra knocks that untruth out of the water. The narrative, photographs, and recipes in this gorgeous book all work together to inspire the home cook to explore this fascinating food scene.
Of course, seafood, pickled and fermented foods play a fairly large part in everyday cooking in Russia but there is so much more to enjoy. For example, Vatrushki, a cheese-filled bun, Black currant cheesecake, Easter bread, and Dumplings with mushrooms and buckwheat look spectacular.
Beyond the North Wind is a chance to experience Russian culture that is approachable and exciting. Darra provides us a fascinating education in all things Russian and we are the better for soaking up her expertise.
Our
takes you inside this beautiful book and features the following
Special thanks to Ten Speed Press for providing the materials for our EYBD Preview above as well as offering three copies of this must-have book in our giveaway below.
Thanks to the publisher for providing three copies of the above-referenced title in our giveaway open to EYB Members in the US. One of the entry options is to answer the following question in the comments section of this blog post.
Which recipe in the index would you try first?
Please note that you must be logged into the Rafflecopter contest before posting or your entry won't be counted. For more information on this process, please see our step-by-step help post and this forum post. Once you log in and enter your member name you will be directed to the next entry option – the blog comment. After that, there are additional options that you can complete for more entries. Be sure to check your spam filters to receive our email notifications. Prizes can take up to 6 weeks to arrive from the publishers. If you are not already a Member, you can join at no cost. The contest ends at midnight on August 11th, 2020.
a Rafflecopter giveaway