Rage Baking – Cookbook Promotion
February 12, 2020 by Jenny
Enter our US/CA giveaway to win a copy of Rage Baking: The Transformative Power of Flour, Butter, Sugar, and Women's Voices by Kathy Gunst and Katherine Alford. Please note the authors' events that begin on February 17th are shared on our calendar. As of today, Rage Baking is a part of the buy three books for the price of two on Amazon. Buy copies for Valentine's Day, Mother's Day or just because you love someone. I laughed when I saw that Amazon has it listed as a #1 best seller in pressure cooking!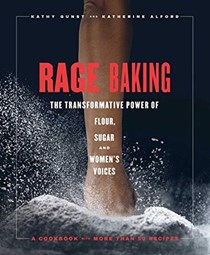 This weekend I came across a T-shirt that read "I bake because punching people is frowned upon." How many of us can relate to that statement? Stephanie Panecasio wrote for the website Mindfood: "By using baking as a form of behavioral activation, bakers that struggle with depression or other mood disorders can escape into a focused activity, occupying the whole mind/body spectrum. This redirection of thoughts is a subconscious form of therapy."
Or, as I phrase this type of exercise yoga with flour.
Rage Baking offers more than 50 cookie, cake, tart, bread, and pie recipes as well as inspirational essays, reflections, poems, and interviews with well-known bakers and impassioned women and activists. These women include Carla Hall, Ruth Reichl, Dorie Greenspan and more. The book is filled with gorgeous photos by Jerrelle Guy (Black Girl Baking) and the late Nancy Rudolph (photographer and mother-in-law of Kathy Gunst) provided the black-and-white photos that open each chapter.
More than a cookbook with a political statement, Rage Baking is a testament of strength. While reading the essays, we know we are not alone. We can feel the many hands that reach out in support. While many of us are struggling for an answer to the question "how the hell did we get here?" – the authors and contributors of this powerful work assure us we can make a difference. Rise up, take solace in the power of flour, fury and women's voices, and, lastly, punch some dough.
Special thanks to Tiller Press for sharing the recipe below from Rage Baking for our members. We have also linked to two other online recipes from this title which were featured on NPR's Here and Now: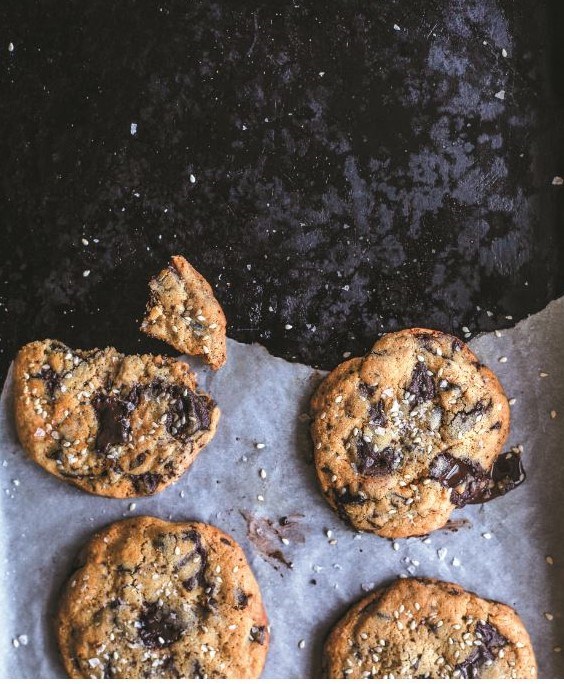 Tahini chocolate chip cookies [Kathy Gunst]
Add this recipe to your Bookshelf (click the blue +Bookshelf button).
Makes about 24 cookies
1 cup plus 2 tablespoons (130 grams) all-purpose flour
¾ teaspoon baking soda
A generous pinch of Maldon or other sea salt, plus more for sprinkling
1 stick unsalted butter, at room temperature
½ cup tahini, well stirred
⅓ cup granulated sugar
⅓ cup packed light brown sugar
1 large egg, at room temperature
1 large egg yolk
1 teaspoon pure vanilla extract
1 (10- to 12-ounce) bag bittersweet or semisweet chocolate chunks,
chopped, or chocolate chips (about 1 ¾ cups)
About ¼ cup white sesame seeds
Chocolate chip cookies are everywhere. And while I never tire of a good chocolate chip cookie, I wanted to take this classic to the next level. So I added tahini (roasted ground hulled sesame paste) and it hit the perfect note. The cookies are not overly sweet, and the tahini gives them a rich, nutty flavor, much like peanut butter but far more interesting. A sprinkling of crunchy toasted white sesame seeds and coarse sea salt is the perfect finishing touch. The dough can be refrigerated for at least four days or frozen for up to two months.
Mix the flour, baking soda, and salt together in a small bowl.
Beat the butter, tahini, granulated sugar, and brown sugar on medium speed in an electric mixer or in a stand mixer fitted with the paddle attachment for about 3 minutes, until fluffy and fully incorporated, stopping and scraping down the sides of the bowl a few times as needed. Add the egg, egg yolk, and vanilla and mix for 1 minute more.
With the mixer on low speed, gradually add the flour mixture and mix until just combined. Remove the bowl from the mixer and, using a rubber spatula, fold in the chocolate, being careful not to overmix. Cover the dough and refrigerate for at least 1 hour or up to overnight. (This might sound fussy, but the cookies are honestly better after the dough has had a chance to rest.)
Position two racks evenly in the oven and preheat the oven to 325 F. Line two baking sheets with parchment paper or silicone baking mats.
Scoop out a generous tablespoon of the dough, roll it into a ball, and place it on the prepared pan, making sure not to place the cookies too close together. Repeat with the remaining dough, dividing the cookies between the prepared pans. Lightly moisten your palm and gently push the cookies down to flatten them. Sprinkle with the sesame seeds and press them lightly to make sure they adhere to the dough.
Bake for 6 minutes, then rotate the pans 180 degrees and switch their positions from top to bottom and bottom to top. Bake for 6 to 8 minutes more, until the cookies are almost deep golden brown around the edges, but still somewhat pale in the center. Remove from the oven and sprinkle the cookies with the sea salt, gently pressing it into the cookies to adhere.
Let the cookies cool for at least 5 minutes on a wire rack then serve slightly warm or at room temperature. Store in a tightly sealed container at room temperature for up to 2 days.
From RAGE BAKING by Kathy Gunst and Katherine Alford, published by Tiller Press, an imprint of Simon & Schuster. Copyright © 2020 by Kathy Gunst and Katherine Alford. All rights reserved.
Thanks to the publisher for providing three copies of the above-referenced title in our giveaway open to EYB Members in the US and Canada. One of the entry options is to answer the following question in the comments section of this blog post.
Which recipe in the index would you try first?
Please note that you must be logged into the Rafflecopter contest before posting or your entry won't be counted. For more information on this process, please see our step-by-step help post and this forum post. Once you log in and enter your member name you will be directed to the next entry option – the blog comment. After that, there are additional options that you can complete for more entries. Be sure to check your spam filters to receive our email notifications. Prizes can take up to 6 weeks to arrive from the publishers. If you are not already a Member, you can join at no cost. The contest ends at midnight on August 12th, 2020.
a Rafflecopter giveaway