The Great British Chefs Vegetables – Cookbook Giveaway
August 19, 2020 by Jenny
Enter our worldwide giveaway to win one of three copies of Great British Chefs: Vegetables: 40 Seasonal Recipes From the UK's Most Exciting Chefs by Great British Chefs.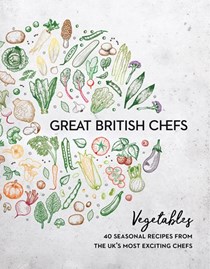 On my honeymoon many years ago, I fell in love with London. Everything about the city spoke to me from exciting new places to shop (grocery store fanatic here) to the cuisine. We needn't mention my obsession with the Great British Bake Off.
Being a lover of all things British, when I ventured upon the Great British Chefs (GBC) website, I fell down a rabbit hole of inspiration. You can search by recipe name or recipe type or find all the recipes of your favorite chef. Our EYB Library has indexed Great British Chefs – Chef Recipes and Great British Chefs – Blog Recipes from the GBC site, so you can also search through their recipes on EYB.
The GBC site offers over 10,000 recipes at the free membership level and two additional levels provide even more benefits including masterchef videos! Click on the photo below to check out each level.
In 2018 GBC published their first cookbook, I was thrilled I had backed this title because the Great British Chefs: 120 Recipes from Britain's Best Chefs
title is magnificent. We will have a promotion on that beautiful book soon.
This month their second cookbook Great British Chefs: Vegetables focuses on vegetable dishes. Stunning photography and mouth-watering recipes will tempt you to include dishes in your menu rotation.
Our
takes you inside this beautiful book and features the following
The Great British Chefs: Vegetables cookbook is organized seasonally with recipes from chefs such as Asma Khan and Tom Aikens. The Brussels sprouts with miso aioli and onion jam recipe is on my must-make list! You can order a copy of this title here.
Special thanks to Great British Chefs for offering three copies of Great British Chefs: Vegetables (winner's choice of either ebook or print copy) in our worldwide giveaway. Entry options include answering the following questions in the comments section of this blog post.
Which recipe in the index would you try first?
Visit the Great British Chefs' site – which recipe would you like to make?
Please note that you must be logged into the Rafflecopter contest before posting or your entry won't be counted. For more information on this process, please see our step-by-step help post and this forum post. Once you log in and enter your member name you will be directed to the next entry option – the blog comment. After that, there are additional options that you can complete for more entries. Be sure to check your spam filters to receive our email notifications. Prizes can take up to 6 weeks to arrive from the publishers. If you are not already a Member, you can join at no cost. The contest ends at midnight on January 22nd, 2021.
a Rafflecopter giveaway