Ikaria – Cookbook Giveaway
September 9, 2020 by Jenny
Enter our US/UK/AU/NZ giveaway to win one of three copies of Ikaria: Food and Life in the Blue Zone by Mary "Meni" Valle.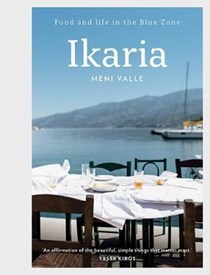 Ikaria is known worldwide for its incredibly high life expectancies and low rates of chronic disease, much of which can be attributed to diet. The inn owner where Meni stayed answered the question "What do you think is the secret to longevity?" as follows "… here in Ikaria, we do not try to add years to our life. Instead, we add life to our years. We make the most of every day."
This is a good philosophy and certainly, one that is easier to embrace when surrounded by the beauty of this Greek island. It is difficult to make the most of each day when stuck on a crowded subway car or in bumper-to-bumper traffic with the honking of horns instead of enjoying the seagulls soaring over the crystal blue water of the Aegean Sea. At least we can adopt the cuisine of this lifestyle with this stunning cookbook and work on finding zen.
Born to Greek parents, the author has always been fascinated by her family's traditions of cooking and eating. While visiting Ikaria, Meni collects traditional recipes from across the island which reflect the best of Mediterranean food: vegetables, beans, whole grains, small amounts of meat and fish, a couple of glasses of wine, and plenty of olive oil. The stories of Ikaria are also shared, where life is all about taking time: time to cook, to eat, to nap, to spend with family and friends, to enjoy, and to appreciate.
With intimate glimpses of the island's festivals, markets, kitchens, and people, Ikaria is a cookbook that will transport and transform you at least until you are again stuck in traffic late for a meeting.
Our
takes you inside this beautiful book and features the following
Special thanks to the publisher for offering three copies of this title in our US/UK/AU/NZ giveaway. Entry options include answering the following questions in the comments section of this blog post.
Which recipe in the index would you try first?
Please note that you must be logged into the Rafflecopter contest before posting or your entry won't be counted. For more information on this process, please see our step-by-step help post and this forum post. Once you log in and enter your member name you will be directed to the next entry option – the blog comment. After that, there are additional options that you can complete for more entries. Be sure to check your spam filters to receive our email notifications. Prizes can take up to 6 weeks to arrive from the publishers. If you are not already a Member, you can join at no cost. The contest ends at midnight on November 10th, 2020.
a Rafflecopter giveaway