Root Stem Leaf Flower: How to Cook with Vegetables and Other Plants – Cookbook Giveaway
April 6, 2021 by Jenny
Enter our US/UK/AU/NZ giveaway to win one of three copies of Root Stem Leaf Flower: How to Cook with Vegetables and Other Plants by Gill Meller.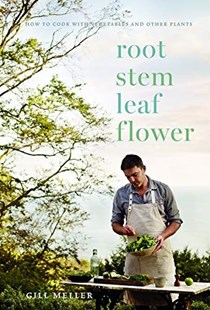 Gill is a chef, food writer, author, food stylist and cookery teacher and has been part of the River Cottage team for 11 years. In 2017, he answered some questions for our members to celebrate Gather. While he has collaborated on several River Cottage titles, Pig & Pork, A to Z, and Outdoor Cooking, Gather was his first solo book. He followed with Time: A Year and a Day in the Kitchen and now Root Stem Leaf Flower – published in 2020 in the UK and in the US in March of this year. I do not own the River Cottage titles, but I know Meller's three solo titles are beautiful.
Our
takes you inside this book and features the following
This is a cookbook about plants and making the most of the land's bounty in our everyday cooking. Making small changes to the way we cook and eat can both lessen the impact we have on the environment and dramatically improve our health and wellbeing: good for us and for future generations to come.
With 120 original recipes, every dish captured with gorgeous imagery, and Gill's ideas for using the very best fresh ingredients, this title is a thoughtful, inspiring collection of recipes that you'll want to come back to again and again.
Special thanks to the publisher for providing three copies of this title in our promotion. Entry options include answering the following question in the comments section of this blog post.
Which recipe in the index would you like to try first?
Please note that you must be logged into the Rafflecopter contest before posting or your entry won't be counted. For more information on this process, please see our step-by-step help post and this forum post. Once you log in and enter your member name you will be directed to the next entry option – the blog comment. After that, there are additional options that you can complete for more entries. Be sure to check your spam filters to receive our email notifications. Prizes can take up to 6 weeks to arrive from the publishers. If you are not already a Member, you can join at no cost. The contest ends at midnight on July 6th, 2021.
a Rafflecopter giveaway