Giveaway: Hoppers: The Cookbook
February 8, 2023 by Jenny
Enter our US/UK/AU/NZ giveaway to win one of three copies of Hoppers: The Cookbook: Recipes, Memories and Inspiration from Sri Lankan Homes, Streets and Beyond by Karan Gokani.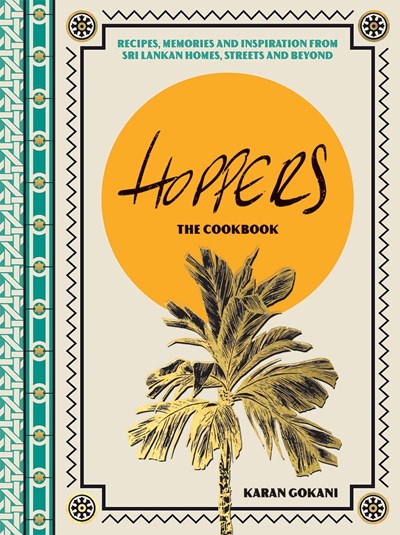 Hoppers: The Cookbook: Recipes and Stories from Sri Lanka and Beyond by Karan Gokani showcases signature recipes from the cult London restaurants, while also going further explore the dishes, places and people that inspired them.
London has been turned on to the foods of Sri Lanka for some time, but of the city's restaurant Hoppers, which Karan Gokani manages as part of his wife's family business, the Evening Standard says, "nowhere else is it done so seductively." Named for the crêpes made from fermented rice and coconut milk batter, beloved by southern Indians and Sri Lankans, Hoppers features dishes that range from spicy shrimp to a guinea fowl kari (curry) to a special menu highlighting the coconut spirit arrack (coconut, Gokani says, is one of the most versatile ingredients).
The book celebrates both home cooking and the food served at roadside shacks, kitchens and stalls across Sri Lanka. Karan Gokani explores the classics as well as new recipes developed at Hoppers restaurants. Stunning location photography, glorious food, warmth, personality and generosity suffuse the pages of this cookbook.
Our
takes you inside this beautiful book and features the following
Special thanks to the publisher for providing three copies of this title in our promotion. Entry options include answering the following question in the comments section of this blog post.
Which recipe in the index would you like to try first?
Please note that you must be logged into the Rafflecopter contest before posting or your entry won't be counted. For more information on this process, please see our step-by-step help post. Once you log in and enter your member name you will be directed to the next entry option – the blog comment. After that, there are additional options that you can complete for more entries. Be sure to check your spam filters to receive our email notifications. Prizes can take up to 6 weeks to arrive from the publishers. If you are not already a Member, you can join at no cost. The contest ends at midnight on May 18th, 2023.
a Rafflecopter giveaway