Time & Tide Cookbook Giveaway
July 27, 2023 by Jenny

Enter our US/UK/AU/NZ giveaway to win one of three copies Time & Tide: Recipes from My Coastal Kitchen by Emily Scott. Be sure to check out Emily's events which we have shared on our Calendar.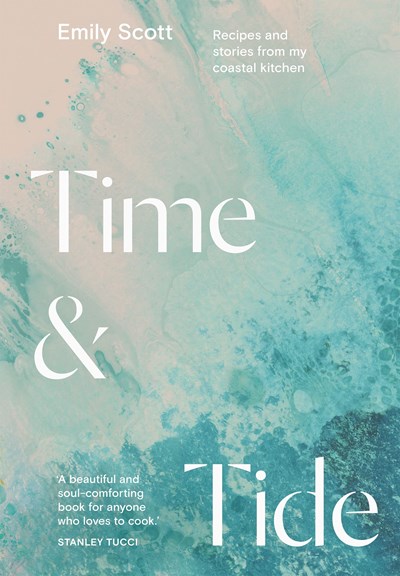 Emily's first title Sea & Shore: Recipes and Stories from a Kitchen in Cornwall (our review) was published in 2021. Now, the author is back with another beautiful collection of recipes in Time & Tide: Recipes from My Coastal Kitchen. Here, she weaves together the strands that influence and inspire the author's cooking – all the elements that make for incredible dishes infused with creativity and a sense of place. Each dish evokes something inherently special to Emily and the culinary delights of Cornwall. Be welcomed into her coastal world with more than 80 recipes alongside stunning photography to help you discover this most-magical of places.
After spending time with both of Emily's books, I long for the shores of Cornwall, a county on England's rugged southwestern tip. It forms a peninsula encompassing wild moorland and sandy beaches. The south coast is dubbed the Cornish Riviera and home to picturesque harbour villages. The north coast is lined with towering cliffs and seaside resorts. I have been dreaming of returning to London to visit all the places I missed on my first trip and now I must add Cornwall to my itinerary as another destination.
Our
takes you inside this beautiful book and features the following
If you are like me, you want to buy a shell shaped madeleine pan to make these beauties: Amazon (US) or Amazon (UK). Of course, no matter what pan/mold you use they will be just as delicious.
Special thanks to the publisher for providing three copies of this title in our promotion. Entry options include answering the following question in the comments section of this blog post.
Which recipe in the index would you like to try first?
Please note that you must be logged into the Rafflecopter contest before posting or your entry won't be counted. For more information on this process, please see our step-by-step help post. Once you log in and enter your member name you will be directed to the next entry option – the blog comment. After that, there are additional options that you can complete for more entries. Be sure to check your spam filters to receive our email notifications. Prizes can take up to 6 weeks to arrive from the publishers. If you are not already a Member, you can join at no cost. The contest ends at midnight on September 29th, 2023.
a Rafflecopter giveaway