East Bay Cooks Cookbook Giveaway
September 16, 2019 by Jenny
Enter our giveaway to win a copy of East Bay Cooks: Signature Recipes from the Best Restaurants, Bars, and Bakeries by Carolyn Jung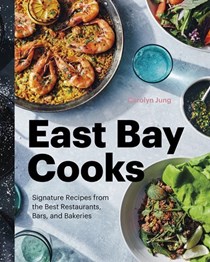 I have said this before and I'll say it again – I love the cooks and eats series from Figure1. They take me away to another city and allow me to experience the restaurant scene and food of that locale. We have three such titles coming this Fall: East Bay Cooks, Calgary Eats and Houston Cooks and they are all spectacular. I am the first to admit that I am not very organized when it comes to my cookbooks but this series of books is on one shelf and always handy.
Figure1's food and drink landing page states: "A beautiful cookbook is a vehicle for discovery. It opens our minds to new worlds, exotic flavours, gifted chefs, and amazing food. For us, a cookbook is a work of art and a trusted friend, a guide to new possibilities and a certain path to delicious meals." I agree wholeheartedly.
East Bay Cooks is written by food writer Carolyn Jung, the voice behind Food Gal. We have shared her book tour on our calendar.
As typical with this series, the author delivers profiles of top chefs along with their signature recipes. For instance, Eric Tucker and Ariana Goldschneider from Millennium share their recipes for Parsnip-scallion cakes with Oyster mushrooms, edamame puree, and Asian pear-kimchee salad and Hazelnut cake with pear-ginger compote. Recipes range from elegant dinners, cocktails to desserts. There is something for everyone here.
Our EYBDigital Preview shares the following EYBDigital Recipes:
Thanks to the publisher for providing the materials for our EYBD Preview above and for offering two copies of East Bay Cooks to EYB Members in the US and CA. One of the entry options is to answer the following question in the comments section of this blog post.
Which recipe in the index would you try first?
Please note that you must be logged into the Rafflecopter contest before posting or your entry won't be counted. For more information on this process, please see our step-by-step help post and this forum post. Once you log in and enter your member name you will be directed to the next entry option – the blog comment. After that, there are additional options that you can complete for more entries. Be sure to check your spam filters to receive our email notifications. Prizes can take up to 6 weeks to arrive from the publishers. If you are not already a Member, you can join at no cost. The contest ends at midnight on November 16th, 2019.
a Rafflecopter giveaway