Pastry School: 100 Step-by-Step Recipes – Cookbook Giveaway
November 12, 2019 by Jenny
Enter to win a copy of Pastry School: 100 Step-by-Step Recipes by Le Cordon Bleu in our giveaway below (open to US/CA/UK/AU/NZ) members.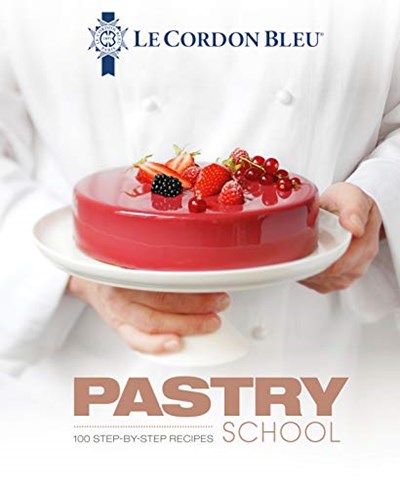 Over the last four years, I have professed my love for all things baking. Learning more about the vast world of pastry is my passion and the book we are featuring today Pastry School: 100 Step-by-Step Recipes is the perfect guide to creating beautiful pastry at home. This month the Le Cordon Bleu Chocolate Bible: 180 Recipes from the Famous French Culinary School
is being published. I'll have more about that title in our cookbook review along with a promotion later this month.
Le Cordon Bleu is the highly renowned, world-famous cooking school noted for the quality of its culinary courses with over 20 schools on five continents. While many of us have dreams of attending such an institution, we can gather knowledge from their stunning cookbooks, while we dream.
Each recipe has a full page of nine photographs demonstrating the technique and process of a recipe along with a beauty shot of the final product. The recipes are detailed perfectly with the component ingredients listed, equipment needed (pastry bags for example), tips for success, and then step-by-step instructions that pare down the recipe into something approachable whether you are new to baking or a seasoned baker.
For ages, I've wanted to tackle craquelin and this weekend I am going to make the Choux buns with craquelin and chocolate from this title. I've made Choux buns before but I've been intrigued by the craquelin made on the baking shows I've watched. From the basics (genoise sponge) to the showstopping (Lemon yule log), this book covers it all.
Our
provides a snapshot of this gorgeously photographed book and features the following
Special thanks to the publisher, Grub Street, for providing the materials for our EYBD Preview above and offering three copies of this title in our giveaway below.
Thanks to the publisher for providing three copies of the above-referenced title in our giveaway open to EYB Members in the US, CA, UK, AU, and NZ. One of the entry options is to answer the following question in the comments section of this blog post.
Which recipe in the index would you try first?
Please note that you must be logged into the Rafflecopter contest before posting or your entry won't be counted. For more information on this process, please see our step-by-step help post and this forum post. Once you log in and enter your member name you will be directed to the next entry option – the blog comment. After that, there are additional options that you can complete for more entries. Be sure to check your spam filters to receive our email notifications. Prizes can take up to 6 weeks to arrive from the publishers. If you are not already a Member, you can join at no cost. The contest ends at midnight on December 30th, 2019.
a Rafflecopter giveaway
Seen anything interesting?
Let us know
& we'll share it!