Vegetable Kingdom & Kuhn Rikon Kitchen Tools
March 3, 2020 by Jenny
Enter our giveaway to win a copy of Vegetable Kingdom: The Abundant World of Vegan Recipes by Bryant Terry with one grand prize winner receiving two handy kitchen tools from Kuhn Rikon products: a mortar & pestle and Epicurean ratchet grinder.
Please see our calendar for the author's book tour.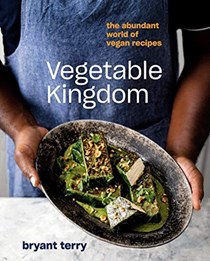 The latest work by Bryant Terry showcases 100 accessible recipes that result in delicious vegan meals from vegetables, grains, and legumes. Beautiful imagery is shared throughout this book that makes plant-based cooking not only exciting but also comforting and satisfying.
Bryant has authored a number of cookbooks on vegan cooking most notably are his titles Afro-Vegan and Vegan Soul Kitchen which are very popular with our members. After reviewing Vegetable Kingdom, I can understand why his books are hits. You needn't follow a vegan diet to appreciate the recipes here.
Our
takes you inside this beautiful book and features the following
Warm butter bean salad with roasted bell peppers, Cornmeal-fried oyster mushroom po-boy, and Creamy grits with sunchoke puree and tomato gravy are additional examples of dishes that have inspired me to add more vegetables to our menus. This food will appeal to all – vegans and carnivores alike.
Special thanks to Ten Speed Press for providing the materials needed for our preview above and for offering three copies of this beautiful book in our giveaway below.
To celebrate Bryant's new cookbook, our friends at Kuhn Rikon have two new products to share with one grand prize winner of Vegetable Kingdom.
First up, this cool mortar & pestle. I love the design of this beauty and its capability to crush, grind, and blend herbs, spices, and nuts in three different bowl sizes. The unglazed surface provides maximum friction for grinding. I often find myself having to clean out my mortar during meal prep for another recipe component. The Kuhn Rikon mortar & pestle eliminates that step.
Next, the Epicurean ratchet grinder is an upscale version of Kuhn Rikon's popular ratchet grinder with a sleek and modern look but the same high-performance mechanism and ceramic grinding stone. So easy to use and beautiful to look at, you will want to take this tool from countertop to tabletop.
Thanks to the publisher for providing three copies of the above-referenced title in our giveaway open to EYB Members in the US and to Kuhn Rikon for providing a mortar & pestle and Epicurean ratchet grinder to one grand prize winner. Entry options include answering the following questions in the comments section of this blog post.
Which recipe in the index would you try first?
Visit Kuhn Rikon's website to look at their products and leave a second comment stating which piece has caught your eye.
Please note that you must be logged into the Rafflecopter contest before posting or your entry won't be counted. For more information on this process, please see our step-by-step help post and this forum post. Once you log in and enter your member name you will be directed to the next entry option – the blog comment. After that, there are additional options that you can complete for more entries. Be sure to check your spam filters to receive our email notifications. Prizes can take up to 6 weeks to arrive from the publishers. If you are not already a Member, you can join at no cost. The contest ends at midnight on September 19th, 2020.
a Rafflecopter giveaway