From Scratch – Cookbook Giveaway
May 14, 2020 by Jenny
Enter our US/CA giveaway to win one of three copies of From Scratch: 10 Meals, 150 Recipes, and Dozens of Techniques You Will Use Over and Over by Michael Ruhlman.
When I first received this title, I was gobsmacked. It is stunning – filled with beautiful imagery, illustrations, and Ruhlman's best from-scratch recipes. One would think that most cooks would know how to make French fries, you know from potatoes? But admit it. Are there times when your "hand-cut fries" look pale and lack that perfect crispness? Ruhlman takes you step-by-step to create frites worthy of any Parisian bistro.
There are ten chapters here. Each one focusing on a particular subject as well as full dishes that stem from that focused subject including variations and more. Chapters are broken down as follows: Roast chicken; The omelet; Lasagne; Steak frites; Paella; Cassoulet; Slow-roasted pork shoulder; Curry; The bacon, lettuce and tomato sandwich; and The profiterole.
The chapter on the BLT includes details on growing your own produce, baking bread, conquering homemade mayonnaise, and curing bacon. Yes, you read that correctly. You can choose how far you wish to scratch the surface of these recipes up to and including making the entire sandwich from the ground up.
The step-by-step photos are especially helpful. There are eight process photos on how to make a lattice pie crust, how to create Pâte à choux puffs, and more. In From Scratch, Ruhlman delivers a cooking school between two covers and we can decide how much of his vast knowledge we can absorb.
Special thanks to Abrams for providing the following recipe for our members to try now and offering copies of this special book in our giveaway below. Other recipes available online: Chocolate tart and Chicken pot pie.
Seriously from-scratch five-layer lasagna
Add this recipe to your Bookshelf (click the blue +Bookshelf button).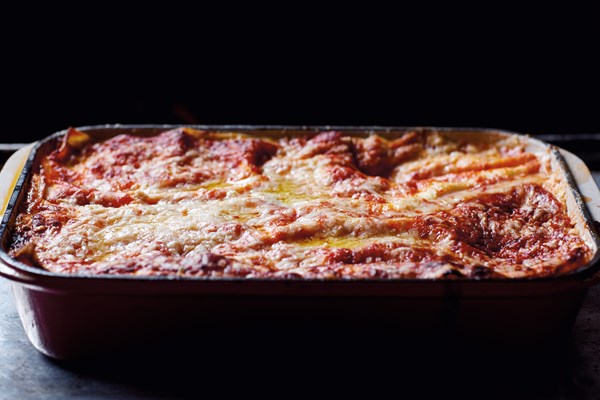 Serves 12 to 15
This is the simpler of the two lasagna variations presented here, but it's every bit as delicious—pasta layered with a Bolognese-béchamel sauce and topped with mozzarella. For this recipe, I used a 10-by- 15-inch/25-by-38-centimeter pan, because I began this book after marrying a woman who had a lovely Le Creuset baking dish of that size. Otherwise, I would have used my standard 9-by-13-inch/ 22-by-33-centimeter pan, and I might have been able to build the lasagna higher with the same amount of pasta. Everyone has pans of different sizes, so use your common sense.
The lasagna can be assembled ahead, refrigerated, and then baked. Or it can be baked and kept for 4 to 6 hours at room temperature and reheated. Or it can be baked, cooled, and refrigerated, then reheated. Regardless, it's important to let it rest at least 45 minutes before cutting into it, or it will be too runny. This recipe will serve at least twelve. Because I rarely cook for that large a crowd, this means half can be frozen and reheated for a great last-minute weeknight meal.
Ingredients:
2 pounds/900 grams lasagna noodles, dried, fresh, or homemade
6 cups/1.5 liters Bolognese Sauce (recipe below)
2 cups/480 milliliters Béchamel Sauce (recipe below)
1 cup/240 milliliters plain tomato sauce (a good store-bought version is fine)
1 pound/450 grams mozzarella, shredded
1 cup/80 grams grated Parmigiano Reggiano
Directions:
Preheat your oven to 400 ̊F/205 ̊C.
Cook the pasta until it's al dente, according to the type you're using (fresh pasta needs only a few minutes). Drain and chill in an ice bath or in plenty of cold running water.
In a large bowl, combine the Bolognese and béchamel sauces (if they are cold and stiff, heat them to ensure they mix uniformly).
Spread a layer of tomato sauce evenly across the bottom of your baking dish. Put a layer of pasta on top, cutting the sheets as needed to fit the pan. Spread a quarter of the Bolognese-béchamel mixture across the pasta. Repeat three more times, then cover the final layer of pasta with the mozzarella and then the Parmigiano.
If your baking dish is filled to the brim, put it on a rimmed baking sheet to catch any sauce that might bubble over. Bake the lasagna for 1 hour, or until piping hot.
Allow to cool for at least 45 minutes before cutting and serving. The longer you wait, the better. Room-temperature lasagna can be cut, and individual slices can be reheated in a hot oven.
Bolognese Sauce
Makes 7 to 8 cups/1.75 to 2 liters
Ingredients:
2 tablespoons olive oil
1 onion, diced
1 carrot, grated
2 celery ribs, diced
Kosher salt to taste
2 pounds/900 grams coarsely ground meat (preferably a mix of pork, veal, and beef)
2 cups/480 milliliters milk
1 cup/240 milliliters dry red wine
6 cups/1.5 liters plain tomato sauce (a good store-bought version is fine)
1 tablespoon dried oregano or 2 bay leaves
1 tablespoon fish sauce (if you have it on hand; optional, needless to say)
Directions:
In a large pot, heat the oil over medium-high heat. When it is hot, add the onion, carrot, and celery and cook until softened, 5 minutes or so. Hit them with a four-finger pinch of salt as they cook.
Add the meat, and cook, breaking it up as much as possible. When it has lost all its pinkness, add the milk and simmer until all the liquid has cooked off and the milk solids begin to brown.
Add the wine and stir. When the wine has come to a simmer, add the tomato sauce, oregano or bay leaves, and fish sauce (if using). When it has resumed a simmer, taste it and add more salt if needed. Simmer the sauce for 45 to 60 minutes, until thick.
*For a vegetarian version, sauté 2 pounds/ 900 grams diced cremini mushrooms, as described on page 77. Make the sauce without the meat, then add the mushrooms about 5 minutes before serving and allow them to simmer in the sauce.
Béchamel Sauce
Makes about 3 cups/720 milliliters
Ingredients:
4 tablespoons/60 grams unsalted butter
1 small onion, cut into small dice
Kosher salt to taste
6 to 8 tablespoons/45 to 60 grams all-purpose flour
1 quart/1 liter milk
1 bay leaf (optional)
1⁄4 teaspoon freshly ground black pepper
2 teaspoons fish sauce (optional)
Cayenne pepper to taste (optional)
Grated fresh nutmeg to taste (optional)
Directions:
Combine the butter and onion in a saucepan over medium-high heat, stirring to coat the onion with the melting butter. Add a four-finger pinch of salt. When the onion is translucent and tender, add the flour and cook for a minute or so.
Whisk in the milk (and add the bay leaf if you're using it), then stir continuously with a flat-edged wooden spoon or spatula until the milk comes to a simmer, making sure no flour sticks to the bottom of the pan and scorches. Add the black pepper. Add the fish sauce, cayenne, and/or nutmeg (if using). Cook very gently for 15 minutes or so. Taste it—if you can taste raw flour, cook it a little longer, skimming any foam that gathers on one side of the pan.
Special thanks to the publisher for offering three copies of From Scratch in our giveaway open to US and Canadian members only. Entry options include answering the following question in the comments section of this blog post.
Which recipe in the index would you try first?
Please note that you must be logged into the Rafflecopter contest before posting or your entry won't be counted. For more information on this process, please see our step-by-step help post and this forum post. Once you log in and enter your member name you will be directed to the next entry option – the blog comment. After that, there are additional options that you can complete for more entries. Be sure to check your spam filters to receive our email notifications. Prizes can take up to 6 weeks to arrive from the publishers. If you are not already a Member, you can join at no cost. The contest ends at midnight on December 18, 2020.
a Rafflecopter giveaway