Wings and Things – Cookbook Giveaway
May 18, 2020 by Jenny
Enter our giveaway open to US/UK/AU/NZ to win one of three copies of Wings and Things: Lip-Smacking Chicken Recipes by Ben Ford and David Turofsky.
Ben Ford, chef and author of Taming the Feast (and son of actor Harrison Ford) and David Turofsky joined forces in April 2015 and opened Wingmans in the UK. In their cookbook, Wings and Things they share the tried and true recipes that made Wingmans a hot spot in London. Ford and Turofsky were childhood friends growing up in London but started working together after Turofsky returned from a year studying in America. Our members can read more about the Wingmans' concept in this Irish News article.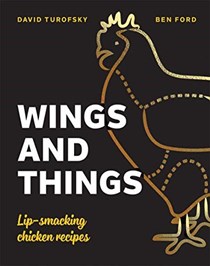 Warning: Do not look at this cookbook while you are the least bit hungry. The photographs are swoon-worthy and the recipes will bring a tear to your chicken loving heart. I am making the Sticky BBQ chicken thighs tomorrow. I had a package of chicken thighs planned for dinner and this book decided the delicious course those thighs would take.
I want to make/eat so many of these dishes from Bang bang bon bons (think chicken fritter with Bang-bang dip), the Beijing block party (chicken sandwich meets Asian cuisine), and the Crumplestiltskin (fried chicken sandwich with Stilton butter and Candied bacon). Charge the paddles – I'm ready, Lord, what a way to go. The book also shares condiments, vegetable sides, drinks, and desserts.
Our
takes you inside this beautiful book and features the following
I love the twists and turns these wing and chicken recipes travel. You need this book. Father's Day is coming up – buy this book for the man in your life and then steal it for yourself . Or better yet have him cook up poultry nirvana for you!
Special thanks to the publisher for providing the materials for our EYBD Preview.
Special thanks to Quadrille Publishing for offering three copies of Wings and Things: Lip-Smacking Chicken Recipes in our giveaway. Entry options include answering the following question in the comments section of this blog post.
Which recipe in the index would you try first?
Please note that you must be logged into the Rafflecopter contest before posting or your entry won't be counted. For more information on this process, please see our step-by-step help post and this forum post. Once you log in and enter your member name you will be directed to the next entry option – the blog comment. After that, there are additional options that you can complete for more entries. Be sure to check your spam filters to receive our email notifications. Prizes can take up to 6 weeks to arrive from the publishers. If you are not already a Member, you can join at no cost. The contest ends at midnight on December 8th, 2020.
a Rafflecopter giveaway