February 2021 Great Big Cookbook Club Summary
January 12, 2021 by Jenny
As our members know, each month we offer at least four cooking options in our Eat Your Books Cookbook Club. There are other fun cookbook clubs around the interwebs and we'd like to highlight those for those members who might want to cook or bake something other than our choices. Please note the addition of Kitchen Arts & Letters, The Sunday Times Cookbook Club, and Stained Page News Book Club below.
We want to get this information out to you so you can prepare and we will update this post when we have any missing information.
See this post for our 2021 year-long books and our options for March and April 2021.
---
---
Hardcover Cook is my favorite cookbook subscription box service.
The Winter selections will be announced soon and I will update this post when the Baking and Vegetarian boxes are finalized. Boxes will ship in March.
The Omnivore Box will definitely be: Simply Julia: 110 Easy Recipes for Healthy Comfort Food by Julia Turshen
See Hardcover Cook's other cookbook and ingredient bundles and see this page for more information on the subscription service.
---
Rainyday Bites – Deborah Balint – Instagram's first cookbook club –
February Baking Book: Dessert Person: Recipes and Guidance for Baking with Confidence by Claire Saffitz
---
---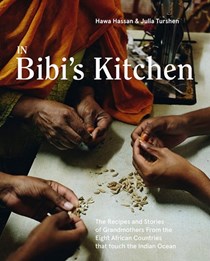 February and March's selection is: In Bibi's Kitchen: The Recipes and Stories of Grandmothers from the Eight African Countries that Touch the Indian Ocean by Hawa Hassan and Julia Turshen
---
---
---
February's selection: The Flavor Equation: The Science of Great Cooking Explained: More Than 100 Essential Recipes by Nik Sharma
---
Baking Book for January through March will be Snacking Cakes: Simple Treats for Anytime Cravings by Yossy Arefi,
Get Cooking Cookbook Club – an Instagram cookbook club. To participate tag your photos with #getcookingcookbookclub and follow the co-hosts Bebe and Steph at Champagne & Cookies and A Whisk and a Spoon respectively on Instagram.
---
Salt & Spine is the leading podcast focused on telling the stories behind cookbooks through in-depth, in-person interviews with compelling authors.
---
Kitchen Arts & Letters – 92nd Street Y
Come cook with us! Sign up here.
Tuesdays: March 16, March 30, April 13, and April 27 from 7-8:30 pm.
KAL wrote: Each week, prior to meeting online, everyone cooks the same recipes from one of our four featured cookbooks. You master some sensational new recipes and skills and have fun discussing it all, gaining inspiration, and sharing experiences with others who love cooking as much as you do.
The books for this session are:
---
The Sunday Times Cookbook Club
Each month this group will feature a cookbook and invite members to cook along with readers and members of The Dish team to try new recipes, learn new skills and be in with a chance of winning some great prizes along the way. In this group, you're encouraged to share your photos, tips and recipe tweaks. Journalists from The Sunday Times, authors and experts will be taking part from time to time, and your comments and photos could be featured in our publications.
---
Stained Page News Cookbook Club – for more information visit here.
---
No announcement made for several months will continue to check.
Updated: other clubs I've located: