Always Add Lemon – Cookbook Giveaway
February 2, 2021 by Jenny
Enter our US/UK/AU/NZ giveaway to win one of three copies of Always Add Lemon: Recipes You Want to Cook, Food You Want to Eat by Danielle Alvarez.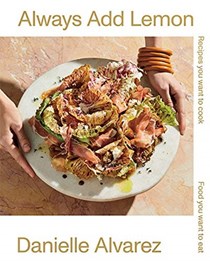 My chefs joke that 'did you add the lemon' should be inscribed on my tombstone. It is the question I consistently ask as plates leave the kitchen. Sometimes, a few drops is all a dish really needs to sing.
Always Add Lemon: Be a Better Cook – Food You Want to Eat by Danielle Alvarez is the highly anticipated first book from one of the most exciting young chefs cooking in Australia today. Originally from Miami, Danielle now calls Australia home where she is the head chef at Fred's. There her farm-to-table philosophy highlights small growers who care deeply about their impact on the earth.
In Always Add Lemon, the chef takes the lessons, skills, and tastes acquired working alongside some of the best chefs in the world and translates formidable kitchen smarts into an inspiring collection of recipes and projects for nourishing, vegetable-forward, seasonal food.
Danielle begins the cookbook with tips and recipe essentials such as breadcrumbs or aioli before she sets out her main chapters. Those recipe chapters are organized as follows: Salads; Fruits and vegetables; Pasta, grains and legumes; Seafood; Poultry and meat; and Dessert. A section on building a menu is provided with sections such as "When you want to go vegetarian" or "A special winter meal" which lists the recipe suggestions and page numbers.
I love her down to earth mentality. For example, she writes: "If I ever find myself getting too cheffy about things, I remind myself to cook like a grandma, because that's what everyone loves."
Our
takes you inside this beautiful book and features the following
Any level of cook will appreciate this cookbook. There is enough detail and instruction to build confidence in the novice with more than enough pizazz to satisfy those more experienced.
Special thanks to the publisher for providing three copies of this title in our promotion. Entry options include answering the following question in the comments section of this blog post.
Which recipe in the index would you like to cook first?
Please note that you must be logged into the Rafflecopter contest before posting or your entry won't be counted. For more information on this process, please see our step-by-step help post and this forum post. Once you log in and enter your member name you will be directed to the next entry option – the blog comment. After that, there are additional options that you can complete for more entries. Be sure to check your spam filters to receive our email notifications. Prizes can take up to 6 weeks to arrive from the publishers. If you are not already a Member, you can join at no cost. The contest ends at midnight on May 2nd, 2021.
a Rafflecopter giveaway