Jacques Pépin Quick & Simple Cookbook Giveaway
February 3, 2021 by Jenny
Enter our US/CA giveaway to win one of three copies of Jacques Pépin Quick & Simple by Jacques Pépin.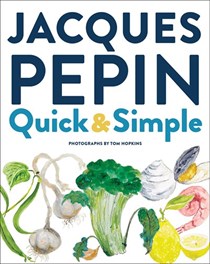 Just like the rest of us master chef Jacques Pépin doesn't always have as much time or energy as he'd like to put together a satisfying meal. So he came up with Jacques Pépin Quick & Simple, 250 recipes for surprisingly achievable, impressive fare. He wrote this title to make our lives easier stating, "We are all equal in the eyes of the stove."
Covering homemade staples and every course, with tips for kitchen tools and equipment, pantry staples, and techniques to simplify and improve every dish you make, this foundational, classic collection is essential for every busy home cook who refuses to eat poorly. Originally published as The Short-Cut Cook: Make Simple Meals With Surprisingly Little Effort, this revised edition is a testament to Jacques' timeless food and advice, and now includes beautiful photographs.
The best part of this gorgeous book is Pépin's artwork throughout and the lovely illustrations. Paging through the book is bittersweet as there are photographs of his beautiful wife, Gloria, who passed away in December of 2020 as well as recipes that bear her name such as the Pear-apple gratin Gloria or the Linguine with clam sauce Gloria.
This title is one of our cooking options this month in the EYB Cookbook Club.
Special thanks to the publisher for providing three copies of this title in our promotion. Entry options include answering the following question in the comments section of this blog post.
Which recipe in the index would you like to try first?
Please note that you must be logged into the Rafflecopter contest before posting or your entry won't be counted. For more information on this process, please see our step-by-step help post and this forum post. Once you log in and enter your member name you will be directed to the next entry option – the blog comment. After that, there are additional options that you can complete for more entries. Be sure to check your spam filters to receive our email notifications. Prizes can take up to 6 weeks to arrive from the publishers. If you are not already a Member, you can join at no cost. The contest ends at midnight on May 3rd, 2021.
a Rafflecopter giveaway