Cookbook/prize package giveaway: My Vermont Table
March 16, 2023 by Jenny
Enter our US contest to win one of three prize packages (set out below) including a copy of Gesine Bullock-Prado's newest title My Vermont Table: Recipes for All (Six) Seasons. Gesine is touring in promotion of this title and her events can be found on our calendar.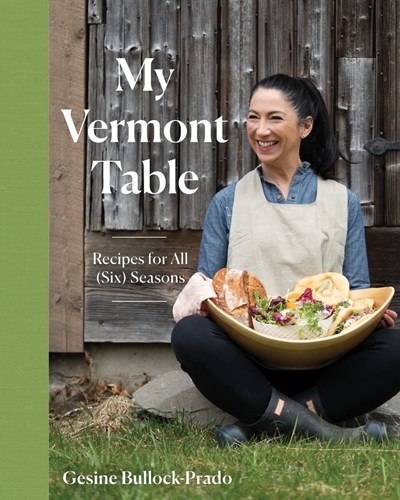 Gesine is the author of a number of books which have dealt primarily with desserts (and they are keepers!). In her latest, the talented author delivers a collection of recipes for all savory and sweet dishes and covers the "six" seasons of her home state, Vermont. Ooey-gooey mac and cheese; Vermont sweet and tangy cornbread; Onion saffron tart; Roast turkey a la Helga (her mother); and so much more. There are plenty of baked offerings as well. While I love her baking books, this one might be my favorite because it brings us a little bit of everything – and a whole lot of delicious.
Gesine writes: "I've never identified as a summer person. I do not long for the beach. Give me a mountain-fed, bone-cold lake any day," Had I not already loved her, this would have closed the deal. I couldn't agree more. Give me winter.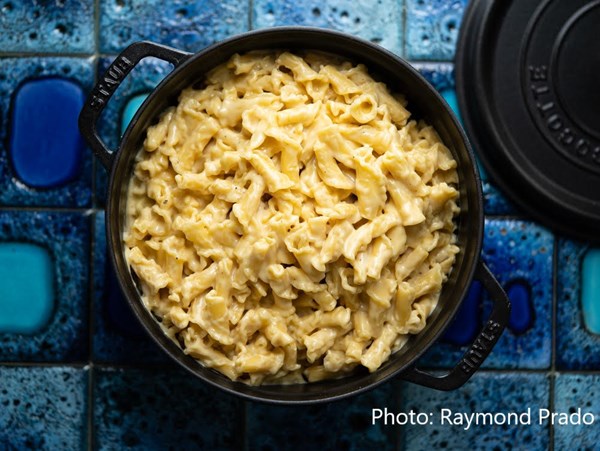 Ooey gooey mac and cheese
Add this recipe to your Bookshelf (click the blue +Bookshelf button)
Serves 8
Mac and cheese. It's more like cheese with some mac in my house. I've been making homemade mac and cheese since I had access to a stove. On Sundays at my pastry shop, Gesine Confectionary, I'd cook up a huge batch of mac and cheese for our shop lunch, grabbing a bag of gourmet potato chips from the "gourmet market" part of our shop to top the gooey stuff with some crunch. The front-of-the-house workers would sneak into the back bakery and tuck into a huge bowl, keeping an eye on the shop for customers. It's a lovely memory of a delicious meal with some of my favorite people and one I re-create when guests descend during peeper season.
1 pound cavatappi or campanelle pasta
3 large egg yolks
4 tablespoons (1⁄2 stick; 56 g) unsalted butter
3 tablespoons all-purpose flour
1 cup heavy cream, warmed
1 cup evaporated milk
1⁄4 teaspoon cayenne pepper
Salt and freshly ground black pepper
8 ounces extra-sharp Vermont Cheddar, shredded 8 ounces processed American cheese, such as Velveeta, diced into 1⁄2-inch squares
One 2-ounce bag potato chips, lightly crushed (optional)
Cook the pasta al dente per the package instructions, then rinse with cold water in a colander. Set aside. Preheat the oven to 375°F.
Whisk together the egg yolks in a small bowl. Set aside.
Melt the butter in a 4-quart Dutch oven over low heat, then add the flour. Stir until thick- ened. Add the cream, evaporated milk, and cayenne and season to taste with salt and black pepper. Whisk until thickened (the white sauce should thickly coat the back of a spoon), about 5 minutes. Remove from the heat and add 1 or 2 tablespoons of the white sauce to the yolks to temper, whisking constantly. Then add the tempered yolk mixture back into the white sauce along with the Cheddar and American cheese. Stir constantly until the cheese has melted, returning to the heat in the event that it hasn't completely melted. Gently stir in the pasta until coated. Feel free to serve the mac and cheese straight from the stovetop or transfer to a 9-by-13-inch baking dish. Crumble the chips on top, if using, and bake until golden brown and bubbling, 20 to 30 minutes.
Excerpted from MY VERMONT TABLE: Recipes for all (Six) Seasonsby Gesine Bullock-Prado Copyright © 2023. Used with permission of the publisher, Countryman Press. All rights reserved.
To celebrate the launch of this title, the author has arranged for a prize package giveaway to include:
King Arthur Baking Co tote with a coupon for a free 5# bag of flour
My Vermont Table cookbook
Runamok Maple's Sugarmaker's Cut maple
Andrew Pearce mini cutting board
Platinum yeast with a coupon for more
A Sugar Glider Kitchen bowl scraper
Special thanks to the author for providing three prize packages as shown and detailed above. Entry options include answering the following question in the comments section of this blog post.
Which recipe in the index would you like to try first?
Please note that you must be logged into the Rafflecopter contest before posting or your entry won't be counted. For more information on this process, please see our step-by-step help post. Once you log in and enter your member name you will be directed to the next entry option – the blog comment. After that, there are additional options that you can complete for more entries. Be sure to check your spam filters to receive our email notifications. Prizes can take up to 6 weeks to arrive from the publishers. If you are not already a Member, you can join at no cost. The contest ends at midnight on May 10th, 2023.
a Rafflecopter giveaway