Cookbook Giveaway: From Salt to Jam
May 15, 2023 by Jenny
Enter our US/UK/AU/NZ giveaway to win one of three copies of From Salt to Jam: Make Kitchen Magic with Sauces, Seasonings and More Flavour Sensations by Katrina Meynink.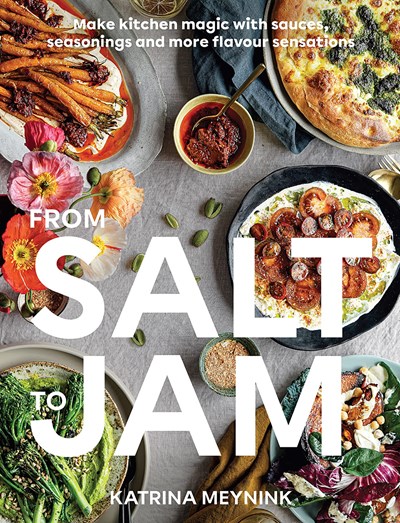 From Salt to Jam is flavour-powered cooking made easy. This beautiful book offers foolproof recipes for hardworking condiments – pastes, dressings, sauces, seasonings and jams – that unlock 100 delicious meals for the whole family.
Cook, mum, and straight-talking kitchen superstar Katrina Meynink knows how hard it can be to get dinner on the table. The columnist for popular Australian website Good Food has mastered the art of 'throw in a bowl and call it a meal' wizardry.
I am a huge believer in upgrading meals with sauces – so this book is ideal for me. The book is organized by type of hard-working condiment that includes a base recipe for the particular condiment. Each base recipe has instructions to make three different sizes of the final product. For example, the bagel seasoning provides a breakdown of ingredients to make 70g, 140g and 280g. What follows then is a selection of dishes using those condiments:
Fairy dusts (bagel seasoning, chicken salt, kettle furikake, petal spice)
Totally pasted (chermoula, harissa, olive tapenade, zhug)
Sauce of inspiration (barbecue sauce, bloody useful red sauce, caramel, lemon curd)
Dressed for it (green goddess dressing, tahini yoghurt dressing, Thai-style dressing, ultimate ranch dressing)
Well, I'll be jammed (jalapeno jam, liquorice jam, quince jam)
Our
takes you inside this beautiful book and features the following
Utilizing the flavor-packed condiment recipes and having a supply of same on hand, can be the difference between a boring dinner or a dinner with a punch that will have your family wanting more.
Special thanks to the publisher for providing three copies of this title in our promotion. Entry options include answering the following question in the comments section of this blog post.
Which recipe in the index would you like to try first?
Please note that you must be logged into the Rafflecopter contest before posting or your entry won't be counted. For more information on this process, please see our step-by-step help post. Once you log in and enter your member name you will be directed to the next entry option – the blog comment. After that, there are additional options that you can complete for more entries. Be sure to check your spam filters to receive our email notifications. Prizes can take up to 6 weeks to arrive from the publishers. If you are not already a Member, you can join at no cost. The contest ends at midnight on July 10th, 2023.
a Rafflecopter giveaway