Le Creuset Dutch Oven and Melissa Clark's Dinner in French – Giveaway
March 30, 2020 by Jenny
Enter our US giveaway to win one copy of Melissa Clark's Dinner in French: My Recipes by Way of France (provided by Eat Your Books) and one 5.5 quart Dutch oven in Le Creuset's newest color artichaut provided by the French cookware manufacturer.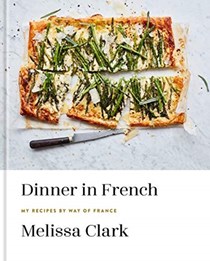 Melissa Clark recently took time out of her packed schedule to answer a few questions in our Quick Bites feature. Just this weekend while working on the March Cookbook Review, I was adding a few new books to the EYB library including another title from Melissa: Kid in the Kitchen: 100 Recipes and Tips for Young Home Cooks (November 2020 from Clarkson Potter).
Dinner in French is a tribute to Melissa's love of French cooking. Filled with 145 recipes that update classic French techniques and dishes to reflect how we cook, shop, and eat today, this will be another keeper on our cookbook shelves. Recipes are approachable and not overly complicated and "Thinking Ahead" tips are shared throughout.
The photo above is the Roasted tarragon chicken with crispy mushrooms from the title. As I love to cook in Le Creuset, I roasted the chicken in the Dutch oven and prepared the mushrooms on a sheet pan and added them later. This was one tasty bird.
Below is a recipe for Clark's Darkest chocolate sorbet that you can try now!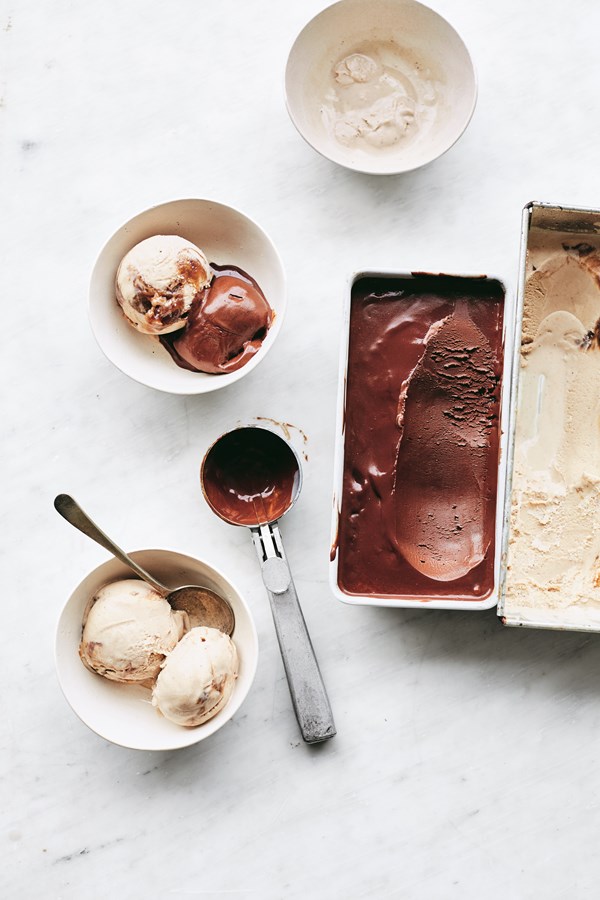 Darkest chocolate sorbet
Add this recipe to your Bookshelf (click the blue +Bookshelf button).
¾ cup (150 grams) granulated sugar
½ cup (100 grams) dark brown sugar
Pinch of fine sea salt
²⁄³ cup (65 grams) Dutch-process cocoa powder
8 ounces (227 grams) dark chocolate (at least 72% cacao), chopped
1 teaspoon vanilla extract
1. In a medium pot, combine the granulated sugar, brown sugar, salt, and 2½ cups (590 milliliters) of water and bring to a boil. Reduce the heat to a simmer and whisk in the cocoa powder. Cook, stirring occasionally until the sugar has dissolved, about 5 minutes.
2. Meanwhile, place the chopped chocolate in a heatproof bowl. Pour the hot cocoa mixture on top. Let the mixture sit for 2 minutes to start melting the chocolate, then whisk until the chocolate is completely melted and the mixture is smooth.
3. Stir in the vanilla. If you want a perfectly silky sorbet, use an immersion blender (or transfer the mixture to a regular blender) to briefly blend the mixture and get rid of any chocolate lumps. You can skip this step if you don't mind a bit of chocolate chip–like texture in your sorbet. I like it both ways. Cover and chill for at least 4 hours and up to overnight.
4. Process the mixture in an ice cream machine according to the manufacturer's instructions. Serve immediately or freeze until hard. Makes one scant quart.
Thinking Ahead: You can churn the sorbet and store it in the freezer up to 1 week in advance.
"Reprinted from Dinner in French. Copyright © 2020 by Melissa Clark. Photographs copyright © 2020 by Laura Edwards. Published by Clarkson Potter, an imprint of Penguin Random House, LLC."
---
My love affair with Le Creuset is not a clandestine one. Whenever they introduce a new color or shape, I find my heart skips a beat. Recently, Le Creuset introduced the gorgeous new artichaut (photographed) and nectar (photograph below). Perfect joyful colors for Spring. We certainly all need some joy this year. (Curses, while at the LeCreuset site I see another color joining the ranks licorice.) (And double curses, a new shape – the signature oval casserole).
Le Creuset has free shipping on orders over $99 and on purchases over $200 there is a free gift available. See the promotion below. A gift from LeCreuset for Easter, Mother's Day or Father's Day is perfect!
My thanks to Le Creuset for providing the artichaut Dutch oven for my review and use and offering one of those beauties to a member in our giveaway below. EYB is providing a copy of Melissa Clark's Dinner in French to the same winner.
Thanks to Le Creuset for providing a 5 quart Dutch oven in artichaut to one EYB member in the US. The same winner will receive a copy of Melissa Clark's Dinner in French provided by Eat Your Books. Entry options include answering the following questions in the comments section of this blog post.
Which recipe in the index would you try first?
Visit LeCreuset and checkout their cookware then leave a second comment stating which piece has caught your eye.
Please note that you must be logged into the Rafflecopter contest before posting or your entry won't be counted. For more information on this process, please see our step-by-step help post and this forum post. Once you log in and enter your member name you will be directed to the next entry option – the blog comment. After that, there are additional options that you can complete for more entries. Be sure to check your spam filters to receive our email notifications. Prizes can take up to 6 weeks to arrive from the publishers. If you are not already a Member, you can join at no cost. The contest ends at midnight on August 14th, 2020.
a Rafflecopter giveaway