The Pastry School – Cookbook Giveaway
April 7, 2020 by Jenny
Enter our giveaway (2 copies US provided by the publisher and one copy worldwide provided by Eat Your Books) for a chance to win The Pastry School: Master Sweet and Savoury Pies, Tarts and Pastries at Home by Julie Jones. This title made my best books of Spring 2020.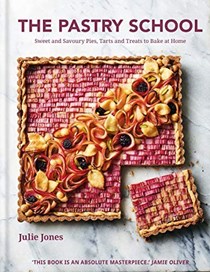 Julie Jones is a pastry artist. Her first cookbook Soulful Baker: From Highly Creative Fruit Tarts and Pies to Chocolate, Desserts and Weekend Brunch is a beautiful book filled with inspiration (find out more about that particular title in my earlier review).
The author's new release, The Pastry School is an equally stunning book that walks you step-by-step through both sweet and savory pastry creations. Chapters are organized by seven subjects: pastry, fruit, cream & cheese, nuts, vegetables, meat & fish and ending with crunch & crumb.
Recipes range from a Goat cheese and fennel jam galette, Lychee and violet craquelin choux, Leek, potato and cheddar cheese cubes, to Peanut and potato satay bites. Julie shares many process photos to guide the beginner through more technique-driven steps such as filling a tart shell and preparing it for blind baking or handling sheets of pastry.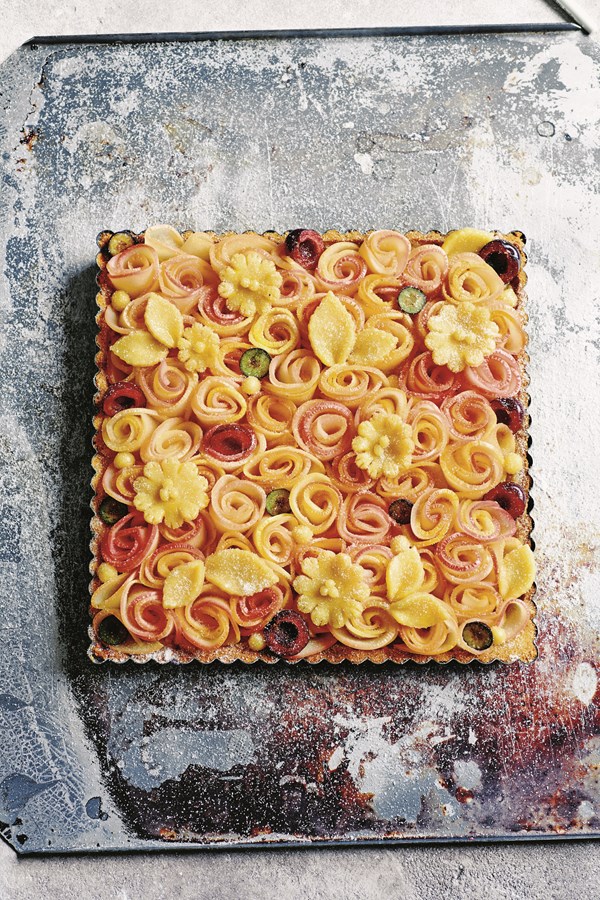 Special thanks to Kyle Books for providing the following recipe for our members to try now. Photo credit: Peter Cassidy
Apple rose tart (2020)
Add this recipe to your Bookshelf (click the blue +Bookshelf button)
I have been arranging and baking these tarts since the apple rose phenomenon first burst onto social media a few years back – I don't think I'll ever tire of making them. Each and every one is unique, as the mood upon making is captured within the arrangement of the apples, a bit like a painting. Granted, these tarts take a bit of effort and, yes, they are pretty, but most importantly, they taste great. It would be a real shame to spend a lot of time making something look this special if the taste and texture didn't match up.
Serves 9, using a 22 x 2.5cm (8½ x 1in) square, fluted loose-bottomed tart tin
1 quantity Sweet Shortcrust pastry (see recipe below)
For the frangipane
75g (2 ¾oz/⅓ cup) unsalted butter, at room temperature
75g (2 ¾oz/6 tablespoons) caster (superfine) sugar
35g (1 ¼ oz) ground hazelnuts
40g (1 ½ oz) ground almonds
75g (2 ¾ oz) eggs (shelled weight), lightly beaten
For the apples
juice of 2 large lemons
12 dessert apples, a mixture in variety and skin colour
100ml (3½fl oz/⅓ cup plus 1 tablespoon) water
50g (1¾oz/¼ cup) caster (superfine) sugar
½ teaspoon ground cinnamon
To finish
blueberries and cherries, halved (optional)
1 egg yolk
boiling water
caster (superfine) sugar
icing (powdered) sugar
Make the pastry following the recipe below. After resting, line, blind bake and trim a pastry case. Leave the baked case within the tin for later. Any spare pastry can be cut into shapes and used to make decorative flourishes later.
To make the frangipane, place the soft butter into the bowl of a freestanding mixer along with the caster (superfine) sugar. Attach the paddle and beat for 1 minute until creamed. Add the nuts and eggs alternately in 3 consecutive bursts, beating continuously between additions. When all of the ingredients are well combined, spread the frangipane evenly across the prepared pastry case. Set aside.
Next, start on the apples. Half-fill a medium saucepan with water and squeeze in the juice of 1 lemon. Bring to a gentle simmer. Add the juice of the other lemon to a bowl of cold water. Core four of the apples and cut them in half vertically. Slice each apple half across its width to 1mm (or as thinly as possible) – using a mandolin will give consistently even slices.
Submerge the slices in the simmering water for a few minutes to soften, testing after 1 minute and every 30 seconds thereafter. To test, bend and roll a slice between your fingers, if it cracks, wait another 30 seconds, then re-test. When ready, the slices will be soft and pliable. Transfer to the cold water using a slotted spoon.
To make a rose, use up to eight slices of apple at one time. Lay onto a tea towel, skin facing upwards, laying left to right and overlapping each slice by half. Roll up starting at the left-hand side, gently working the apple slices into a complete roll. Place into the frangipane, then ease open to create the look of a blooming rose. When all of the apple slices have been used, repeat the slicing and softening process with another batch of apples, and repeat until enough roses have been made to cover the surface. Any gaps can be filled with single apple slices tightly rolled in between and, if using, additional fruits can be added, too, as can pastry shapes.
When finished decorating, make the syrup by first boiling the water, sugar and ground cinnamon together until reduced and thickened. Allow to cool for 5 minutes, then carefully brush over the apple flesh. Place in the fridge for at least an hour.
Place a baking sheet in the oven and preheat to 160ºC (325ºF), Gas Mark 3.
If pastry décor has been used, brush the pastry carefully with egg wash. Sprinkle the tart with a fine dusting of caster (superfine) sugar, cover with kitchen foil and place in the oven. Baking the tart under foil can take up to 2 hours, but it is worth it, as the colour of the fruit will hold better and the flavour will intensify significantly. Check the tart after 1 hour, then every 20 minutes thereafter, removing the foil for the final 20 minutes of baking.
Allow to cool for 15 minutes before removing from the tin and slicing. Dust with a little icing (powdered) sugar and serve with or without cream.
Sweet shortcrust pastry
Add this recipe to your Bookshelf (click the blue +Bookshelf button)
This classic pastry is my go-to recipe for most of the sweet pies and tarts in this book. No alterations are needed from one recipe to the next, other than the quantity needed. That said, if you are feeling experimental, additional flavourings such as citrus zest, vanilla, ground nuts and spices can be added successfully, although do use them sparingly. To overpower the perfect buttery taste that this pastry offers would be a great shame. Personally, I prefer to focus the layering of flavour into the pie or tart filling instead.
One quantity of pastry is enough to line a large circular tin measuring 23 x 3.5cm (9 x 1½in), with extra remaining for small decorations. For a fully covered decorative pie, a double quantity will be needed.
Makes 1 quantity
230g (8oz/1¾ cups) plain (all-purpose) flour
125g (4½oz/½ cup plus 1 tablespoon) cold unsalted butter, cut into 1cm (½in) cubes, no need to be precise
50g (1¾oz/heaping ¹⁄³ cup ) icing (powdered) sugar
1 egg yolk
2 tablespoons milk
For egg wash – if and when the recipe calls for it
Place the flour and butter into the bowl of a freestanding mixer and attach the paddle beater. Mix on medium speed until the butter has been incorporated into the flour and resembles fine breadcrumbs. Add the icing (powdered) sugar and mix for a few seconds before adding the egg yolk and milk. Continue to mix until a cohesive dough forms – this should only take 30–60 seconds, depending on your mixer. Turn out the pastry onto a work surface – there's no need for more flour – and bring it swiftly together with your hands, without overworking it.
Lay out a long sheet of cling film and place the dough on one half. Flatten the pastry with the palms of your hands, then fold the remaining cling film over the top, fully encasing the dough. Roll out swiftly between the cling film to an approximate depth of 5mm (¼ in), trying your best to keep it in a circular shape. Place in the fridge for at least an hour before using.
After resting, roll out between two sheets of non-stick baking paper – there's no need for more flour – and use according to the relevant recipe instructions.
Special thanks to Kyle Books for offering two copies of the above-referenced title in our giveaway open to US members. EYB is providing one additional copy worldwide. Entry options include answering the following question in the comments section of this blog post.
Which recipe in the index would you try first?
Please note that you must be logged into the Rafflecopter contest before posting or your entry won't be counted. For more information on this process, please see our step-by-step help post and this forum post. Once you log in and enter your member name you will be directed to the next entry option – the blog comment. After that, there are additional options that you can complete for more entries. Be sure to check your spam filters to receive our email notifications. Prizes can take up to 6 weeks to arrive from the publishers. If you are not already a Member, you can join at no cost. The contest ends at midnight on June 8th, 2020. (Due to the pandemic we are extending dates until offices are back up and running.)
a Rafflecopter giveaway
Seen anything interesting?
Let us know
& we'll share it!