Persiana Everyday: Cookbook Giveaway
August 17, 2022 by Jenny
Enter our US/CA giveaway to win one of three copies of Persiana Everyday: All New Recipes from the Best Selling Author of Persiana by Sabrina Ghayour.
Sabrina Ghayour is known for her strikingly vibrant dishes that are not only impressive to serve but each dish is packed with flavor. Each of her books has a special place on my bookshelf. Her latest, Persiana Everyday, is no different. I spent one afternoon reading this book and marking just about every recipe to try.
This all-new collection of more than 100 fuss-free, crowd-pleasing dishes for everyday eating is designed to ensure maximum flavour with the greatest of ease – including no-cook, quick-prep, quick-cook and one-pot dishes. Pork, cilantro and scallion meatballs with tamarind glaze; Sticky spiced-apple pork belly slices; and Lazy one-pan souvlaki & fried potatoes are three of the recipes that jumped out immediately along with the two dishes below we are sharing.
Fried feta parcels with honey – Serves 2
Add this recipe to your Bookshelf (click the blue +Bookshelf button)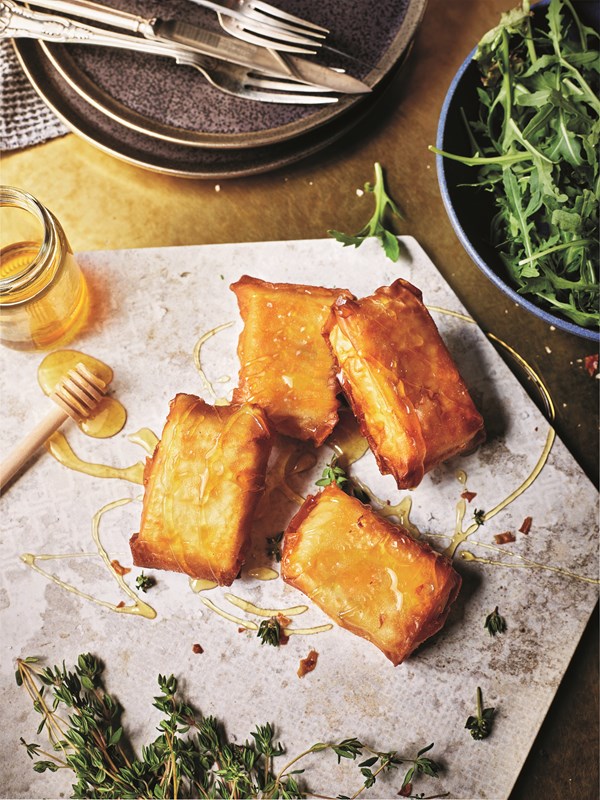 The first time I ate this dish was at a beautiful hotel on the beach in Kefalonia. I was so taken by the simplicity of it, but also inwardly angry at myself – number one fan of all things feta – that I hadn't thought of this combination myself. The only thing I have done differently from the hotel's version is to cut the feta block into four pieces rather than keeping it whole, so there is more pastry to enjoy. Either way, you'll be glad you made this, and if I could give you a piece of advice, keep some extra blocks of feta handy because you might want to use the rest of the filo pastry pack to make more of these gorgeous parcels.
vegetable oil, for frying
200g block of feta cheese, cut into quarters
1 sheet of filo pastry (about 480 x 250mm), cut into quarters
2 heaped tablespoons clear honey
Heat a frying pan over a medium heat, pour in about 1cm vegetable oil and bring to frying temperature (the oil must not be too hot: add a little piece of filo pastry – if it bubbles gently the oil is hot enough, if it sizzles aggressively the oil is too hot).

Line a plate with a double layer of kitchen paper.

Wrap each rectangle of feta in a piece of filo and use a little oil or water to seal the seam on the underside.

Gently lay the parcels in the hot oil, seam-side down, and fry them for a couple of minutes until you see the pastry on the underside turn golden and bubble up a little. Then very carefully turn the parcels over and fry the other side until crisp and golden brown.

Remove from the pan with a slotted spoon and transfer to the paper-lined plate to drain, then serve on a plate drizzled with the honey.
---
Simple chicken parcels three ways: fennel & orange – Serves 2
Simple chicken parcels three ways: ras el hanout & lemon
Simple chicken parcels three ways: thyme, lime, cumin & pul biber
Add these recipes to your Bookshelf (click the blue +Bookshelf button)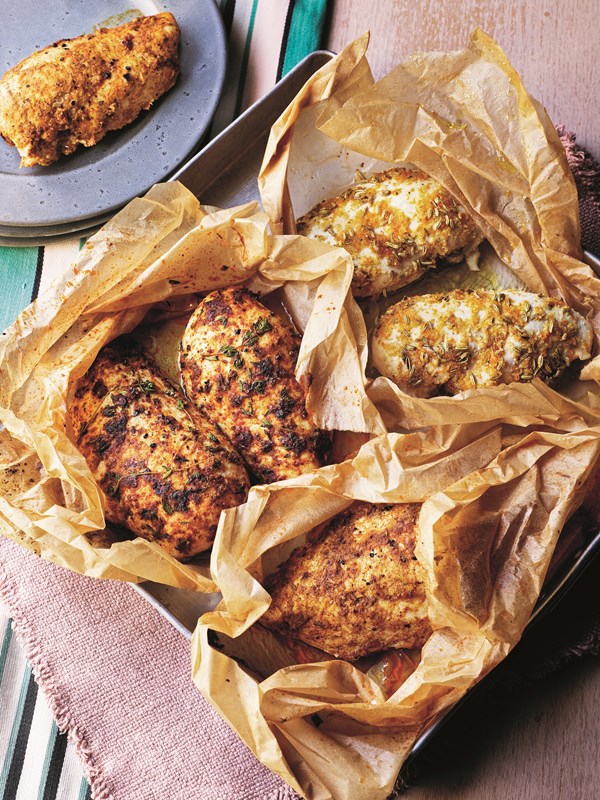 I love roasting a whole bird, and pan-frying chicken is also good, but I can't always be bothered. So this is where the 'simple' parcel baking method comes into play, where steam inside the parcel 'roasts' the chicken, keeping the meat lovely and juicy without charring. Here are three delicious citrus-perfumed recipes featuring very different marinades for you to try.
2 boneless, skinless chicken breasts, about 200g each (if using smaller ones, you will need to reduce the cooking time accordingly)
Maldon sea salt flakes and freshly ground black pepper
Fennel & orange
1 tablespoon olive oil
grated zest of 1 unwaxed orange
1 teaspoon fennel seeds
1/2 teaspoon garlic granules
Ras el hanout & lemon
1 tablespoon olive oil
finely grated zest of 1 unwaxed lemon
1 teaspoon ras el hanout
Thyme, lime, cumin 
& pul biber
1 tablespoon olive oil
finely grated zest of 1 unwaxed lime
1/2 teaspoon thyme leaves
1/2 teaspoon ground cumin
1/2 teaspoon pul biber chilli flakes
Preheat the oven to 220°C (200°C fan), Gas Mark 7. Line a baking tray with baking paper.
Tear off a sheet of baking paper large enough to generously enclose your 2 chicken breasts to form a parcel. Place the chicken breasts on one half of the sheet, then divide the ingredients for the marinade of your choice on to them and, using your hands, coat the surface of each breast thoroughly. Season generously with salt 
and pepper.
Gather one edge of the baking paper and fold over the chicken breasts to enclose them, then crimp the edges of the paper together tightly until you have a sealed parcel. Place on the lined tray and bake for 15 minutes until cooked through.
Remove from the oven and leave the chicken to rest in the parcel for a good 5 minutes before cutting it open and serving.
Recipes used with permission of the publisher.
Sabrina's books are not to be missed. Be sure you add this title to your wishlist (or buy it now!) Enter below for a chance to win a copy.
Special thanks to the publisher for providing three copies of this title in our promotion. Entry options include answering the following question in the comments section of this blog post.
Which recipe in the index would you like to try first?
Please note that you must be logged into the Rafflecopter contest before posting or your entry won't be counted. For more information on this process, please see our step-by-step help post. Once you log in and enter your member name you will be directed to the next entry option – the blog comment. After that, there are additional options that you can complete for more entries. Be sure to check your spam filters to receive our email notifications. Prizes can take up to 6 weeks to arrive from the publishers. If you are not already a Member, you can join at no cost. The contest ends at midnight on November 1st, 2022.
a Rafflecopter giveaway