Cookbook Giveaway: On the Curry Trail & an Emile Henry stew pot
February 26, 2023 by Jenny
Enter our US giveaway to win one of two copies of On the Curry Trail: Chasing the Flavor That Seduced the World by Raghavan Iyer with one grand prize winner in the US receiving an Emile Henry Sublime stew pot. One additional copy of the book is available worldwide courtesy of EYB.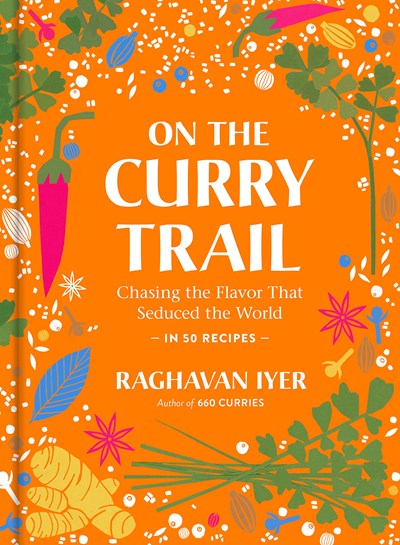 Raghavan Iyer is the author of six books on Indian cuisine beginning with Betty Crocker's Indian Home Cooking which introduced Indian cooking to countless Betty Crocker homes. His most well-known book is 660 Curries: Plus Biryanis, Breads, Pilafs, Raitas, and More – a trusted bible that many chefs and home cooks still turn to time and time again.
As many know or will know after reading the article linked below, Raghavan is in the final stages of colorectal cancer that has trespassed into his lungs and brains. Kim Severson did a wonderful piece with Raghavan for the New York Times and the always generous man shared screenshots of the article with his friends "for those that don't subscribe".
On the Curry Trail: Chasing the Flavor That Seduced the World by Raghavan Iyer is an enlightening journey across Australia, Asia, Africa, Europe, and the Americas to explore the origins of curry and the signature, essential curries of each region. The book tells the definitive, delectable story of curry powder in 50 irresistible recipes. This book is not a swan song it is a vibrant celebration of life, food, family and friends written by a man who has blessed so many of us with his knowledge and kindness.
In my work I have made friends with many authors. For the most part, cookbook writers are generous kind people. Raghavan is a step above that. I have a special needs son and would write about the struggles on Facebook. Many friends would be kind and offer support with comments but Raghavan – would send direct messages to me with his support – always.
Despite loving his books and work, I have a special spot in my heart for this dear, wonderful man. Order this beautifully illustrated book (be sure to check out the preview below), travel to the various countries that Raghavan writes about and be inspired to bring the flavors of the curry trail into your kitchen.
Our
takes you inside this book and features the following
---
To celebrate the publication of On the Curry Trail: Chasing the Flavor That Seduced the World one grand prize winner in the US will receive one of gorgeous Emile Henry Sublime stew pots.
From the website: "In common use, sublime is an adjective meaning "awe-inspiringly grand", like the best chocolate fudge sundae you've ever had. The result of extensive research, 'Sublime' ceramic makes it possible to create and serve all kinds of recipes—with unparalleled ease of use. Sublime is made from a new ceramic technology designed to do all kinds of cooking and to do it better than other materials. You could feasibly own just one pot to make all your meals. What makes this technology so remarkable is its versatility.  It can handle the high heat of searing, frying or barbecuing on the grill and also softly cook on low heat so that sugars in a caramel sauce or a custard are gently heated without burning or over cooking.  The Sublime ceramic distributes heat smoothly across the whole pot better than any metal, including cast iron or stainless steel and it is 35% lighter than those other materials.  Sublime can be used on direct flame, stovetop – gas, electric or glass, charcoal or gas BBQ grills, in the oven, microwave, and is dishwasher safe."
Special thanks to the publisher for providing two copies of this title in our promotion (US); to Emile Henry for providing one Sublime stew pot to a grand prize US winner and EYB for providing one additional copy outside the US. Entry options include answering the following question in the comments section of this blog post.
Which recipe in the index would you like to try first?
Please note that you must be logged into the Rafflecopter contest before posting or your entry won't be counted. For more information on this process, please see our step-by-step help post. Once you log in and enter your member name you will be directed to the next entry option – the blog comment. After that, there are additional options that you can complete for more entries. Be sure to check your spam filters to receive our email notifications. Prizes can take up to 6 weeks to arrive from the publishers. If you are not already a Member, you can join at no cost. The contest ends at midnight on May 1st, 2023.
a Rafflecopter giveaway