From the Oven to the Table – Diana Henry Giveaway with Netherton Foundry Cookware
October 14, 2019 by Jenny
Enter below to win a copy of Diana Henry's latest From the Oven to the Table: Simple Dishes That Look After Themselves (two copies US/two copies UK) with one US grand prize winner also receiving a 10-inch covered casserole pan from Netherton Foundry. This title is our November cookbook option in the EYB Cookbook Club.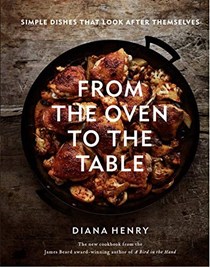 Telling a cookbook lover that they need a Diana Henry cookbook is like convincing a child that they want more candy. Her titles are always keepers. From her latest (and dare I say greatest) title, From the Oven to the Table, I have made three recipes. Two are shown below the Baked sausages, apples, & blackberries with mustard & maple syrup and the Chicken with miso, sweet potatoes & scallions (I forgot to sprinkle the sesame seeds on the chicken for the photo!). The third was a recipe was from the exclusive Waterstones' edition but can also be found online: Roast spatchcocked chicken with lemon grass, honey & fish sauce. I subbed out thighs in that recipe and I didn't style the photo as there were three hungry males ready to devour the dish.
The recipes here do take care of themselves. I have been dealing with a bug over the last few days. Today arrived and was going to use up some sauce and meatballs from the freezer to make a fast dinner. This morning still not feeling well, I spent some more time paging through From the Oven to the Table while resting on the couch. It hasn't been too far from my side since I received it. I decided I could tackle a dish in order to photograph the Netherton Foundry casserole pan for this promotion. The sausage dish came together so quickly that I decided I'd also prepare Tuesday's dinner as well. Two meals in no time at all and the house smelled amazing!
Diana's recipes appeal to me for a number of reasons. They are approachable, packed with flavor and crowd-pleasers. Ingredients I love – garlic, miso, scallions, ginger, onions – show up throughout the book. If there is something my family doesn't like (read: my husband), I can sub it out with no problem. For instance, the sweet potatoes in the chicken scallion dish I left out (read: my husband doesn't like sweet potatoes) and I served the dish with rice or I could have added regular potatoes and had a great result.
Beautiful photographs are shared throughout this book and prove that quick and easy can be stunning and delicious.
Special thanks to the publisher, Mitchell Beazley, for giving us permission to share the following two recipes with our members.
Chicken with prunes, potatoes, cauliflower & harissa
Add this recipe to your Bookshelf (click the blue +Bookshelf button).
The flavors of a tagine without the fuss. This dish is quite sweet, because of the prunes, so it does need the preserved lemon to cut through that. If you don't like prunes (I know they divide people), use dried apricots or pitted dates instead. Serves 4.
Preheat the oven to 400°F.
2 ½ tablespoons harissa
1 teaspoon ground turmeric
1 teaspoon ground ginger
½ teaspoon ground cinnamon
1 teaspoon ground cumin
4 garlic cloves, finely grated
1 tablespoon light brown sugar
sea salt flakes and freshly ground black pepper
2 tablespoons extra virgin olive oil
1lb small waxy potatoes, scrubbed
2 onions, sliced
¾ lb cauliflower florets
about 12 moist prunes (more is fine)
1¼ cups chicken stock
2 preserved lemons, plus 1½ tablespoons brine from the jar
8 good-sized skin-on bone-in chicken thighs, excess skin neatly trimmed
3 tablespoons roughly chopped cilantro leaves
Pistachio Relish, to serve (optional, see page 50 of the book)
Greek yogurt, to serve
In a bowl, mix together the harissa, spices, garlic, sugar, salt and pepper, 
and olive oil.
Cut the potatoes—there's no need to peel them—into very thin (1/16th of an in) slices and put them into a shallow 12in casserole with the onions. Add the cauliflower and prunes. Take one-third of the harissa mixture and toss it with the vegetables. Add the chicken stock and place over medium heat until the mixture is simmering.
Remove the flesh from the preserved lemons—keep the rind for scattering on top—chop it, then add it to the rest of the harissa mixture, along with the brine from the jar. Mix the chicken thighs with this mixture, rubbing it all over. Set the chicken on top of the simmering vegetables, skin side up. Season the chicken and put the dish into the oven.
Cook for 45 minutes, taking the dish out and scooping the cooking juices up over the chicken a couple of times. You should end up with dark, golden chicken and tender vegetables.
Cut the preserved lemon rind into shreds and throw it over the chicken along with the cilantro. This is good with a nut relish, made with pistachios or walnuts. It can be served with a grain side dish. A bowl of Greek yogurt—you can grate some garlic into it or leave it as it is—is excellent, though.
Roasted autumn vegetables with walnut-miso sauce
Add this recipe to your Bookshelf (click the blue +Bookshelf button).
The sauce here is rather like a vegetarian version of the Piedmontese anchovy sauce, bagna cauda (though it's even more umami-packed). It's not one of those vegetable recipes that feels like a side dish, where you keep searching for the focus, but has enough different flavors and textures from each vegetable to be layered and surprising. Serves 4.
For the vegetables
10 thin carrots from a bunch with greens attached, in mixed colors if possible
1lb 2oz celery root
1lb 2oz butternut squash
or pumpkin, seeded, and
cut into wedges about
1¼ inch thick
3 large white or red onions, cut into wedges
¼ cup extra virgin olive oil
sea salt flakes and freshly ground black pepper
3 Belgian endives, red or white (or a mixture)
For the sauce
½ cup walnut pieces
1 ½ cups extra virgin olive oil (a fruity rather than a grassy one)
5 tablespoons red miso paste
½ teaspoon crushed red pepper
3 fat garlic cloves, finely grated
Preheat the oven to 400°F.
Trim the carrots at the top and tips (if there are long straggly bits on the tips). 
Leave the green tufts if there are any, but wash them really well. If you haven't been able to get slim carrots, then halve them along their length.
Peel the celery root and cut it into wedges about ¾in thick. Put all the vegetables—except the Belgian endive—into a couple of roasting pans, or sheet pans that have a lip all the way around, in which they can lie in a single layer. Add the olive oil, season (don't use too much salt, as the sauce will be salty), and toss everything around with your hands. Roast for 40 minutes, until tender and slightly scorched, turning them once. Quarter the Belgian endive heads and add halfway through, tossing them in the oil.
Make the sauce. Pound the walnuts in a mortar—or pulse-blend in a food 
processor—until you have a mixture that is part finely ground and part chunky.
Pour the olive oil into a saucepan set over a very gentle heat. Add the miso and whisk it together: the miso will stay in little globules separate from the oil, but that's normal. Add the chili and garlic and simmer very gently for about 5 minutes, stirring every so often. The garlic must not color. Stir in the walnuts and cook for another 2 minutes.
Transfer the vegetables to a warmed platter. Either spoon the sauce over the top or serve it on the side.
---
Nigella recently shared another recipe online: Chicken with lemon, capers & thyme that you can try now.
While watching a Nigella Christmas special, I came upon Netherton Foundry's cookware. I searched for weeks for that particular pan and ended up emailing Nigella's assistant to find out the name of maker. As soon as I received a response, I ordered a 8-inch covered casserole pan and it arrived within days. I fell in love with this beautiful piece and knew I'd order more in the future.
When I saw Netherton cookware on the cover of Diana's book, I had to place another order this time for a larger pan, a large baking tray, and a cake tin. The cookware is well-priced and shipping was reasonable. I then emailed the fine folks at Netherton to ask if they would like to do a giveaway with Diana's book for our members in the US (as they had a promotion going on at that time in the UK).
In a few days, my order arrived with a 10-inch covered casserole pan for this promotion and unbeknownst to me, our Darcie had ordered an additional piece for me as a gift. It all arrived together and it was like Christmas!
Many thanks to the publisher in the US (2 copies) and UK (2 copies) for providing this title in our giveaway. One grand prize winner in the US will receive the 10-inch covered casserole pan pictured above. Two of the entry options are to answer the following questions in the comments section of this blog post.
Which recipe in the index would you try first?
Which piece at Netherton would you like to own? I have my eye on the copper tagine and cast iron bowl for my next splurge!
Please note that you must be logged into the Rafflecopter contest before posting or your entry won't be counted. For more information on this process, please see our step-by-step help post and this forum post. Once you log in and enter your member name you will be directed to the next entry option – the blog comment. After that, there are additional options that you can complete for more entries. Be sure to check your spam filters to receive our email notifications. Prizes can take up to 6 weeks to arrive from the publishers. If you are not already a Member, you can join at no cost. The contest ends at midnight on December 17th, 2019.
a Rafflecopter giveaway