June 2020 New Cookbook Review
June 24, 2020 by Jenny
Yet again, another month of many titles being shifted about due to the COVID pandemic. The looking forward to 2020 cookbooks post provides an outline by month of when cookbooks are slated to be published. I continue to update this preview weekly.
Be sure to follow us on social media (buttons located on right lower sidebar on the home page). If you would like to order any of these titles, using our affiliate links (right beneath the social media buttons) or the BUY BOOK button on the book details page, will help to support EYB and our indexing efforts (as well as help us to include worldwide options in some promotions). Most of our titles are released in multiple regions and are available locally and through worldwide sellers such as the Book Depository that make global titles available to more members with free international shipping.
If there is an
available for a cookbook, look for the orange icon in the blurb. Clicking on that icon will take you directly to the Preview. Also, please note that author events have been postponed or canceled. Our calendar will be kept current with any changes as we find them. We recently published the EYB Cookbook Club Summary for June, please take a look and join us!
Please remember to support our local bookshops. Many are slowly reopening and are still taking online orders.
United States
Drink What You Want: The Subjective Guide to Making Objectively Delicious Cocktails by John deBary
: A nonjudgmental, back-to-basics approach to making custom cocktails that's as fun as it is definitive – from a renowned New York City bartender who's worked everywhere from PDT to Momofuku.
Rebel Chef: In Search of What Matters by Dominique Crenn: Dominique Crenn is a French chef and is currently the only female chef in America to attain three Michelin stars, for her restaurant Atelier Crenn, in San Francisco, California. Her debut cookbook Atelier Crenn: Metamorphosis of Taste is a masterpiece and her memoir Rebel Chef: In Search of What Matters has just been released and is an absolutely amazing read.
Chicano Eats: Recipes from My Mexican-American Kitchen by Esteban Castillo: The creator of the popular Chicano Eats blog and winner of the Saveur Best New Voice People's Choice Award takes us on a delicious tour through the diverse flavors and foods of Chicano cuisine – Mexican food with an immigrant sensibility that weaves seamlessly between Mexican and American genres and cultures.
Eventide: Recipes for Clambakes, Oysters, Lobster Rolls, and More from a Modern Maine Seafood Shack by Arlin Smith, Andrew Taylor, Mike Wiley, and Sam Hiersteiner: From one of the best restaurants in Maine comes a cookbook for easy entertaining and endless coastal-inspired cooking. Built on the pristine ingredients of southern Maine, including the world's best shellfish, Eventide restaurant is renowned for bringing this bounty to the table with a thoughtfully rooted yet experimental and improvisational style of cooking and hospitality. The result is modernized lobster shack and oyster bar fare with distinct additions from Maine's classic "down east" cooking style.
New World Sourdough: With Recipes for Creative Homemade Fermented Breads by Bryan Ford
: To learn more about this beautiful book see our promotion and giveaway (US/CA/UK/AU).
The Duke's Mayonnaise Cookbook: 75 Recipes Celebrating the Perfect Condiment by Ashley Freeman is a compilation of recipes inspired by author Ashley Freeman's travels across the country. From classic favorites like Tomato Pie to unexpected dishes like Miso-Glazed Salmon or Sticky Toffee Puddings, you'll discover how versatile the South's favorite mayonnaise really is. And with stories and testimonials from beloved well-known chefs and food writers, The Duke's Mayonnaise Cookbook is a must-have book for loyal fans and newcomers alike.
Sweet Savory Spicy: Exciting Street Market Food from Thailand, Cambodia, Malaysia and More by Sarah Tiong
: open up a new world of flavor in this exciting Southeast Asian street food cookbook. With fantastic recipes straight from the food markets of Thailand, Malaysia, Singapore, Cambodia, and more, you can explore all the crispy, spicy, sweet, and savory flavors of these diverse countries. Tiong is a Masterchef Australia finalist and I am excited to try the recipes in this her debut title.
The New Homemade Kitchen: 250 Recipes and Ideas for Reinventing the Art of Preserving, Canning, Fermenting, Dehydrating, and More by Joseph Shuldiner: From the Institute of Domestic Technology, a revered food crafting school in Los Angeles, each chapter is based on the school's curriculum and covers all manners of techniques – such as curing, bread-baking, cheese-making, coffee-roasting, butchering, and more.
Outlander Kitchen: To the New World and Back Again: The Second Official Outlander Companion Cookbook by Theresa Carle-Sanders: Professional chef and founder of Outlander Kitchen, Carle-Sanders returns with another hallmark cookbook – one that dexterously adapts traditional recipes for hungry, modern appetites. Interpreted with a spirit of generous humor and joyous adventure, the recipes herein are a mixture of authentic old-world receipts from Scottish settlers, new-world adaptations inspired by the cuisine of indigenous peoples, and humorously delicious character-inspired dishes – all created to satisfy your hunger and insatiable craving for everything Outlander, and with the modern kitchen in mind.
The Ultimate Guide to Preserving Vegetables: Canning, Pickling, Fermenting, Dehydrating and Freezing Your Favorite Fresh Produce by Angi Schneider
: 100 recipes, beautiful full-page color images, step-by-step preservation methods, and handy reference charts makes this book a foolproof guide to mastering canning & pickling, fermenting, dehydrating and freezing the most common garden produce. Angi Schneider shares methods that emphasize simplicity yet keep the flavors exciting, and shares tips for working your preserved foods into your family's regular meal plan so nothing goes to waste.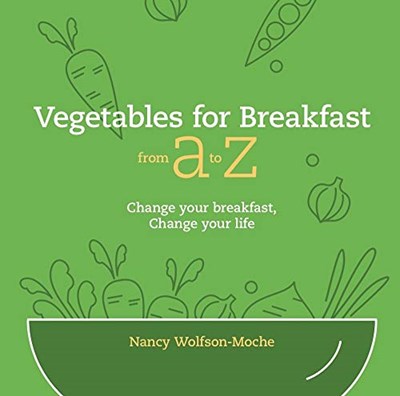 Vegetables for Breakfast from A to Z: Change your Breakfast, Change your Life by Nancy Wolfson-Moche invites the reader to re-imagine breakfast, letter by letter, season by season. Just as breakfast kick-starts the day, this book kick-starts the way you cook and eat vegetables. In addition to quick, easy, delicious recipes for both vegetables and accompanying grain dishes (such as: Asparagus Almondine, Yellow Carrot Nori Rolls, Purple Daikon Corn Salad, and many more), it offers insights about the most important meal of the day, facts and tips about the vegetables' nutrients, their effects on the body, including little known vegetable lore, and even a little dirt on the veggies themselves. It has been called "a plant-based revelation, from its inventive recipes to its innovative techniques to its thorough nutritional and horticultural information," and "An invaluable resource for any home cook or chef that will forever change how you cook with vegetables."
Other titles of interest:
Canada
Washington Wine + Food: The Cookbook by Julien Perry
: From the publisher behind the cooks and eats series of cookbooks, comes another gorgeous title for the food and wine lover that focuses on Washington state's culinary offerings. Elegant dishes such as Lamb shanks with chorizo and creamy manchego polenta to Oxtail rillettes with apricot mostarda and pickled red onion are shared in this gorgeous trip through Washington wine country.
United Kingdom
Chinese Food Made Easy by Ross Dobson
: In his culinary tour of China, bestselling author Ross Dobson guides you through the Chinese provinces where ginger, garlic and spring onions are seen as the celestial trinity of seasonings to regions which are characterised by meat flavoured with the rich spices commonly associated with India and the Middle East. While every Chinese region has its own distinctive combination of flavours, the common thread of just one or two ingredients weaves these delicious and simple recipes into a beautiful culinary tale.
Chetna's Healthy Indian: Vegetarian: Everyday Veg and Vegan Feasts Effortlessly Good for You by Chetna Makan: The author's bestselling cookbooks combine her creative flavour twists with a love of simple Indian home cooking. Taking inspiration from the eclectic mix of vegetarian and vegan dishes found in Indian cuisine, the tempting recipes here celebrate plant-based food at its best – delicious, vibrant, varied, and nutritious. With over 80 delicious recipes that vegetarians and even the most dedicated of meat-eaters can enjoy, Chetna shows just how creative you can be with even the most humble of vegetables. This title will be released in the US on 6/30/2020.
Leon Happy Fast Food by Rebecca Seal and John Vincent and Jack Burke: This book gathers Leon's favorite – and quickest – healthy fast food recipes from around the world. 100 new recipes and photography are organised into five sections: Breads & Buns, Salads, On the Hob, Grilled & Bakes, Sides, Sauces & Rubs, and Sweets & Shakes.
Summer Kitchen: Recipes and Reminiscences from Every Corner of Ukraine by Olia Hercules: Here we have another mesmerizing collection of recipes and photographs from the author of Kaukasis: The Cookbook and Mamushka: Recipes from Ukraine & Beyond, Olia's books are truly magical and bring the beauty and cuisine of Ukraine to the world. I love everything about this book but especially the bread, pasta and dumplings chapter that includes recipes for Yeasted buns with slow-roast pork, Tatar pasta bows with garlic yogurt and walnuts, and Dumplings with beans and potato.
One Tin Bakes by Edd Kimber: Whether you want cookies or cakes, pastries or desserts, something fruity, chocolatey, spiced or nutty, baking just got a whole lot easier. From Praline Meringue Cake to Matcha Roll Cake, Peanut Butter Brookies to Tahini Babka Buns, all you need is just one standard 9 x 13 inch baking tin. Varied and versatile, requiring minimal skill and little equipment, Kimber's delicious treats range from simple bakes to slice and serve to impressive but achievable showstoppers. This title will be released in the US in September.
What is Cooking?: The Action: Cooking, The Result: Cuisine by Ferran Adrià: For groundbreaking chefs such as Ferran Adriá, cooking has reached a level of complexity where science, chemistry, and technology intersect with immense creativity and imagination. This latest 'Sapiens' volume takes readers on a compelling journey to better understand the relationship between the human race and the process of preparing food. Packed with images from Adriá's legendary restaurant elBulli, his unique personal sketches, and explanatory diagrams that are used in his lectures, this book revolutionizes the way we look at how we prepare what we eat. Please remember Eat Your Book members receive 30% off Phaidon titles when using the link provided.
Chow!: Secrets of Chinese Cooking Cookbook by Dolly Chow: This is a new edition of the classic, bestselling traditional Chinese cookbook, a staple in Chinese and US kitchens for 83 years. First printed in 1936, the book has been reprinted 68 times and has sold over 300,000 copies in China. The present edition features a new preface and new introductions to chapters by Dolly's great-grand-niece, art collector, and philanthropist Carolyn Hsu-Balcer.
Sourdough Mania: Complete Guide to Sourdough Baking by Anita Šumer: In 2017, the author published her unique sourdough book in her native Slovenia, a first of its kind and the book received two Gourmand World Cookbook Awards. The book has now been published in German, Dutch, French, and Croatian and features both simple-to-make recipes and more ambitious recipes for more festive occasions. Every stage is fully illustrated with step-by-step photography on weighing, mixing, kneading, shaping, scoring, and baking, to take you on a journey to the healthy world of sourdough baking made easy. Anita has started a real bread revolution which more and more people are joining in to bake healthier and more delicious bread.
Margaret Costa's: Four Seasons Cookery Book: Originally published in 1970 and re-issued by Grub Street for the first time in 1996, this new edition hit the bestseller lists and went on to sell over 20,000 copies and its reappearance was praised by contemporary cookery stars like Nigel Slater, Delia Smith and Simon Hopkinson. Also in that year Margaret Costa was honoured at the prestigious Glenfiddich Awards. Margaret Costa came to prominence by replacing Robert Carrier as the Sunday Times cookery writer, and although this was her only significant book, it's hugely influential and was named by Observer Food Monthly as one of the Top 50 Cookbooks of All Time. The book has stood the test of time and indeed many of those writers who praise her also admit that they have taken their inspiration from her wonderful writing. The book is organized according to the seasons.
New Zealand
Cosy: A Collection of Warming Winter Recipes from Food Writers New Zealand: Learn more about this beautiful e-book in Darcie's article.