2020 Gift Guide for the Baker
November 2, 2020 by Jenny
Several times a year, I put together a gift guide of great products and cookbooks that would make a special gift for the baker or cook in your life. My cookbook lovers/guide for the cook is coming soon. Today is all about the baker.
First, let's talk about baking all-star titles from 2020:
Baking at the 20th Century Cafe: Iconic European Desserts from Linzer Torte to Honey Cake by Michelle Polzine, one of San Francisco's best pastry chefs, pays homage to the foundational desserts of so many cultures while lightening and modernizing the recipes through her California lens. This is the European dessert bible every baker needs.
A Good Bake: The Art and Science of Making Perfect Pastries, Cakes, Cookies, Pies, and Breads at Home: A Cookbook by Melissa Weller shares her take on chocolate babka and sticky buns and brings these classics back to life with a vengeance, kicking off nationwide trends. 120 meticulously honed, carefully detailed recipes are shared for producing impossibly delicious baked goods.
Dessert Person: Recipes and Guidance for Baking with Confidence by Claire Saffitz offers wisdom, problem-solving strategies, and more than 100 carefully tested, creative, and inspiring recipes, as well as practical, do's and don'ts, skill level, prep and bake time, and foundational know-how.
The Good Book of Southern Baking: A Revival of Biscuits, Cakes, and Cornbread by Kelly Fields and Kate Heddings is a comprehensive, contemporary collection of more than 100 beloved Southern baking recipes from the James Beard Award-winning Kelly Fields of the New Orleans bakery Willa Jean.
Pie for Everyone: Recipes and Stories from Petee's Pie, New York's Best Pie Shop by Petra Paredez shares recipes from the author's famed Petee's Pie Company. Beautiful photographs, detailed instructions, and spectacular recipes such as Pistachio cloud pie, Chestnut rum chess pie, and Chile Verde pork pie, make this a pie baker's dream. For more pie inspiration, see my article Were you a pie baker when pie baking wasn't cool?
100 Cookies: The Baking Book for Every Kitchen, with Classic Cookies, Novel Treats, Brownies, Bars, and More by Sarah Kieffer, the writer of The Vanilla Bean Blog and author of The Vanilla Bean Baking Book, brings the cookie baker recipes from the classics to brownies and bars to next level creations. From the traditional chocolate chip cookie to Lavender cookies with white chocolate crème fraîche glaze to her #hashtag famous pan-banging cookies, there is something for every level baker. 100 Cookies is the book you need for this season's cookie marathons and everyday cookie enjoyment. 100 Cookies is a Fall baking option at Hardcover Cook.
The Book on Pie: Everything You Need to Know to Bake Perfect Pies by Erin Jeanne McDowell starts with the basics, including techniques, conversions, make-ahead, and styling tricks, before diving into 100 of her unique and intriguing recipes. This is a stunning book filled with photographs and all the expertise that Erin has stored in her brilliant baker's mind. Erin wants us to embrace pie as Kate McDermott does with intensity and without fear.
The Pie Room: 80 Achievable and Show-stopping Pies and Sides for Pie Lovers Everywhere by Calum Franklin will take you inside London's Pie Room. Calum guides you through the techniques and tools for perfecting your pastry. This title is impressive with loads of process photos and a wide variety of sweet and savory pies.
Pie Camp: The Skills You Need to Make Any Pie You Want by Kate McDermott, the queen of all things pie and author of the James Beard-nominated Art of the Pie, is back to make your pie game stronger. The step-by-step photographs will have you rolling in the dough in no time at all. Pie Camp is the baking Winter subscription box at Hardcover Cook.
Baking with Licker: Home Baking with Asian Accents by Jason Licker is another self-published title that warrants and deserves your attention. Don't let the cover throw you, this is serious baking from a world-class pastry chef. (See more information can be found in our promotion).
101 Greatest Cookies on the Planet by Erin Mylroie is loaded with recipes from a play on the famous Levain cookie, Utah style pink frosted cookie, Lemon meatballs, and French toast cookies with maple glaze. This is an ideal book to add to your cookie baking arsenal.
Even Better Brownies: 50 Standout Bar Recipes for Every Occasion by Mike Johnson will have you tossing the boxed brownie out the window and experiencing Mike's seriously to-die-for recipes. If you follow Mike's Instagram you will see that I know what I am talking about! Trust me this is a baking book that will turn up your brownie game.
Mastering Bread: The Art and Practice of Handmade Sourdough, Yeast Bread, and Pastry by Marc Vetri is exactly what you imagine from the Italian chef. From all the basics of bread to pastry and food to eat with bread – Marc covers it all. This guy knows his stuff and his books are stellar.
Holy Sweet!: 60 Indulgent Recipes for Bigger, Better Desserts by Peabody Johanson is an innovative, maddeningly creative collection of recipes from this talented baker/blogger. As I stated recently, it is a party of deliciousness and fun between two covers. This book belongs on this list because Peabody truly is an evil genius and here you will find recipes, unlike any others.
The British Baking Book: The History of British Baking, Savory and Sweet by Regula Ysewijn was published in the UK under the title Oats in the North, Wheat from the South: The History of British Baking, Savoury and Sweet and is an amazing volume of recipes that any baker would find inspiring. Learn more in our promotion post.
Petite Patisserie by Christophe Felder and Camille Lesecq focuses upon the delightful small pastries that are one of the highlights of the art of French baking. I need to find another word for stunning but no other word does this book justice. I want to tackle everything here and the authors make me feel like I can do so.
Baking Day with Anna Olson: Recipes to Bake Together encourages you to spend time with your loved ones, baking along with her easy-to-follow, delicious recipes for all your favorite treats. This is a cookbook to bring family and friends together, and to bond over quality time spent baking. With over 120 recipes for all skill levels, there is a baking project here for everyone.
Jenna Rae Cakes and Sweet Treats: Over 100 Recipes for the Modern Baker by Jenna Hutchinson and Ashley Kosowan: Here the bakery owners and twin sisters set out their tried and true recipes, flavours, and show-stopping designs that put them on the map. Inside you will find recipes for over 100 of the most vibrant and decadent cookie sandwiches, cupcakes, party squares, cakes, macarons, cream puffs, and more.
The Pastry School: Master Sweet and Savoury Pies, Tarts and Pastries at Home by Julie Jones (author of Soulful Baker) will unleash your inner pastry chef. Just as stunning as her first title, this book provides all the know-how to make pastry right every time and includes both sweet and savory, gluten-free, and vegan pastry as well as hot water, puff, choux, suet, and leavened options.
Everyone Can Bake: Simple Recipes to Master & Mix by Dominique Ansel shares his "go-to" recipes in this his second cookbook. Recipes for components of recipes include Caramelized puffed rice, Apple compote, Lemon curd as well as many other bases. He also shares detailed instructions on roulades, charlottes, and more.
Monday Morning Cooking Club: Now for Something Sweet by Monday Morning Cooking Club is gorgeous. Viennese Isjla biscuits, Apple and jam oil cake, and Russian honey cake are a small sampling of the many recipes you will find here along with beautiful illustrations and stunning photography. The ladies of the Monday Morning Cooking Club never disappoint!
Beatrix Bakes by Natalie Paull is a dreamy book filled with delightful bakes. Pillowy peach and polenta pie, Cocoa meringue roulade with mascarpone and toffeed figs, and Honeyed peanut beesting buns are sure to excite bakers everywhere.
Fruit Cake: Recipes for the Curious Baker by Jason Schreiber combines aesthetic flair and flavor in 75 whimsical recipes that celebrate fruit and cake in all their festive and delicious glory. Fruit Cake is a tasty epicurean tour through dozens of cakes and other pastries that use a variety of fruits, combining them with diverse fillings, as well as liquor, nuts, and more. Interwoven with the recipes are stories, anecdotes, and asides that are just as charming and intriguing as the lush, full-color photos that accompany them.
Melissa Forti's Christmas Baking Book is a dreamy title filled with glorious bakes and imagery that will awaken the baker that lives in all of us. Don't go to the bakery and buy a special dessert, embrace Melissa's book, and whip up some of her stellar desserts. With recipes that include wonderful narratives such as Christmas Pavlova and the stories surrounding it or Tronchetto Di Natale Al Tiramisù, this would make the perfect holiday gift for any baker.
Baked to Order: 60 Sweet and Savory Recipes with Variations for Every Craving by Ruth Tam: The author is the blogger behind Cook Til Delicious and an editor at the feedfeed. This book is her debut title and is filled with sweet and savory recipes with Ruth's special twists. Not your grandmother's banana bread is filled with ingredients that make it more healthful without taking away the yum factor, the Cranberry and pistachio crisps are what we all need on our holiday appetizer boards this season and her Lime cheesecake éclairs would look at home behind a Paris pastry shop window.
Boulangerie at Home: Bread, Brioche, and Other Baked Delicacies by Rodolphe Landemaine: A French pastry chef provides the tools and instruction needed to master the art of classic French bread and dough-based baked goods with this stunning cookbook featuring 100 recipes, infographics, 500 handy step-by-step photos, and an illustrated glossary. The author begins with the building blocks covering each ingredient, detailing each step of the process, and then begins the recipes. The recipes are broken down further with "understanding" and then "learning".
Fantastic Filled Cupcakes: Kick Your Baking Up a Notch with Incredible Flavor Combinations by Camila Hurst: Filling your cupcakes is the best way to take your treats to a whole new level, and every filling in this cookbook is perfectly paired with each cupcake (and frosting!) to bring you astonishingly delicious flavor.
Baking Happiness: Delicious, Colorful Desserts to Brighten Every Day by Rosie Madaschi: The recipes here make baking stylized, professional-quality desserts approachable and enjoyable for the novice baker Baking experts can take their desserts to the next level with impressive decorating techniques. Step-by-step tutorials on layering cakes, piping buttercream, and decorating with ganache, make it easy to create an over-the-top result that's sure to wow kids and adults alike.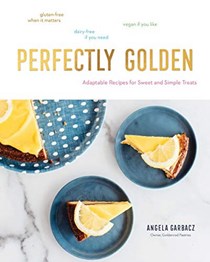 For bakers who follow a vegan/gluten-free/dairy-free lifestyle: Perfectly Golden: Adaptable Recipes for Sweet and Simple Treats by Angela Garbacz is a gorgeous cookbook that I purchased myself and I am not vegan or gluten-free. It is absolutely beautiful. There are four negative reviews out of 136 on Amazon and I'm attempting to determine if there is an errata sheet for these issues.
For other dietary lifestyles:
---
For other baking title ideas, please see my baking roundup and pie post.
---
For some of my favorite baking products that I have reviewed or purchased myself:
Challenger Breadware has perfected the craft of baking bread at home with their bread pan. Read more about this product in our promotion post.
Is it time to replace your bakeware? This set of USA Pans includes a large cookie sheet, a half sheet pan, 12 cup muffin pan, 1 pound loaf pan, an 8 inch square cake pan, and a rectangular cake pan. Read more about USA Pans in our promotion post. I have purchased and replaced all my baking pans with USA Pans. They cannot be beaten for even baking.
I just ordered the Raisenne ® Dough Riser and received it last week. The Raisenne Dough Riser makes baking easier by taking the guesswork out of proofing yeast dough. Simply plug it in and place it under the bowl, pan, or other container holding your dough. Its precisely calibrated heating circuits create the ideal temperature for proofing in less time. I love how compact this product is and I can slide it right into a kitchen drawer. As I keep my house temperature a bit chilly, this gadget is perfect
---
With all the bread baking being done around the world, a beautiful Shun bread knife would make an incredible gift. We will have a promotion for this knife along with a copy of Mastering Bread.
---
Duralex products are made in France and that is always a plus to me – because it makes me feel fancy! Duralex ramekins are gorgeous for crème brûlée or pots de crème. Their mixing bowls are favorites of mine as well. They are stackable and the sizes are perfect for many kitchen jobs: dry ingredients in one, wet in another, whisk the eggs in another – enough bowls for each task. We will be having a promotion soon featuring these items.
I have purchased a number of Lekue molds for my baking projects – more than I care to admit – and recently Lekue sent me a set of the above molds for review and giveaway. The Duo loaf springform with ceramic base is wonderful for ice cream cakes and the like and the jelly roll kit makes roulades so much easier. We will have a promotion with Lekue products soon.
Emile Henry is the producer of stunning cook and bakeware. I have shared multiple posts on their products. Look for a promotion soon for an Emile Henry loaf pan and Holy Sweet!.
The Ultimate Pastry Board from JK Adams is perfect for rolling out pie and tart doughs with diameters engraved with the 5 common sizes for pies, rulers on both horizontal and vertical size for pastry measurements, made of American maple with a walnut cleat, on one side, to brace against the edge of the counter, a rolling pin rest has been notched out in the corner to keep your pin in place and the reverse side is flat for everyday prep. I hope to pair this gorgeous board with our promotion for The Book on Pie.
Any baker would love a gift card from Hardcover Cook to use toward a baking subscription box or baking cookbooks. Monique is working on new bundles and specials so keep checking her site and sign up for her newsletters. The photo above shows a sample of a baking bundle that is available.
Of course, a gift certificate for Eat Your Books is always a thoughtful present for the baker to utilize their baking cookbooks. If you need help purchasing a gift certificate, see this help section or email info@eatyourbooks.com.
---
Lastly, a special thanks to our members who used our affiliate links while doing their shopping. The commissions earned help us to index more books, please remember to click here before shopping Amazon USA * Amazon Canada * Amazon UK anytime.