Chasing Flavor – Cookbook Giveaway
February 3, 2021 by Jenny
Enter our US/CA giveaway to win one of three copies of Chasing Flavor: Techniques and Recipes to Cook Fearlessly by Dan Kluger.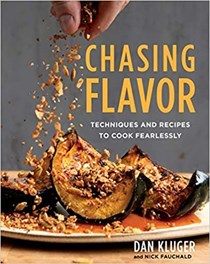 Dan Kluger has had an impressive career in his forty something years. He honed his craft working for greats such as Floyd Cardoz, Jean-Georges Vongerichten and Tom Colicchio. In 2014 he was nominated for a James Beard Award for Best Chef New York City. Since 2016, he has been working his magic at Loring Place, his own restaurant in Greenwich Village and is presently opening a second eatery Penny Bridge in Long Island City. Kluger is known for seasonal cuisine focused heavily on what is available at the greenmarkets.
In his debut cookbook Chasing Flavor, Kluger begins with the usual pantry and kitchen tool essentials but surprisingly follows this with pages devoted to techniques with many step-by-step images covering: knife cuts, cutting citrus segments/peels, slicing sashimi and crudo, curing fish, blending cheese into dressings and vinaigrettes, blanching vegetables, making crispy shallots, shaping pizza dough and making cavatelli. I am most impressed with these valuable lessons.
He follows the section on techniques with an index of "building blocks of flavor" that sets out these flavor-packed ingredients with the page number of their locations. For example, Pickled red onions 55 or Sesame clusters 134. This is brilliance between two covers: extremely well written and photographed with inspiring recipes that are exciting and fresh.
I love my job but the only drawback is the blocks of the year when books arrive all at once. I had a quick glance at this title and was impressed back in October. Now I have spent some time with Chasing Flavor and I am quite enamored. Without reservation, you need this book. It is definitely a keeper.
Special thanks to the publisher for providing three copies of this title in our promotion. Entry options include answering the following question in the comments section of this blog post.
Which recipe in the index would you like to try first?
Please note that you must be logged into the Rafflecopter contest before posting or your entry won't be counted. For more information on this process, please see our step-by-step help post and this forum post. Once you log in and enter your member name you will be directed to the next entry option – the blog comment. After that, there are additional options that you can complete for more entries. Be sure to check your spam filters to receive our email notifications. Prizes can take up to 6 weeks to arrive from the publishers. If you are not already a Member, you can join at no cost. The contest ends at midnight on May 3rd, 2021.
a Rafflecopter giveaway