June 2018 Eat Your Books Cookbook Club Summary and August – October Annoucements
June 22, 2018 by Jenny
Last month we topped 5,000 members in the Eat Your Books Cookbook Club, come join us. I find myself cooking more recipes from my books than normally because the photos are so inspiring. One of the many great benefits of EYB is our recipe notes (as you will see below in our first entry regarding the Rhubarb cake in the Sweet section. Due to notes from other cooks/bakers, mistakes can be avoided and success is almost guaranteed.
This month we've been working through: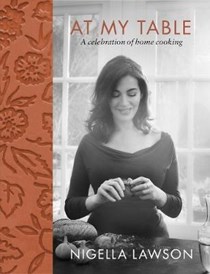 Main selection: At My Table by Nigella Lawson
Alternative selection:
Bring It!: Tried and True Recipes for Potlucks and Casual Entertaining
by Ali Rosen (added for our summer entertaining!)
Flashback option: Any recipe from
Jacques Pépin
's books
Online option: Any recipe from
Nigella
or
Jacques
online
Baking: Any recipe from
Rose Levy Beranbaum
books
And, desserts are still being churned out in
our second group
working through Ottolenghi's
Sweet
.
The photos below are just a few of the beautiful shots our members have been sharing; visit each group for more inspiration. Do not forget to also upload your photos and add your notes to your bookshelf at Eat Your Books. Instructions on uploading your photos and links to other helpful articles can be found here.
Our July selections are re-shared at the end of this post and all club posts are tagged #EYBCookbookClub if you are looking for a particular post. And we have polled our members for their input for future selections.
You will note for the next three months, we are offering additional options so that even more members can participate. From August through October, our vegan option will be Vegan 100: Over 100 Incredible Recipes from Avant-Garde Vegan (see our giveaway and review here) or any online vegan recipe. Now, here are the results of the voting:
August
Main selection: Vegetarian Viet Nam
(look for another special promotion that will include a Swiss Diamond wok with this book) or Shaya (you can find my review of these books here and here. I have been adding my reviews to our library record where you will find other reviews as well).
Alternative Title: Appetites or Les Halles by Anthony Bourdain
Online: Any Annabel Langbein recipe (I love Annabel's recipes – her Essential volumes are amazing
and
– see reviews Vol 1 and Vol 2.
Baking: The Artful Baker (see my review)
Vintage for Summer: The Victory Garden or any Barbara Kafka cookbook
September
Main selections: How to Eat a Peach or Secrets of the Southern Table
Alternative: Anything from Alton Brown's books or Onions Etc. (this book is spectacular, see my review)
Online: Any Alton Brown recipe or Diana Henry recipe
Baking: Bake for Syria
October
Main Selection: A Table in Venice
or Just Cook It!
Alternative: Anything from Craig Claiborne's books
Online option: Anything from Food52 or Serious Eats
Baking: Food52 Genius Desserts
******
A few announcements before we share some highlights from this month's options:

Please make sure you have entered all our giveaways. We have loads of cookbooks and cookware up for grabs.
Every week new
and
books are being added. Find out more here.
Every Sunday, I compile a post of Kindle cookbook deals so be sure to check those out for bargains!
Please note, Eat Your Books has been sharing your photos on our Instagram feed. If you would like to be tagged in your lovely photos, update your bio here at EYB to include your social media handles. You can edit your bio on your Profile page, accessed from the menu under your username at top right. When we choose photos, we can then check your bio for your Instagram handle. Other members have expressed an interest in following the members that make such beautiful food! Also, if you would like your EYB username shown when we post your photos in this monthly roundup, please add your username to your Facebook posts.
Lisa's gorgeous Cherry tomato tart which she made twice from Bring It! Lisa raves about the crust!
Alicia's Catalan toast and Chilli mint lamb cutlets with a preserved lemon and mint sauce from At My Table
There are many other wonderful photos in the group.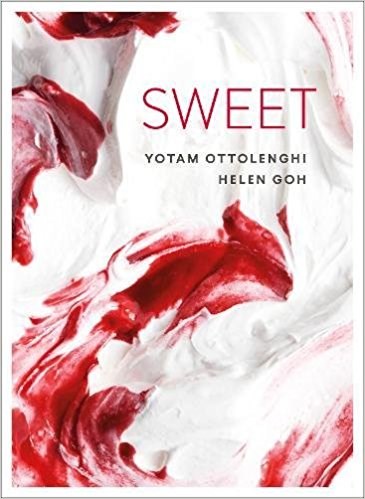 Eat Your Books Sweet Cookbook Club
Sweet – Ottolenghi
Sharifah posted her thoughts on Eat Your Books when she shared the
Rhubarb and strawberry crumble cake
: "This is where EYB absolutely excels in its purpose – I read Jane's, Astrid's and Trisha's comments first before I made this. I reduced the sugar by 20g in the crumble and cake mixes, I pulled it out at 40 mins and covered it with foil, and I checked every 10 mins. – total cooking time 60 mins. Absolutely deelicious….and perfection, me thinks."
Ching Y's Chocolate and peanut butter s'mores are perfection
Again, here is a reminder for next month!
JULY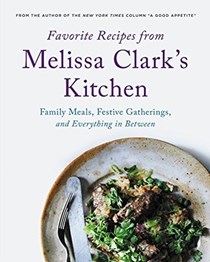 Main selection: Favorite Recipes from Melissa Clark's Kitchen
Alternative selection: Homegrown by Matt Jennings
Flashback option: Any recipe from Claudia Roden's books (or online)

Online option: Any recipe from Melissa Clark online

Baking: The Art of the Pie by Kate McDermott