Carpathia – Cookbook Giveaway
June 28, 2020 by Jenny
Enter our US giveaway to win one of two copies of Carpathia: Food from the Heart of Romania by Irina Georgescu with one additional copy being offered worldwide by Eat Your Books.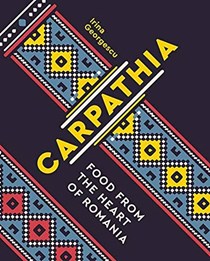 There are cookbooks that weave their magic so beautifully around our hearts that we are forever changed. Through words, imagery, and food these writers/cooks immerse us so effortlessly into their culture that we are there – in a cottage in a small village many miles away from our ordinary life. Carpathia is such a book.
Have I ever longed to visit Romania? Honestly, no. While I do suffer from wanderlust – I want to be anywhere except where I am with European countries particularly calling to me. That area of the world, replete with deeply rooted traditions and generations of cooks who keep those traditions alive, appeals to my love of history and the desire to belong to something bigger than myself. Now, thanks to Irina Georgescu, Romania is on my list of places to experience.
Carpathia is comfort. Hearty dishes such as Oven-baked pearl barley pilaf with chicken and mushroom are offered to warm our souls when temperatures drop or a decadent Pumpkin creme caramel with walnuts and raisins to celebrate an ordinary day well-lived.
I am writing these words watching the night sky outside my office window and debating if I should run out right now and buy apricots to make the gorgeous cake below or can I wait until daylight? Right now I'm torn. If I pull myself away from this dream of a book will I lose that feeling of having traveled somewhere special or can I regain it tomorrow when I whip up the cake (along with my son's favorite chocolate cake for his 16th birthday)?
No matter my decision on an apricot gathering shopping trip by moonlight or sunrise trip, I am happy that I can pull this gorgeous book out any time and get lost. There is a saying that all who wander are not lost but I am proof that you can wander far without leaving your kitchen.
Special thanks to Interlink Books for providing two recipes for our members to try now and for offering copies of Carpathia in our giveaway below.
---
Cheesy polenta with sour cream and runny fried egg- a full Romanian breakfast (Mamaliga cu branza si smantana) (Serves 4)
Add this recipe to your Bookshelf (click the blue +Bookshelf button).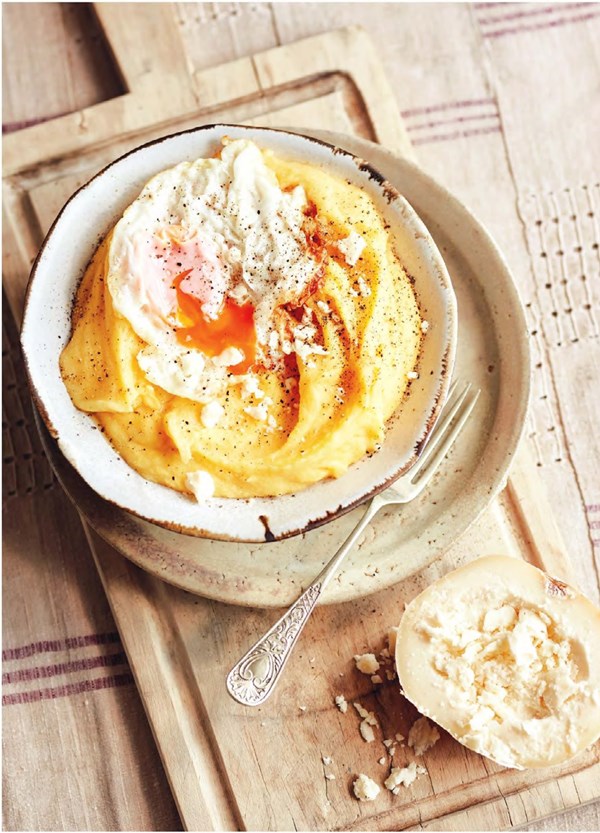 This Mamaliga is a satisfying, comforting breakfast. Easy and cheap to make, it offers a sunny start to the day whatever the weather. There is a certain type of cheese that goes with this dish called branza de burduf, a spicy, crumbly cheese that is often matured in pine bark cases, not easy to get a hold of outside of Romania. An alternative would be a spicy blue cheese such as Gorgonzola, however, a good mature Cheddar will also do the trick.
1 ¼ cups (300 ml) milk
⅔ cup (150 ml) water
1 cup (5 oz /150 g) coarse polenta
4 tablespoons (2 oz/60 g) butter
1 ½ cups (6 oz / 175 g) crumbled blue cheese or grated cheddar, plus extra to serve
¼ cup (60 ml) sour cream
4 fried eggs
Salt and freshly ground black pepper
Bring the milk and water to a boil in a pan over low heat. Turn the heat to medium and stir in the polenta. Keep stirring for about 10 minutes, adding more hot water if necessary, until the mixture reaches the consistency of thick porridge and slowly falls off the spoon. Add the butter and cheese and mix well until melted and silky. Season with salt and pepper and divide between pasta bowls. Top each portion with a dollop of sour cream and a fried egg. Sprinkle with more cheese and black pepper to serve.
---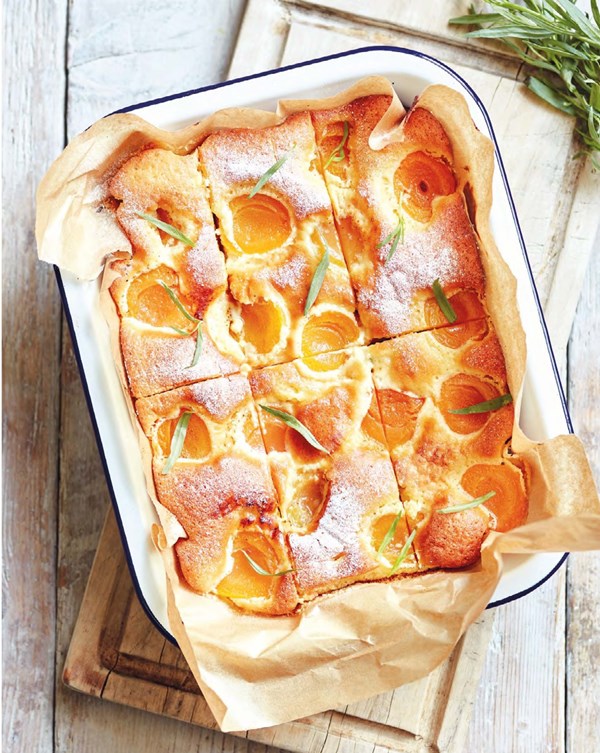 Apricot yogurt cake (Prajitura cu caise)
Add this recipe to your Bookshelf (click the blue +Bookshelf button). (Serves 6)
Romanians love to bake with fruit, and we are blessed with plenty of it. This cake is very easy to make and can be made with apricots, cherries, peaches, blueberries, or pears to create a multitude of versions and colors. The slightly sticky yogurt cake is the perfect accompaniment to the delicate flavor of the apricots. It's just the thing you need on a summer evening, with a scoop of ice cream or a little sprinkle of fresh tarragon – the anise flavor of the tarragon contrasting so well with the sweetness of the apricots.
3 eggs, separated
¾ cup (5 oz/ 150 g) sugar
¼ cup (60 ml) olive oil or rapeseed oil, plus extra for greasing
¼ cup (2 oz/60 g) plain yogurt
1 teaspoon vanilla extract
Salt
1 ¼ cups (5 oz/150 g) all-purpose flour
1 teaspoon baking powder
4-5 fresh apricots, halved
Confectioners' sugar for dusting

Preheat the oven to 350F (180C). Grease and line a deep 11 by 9 inch (30 by 23 cm) baking pan. Whisk the egg whites until they form soft peaks and set aside. Beat the egg yolks with the sugar then add the oil, yogurt, vanilla extract, and a pinch of salt, stirring well to emulsify. Add the flour and baking powder then gently fold in the egg whites.
Pour the cake batter into the pan, then arrange the apricot halves on top, cut-side up. Bake for 30 minutes or until the cake is firm to the touch. Leave to cool in the pan, then dust with confectioners' sugar and cut into long rectangular slices to serve.
Special thanks to Interlink Publishing for offering two copies of this title in our giveaway open to US members. EYB is sponsoring one additional copy worldwide. Entry options include answering the following question in the comments section of this blog post.
Which recipe in the index would you try first?
Please note that you must be logged into the Rafflecopter contest before posting or your entry won't be counted. For more information on this process, please see our step-by-step help post and this forum post. Once you log in and enter your member name you will be directed to the next entry option – the blog comment. After that, there are additional options that you can complete for more entries. Be sure to check your spam filters to receive our email notifications. Prizes can take up to 6 weeks to arrive from the publishers. If you are not already a Member, you can join at no cost. The contest ends at midnight on January 18th, 2021.
a Rafflecopter giveaway