The last two weeks: Keeping produce fresh longer, Bryant Terry's new publishing imprint, recipes, cookbook previews and giveaways
May 7, 2021 by Jenny
About a month ago, I ordered a set of Stasher silicone reusable bags (as well as a few extra mid-sized bags). I had watched a few videos where cooks were using them and I wanted to try them myself. I received them and put them into the "I'll get to" pile – that pile is ridiculously high.
As you may have read last week, Deborah, our Data Manager has retired. Over the last few weeks, I've taken over certain of her duties and have been extra busy (plus that April cookbook review was massive). So with my busier than usual schedule, I've been making quick meals and neglecting most of the produce I had received last Tuesday in my Imperfect Foods box. On Wednesday morning, I took a half hour and decided to put my Stasher bags to work.
I placed a bunch of parsley in a small bag, a bundle of green onions which I had cut in half in another, and Romaine lettuce in another. I had a bunch of broccoli crowns and had separated the stalks and stored them in another bag. Today, I went into the fridge because I was certain I was going to find all the produce deteriorating after being stored for a week but I promise you everything looks as fresh as it did when I stored it away last week.
Yes, these bags are expensive but they work and are reusable and I'm not filling up a landfill with one-time use plastic bags. Yes, I am guilty of being a plastic storage bag junkie. After seeing how well the Stasher product works, I've ordered three larger sized bags for freezing and sous vide purposes. I paid for these bags myself and I'm sharing how wonderful they work for me because produce season is upon us. We all want to make use of those items we purchase or grow and instead of washing, drying, wrapping in a paper towel and placing into a bag – I've been putting my produce into a Stasher bag and then when I'm ready to use it – I'll wash and dry and cook! What are your tricks for keeping produce fresh?
Other articles on preserving produce:
The last two weeks on the blog
Since our last roundup, Darcie has written these articles:
Darcie's weekly food news antipasto is shared every Sunday and the tag #foodnews brings up these information-packed posts from the most current to the first one. Darcie can be followed on Instagram at darcie_bakes.
Jane shared the following "what's new at EYB" articles:
Roberta Muir shares a weekly news post from Australia and New Zealand. Roberta's articles are tagged AUNZnews which link/tag will bring up all her posts in date order. Roberta can be followed on Instagram at robertamuir.
Since our last roundup, I have posted the following:
And as always I continue to update our Kindle deals post so check the blog for new sales – the ICYMI post explains the Kindle post in detail. Our 2021 cookbook preview post is growing every week. My Instagram is thecookbookjunkies.
Thanks to our members who used our affiliate links while doing their shopping. The commissions earned help us to index more books, please remember to click here before shopping Amazon USA * Amazon Canada * Amazon UK anytime.
Jenny and the EYB Team
---
Recently Indexed Titles
---
Member Photos from the Last Two Weeks
Kale & mushroom pot pie from Simply Julia: 110 Easy Recipes for Healthy Comfort Food by Julia Turshen submitted by member mllamas – Monique is the founder of The Hardcover Cook
---
Pavlova roulade from Zoë Bakes Cakes: Everything You Need to Know to Make Your Favorite Layers, Bundts, Loaves, and More by Zoë François submitted by member Astrid5555
Have you uploaded any of your own photos yet? Learn more! Please remember to update your profile with your Instagram name if you would like to be tagged in any photos that we share!
---
Featured Online Recipes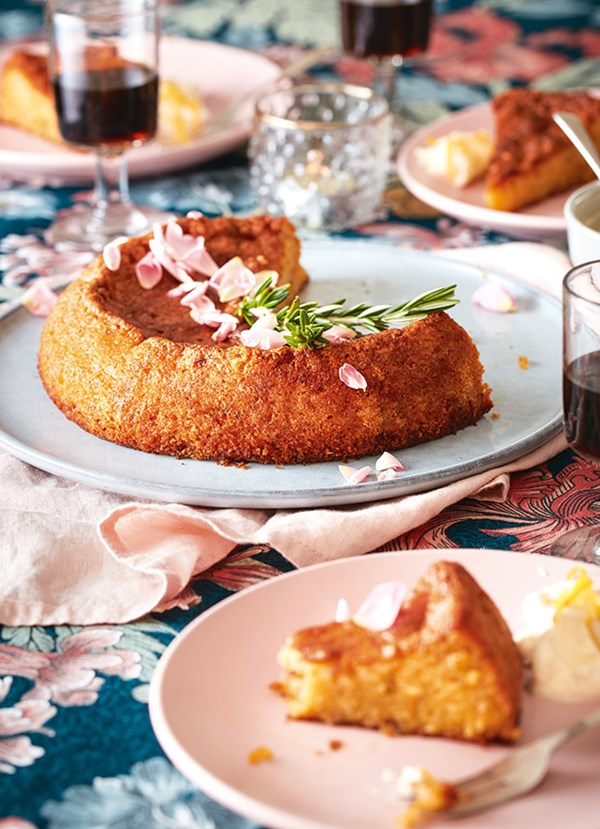 Homely rosemary & lemon cake from This NZ Life by Ruth Pretty
---
Everything bagel crusted scallion buns (Hua juan / 花卷) from Okonomi Kitchen
---
EYBDigital Previews
Recently we uploaded our 1,001st EYBDigital Preview where a selection of full sample pages is available for the following cookbooks.
Learn more about EYBDigital Previews.
Note: To learn why you cannot add all EYBDigital Preview recipes to your Bookshelf, please read this Help page.
---
Cookbook Giveaways
Click on the Bold Blue Link Below to Enter
*Publishers thank us for our continued patience while awaiting the arrival of prizes as warehouses are not operating at full capacity yet. The cookbook giveaway roundup shares all current giveaways.