Advent by Anja Dunk Cookbook Giveaway
November 9, 2021 by Jenny
Enter our US/UK/AU/NZ giveaway to win one of three copies of Advent: Festive German Bakes to Celebrate the Coming of Christmas by Anja Dunk.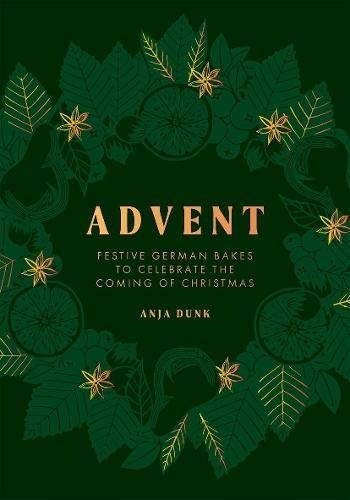 Anja's cookbooks are special – Strudel, Noodles and Dumplings is a must own for anyone who loves German food. If you take Anja and add baking and the holidays, you have a very happy Jenny. This book is filled with all the baking joy of the season and sprinkled with German traditions such as narrative on the Christmas markets and the history behind certain baked items. Biscuits, cakes, stollens, breads, rolls and more are overflowing from this gorgeous book that feels like being wrapped up in all things holiday!
Our
takes you inside this beautiful book and features the following
My holiday baking list this year will include the Marzipan snowflake cake (Schneeflocken marzipankuchen), Cinnamon stars (Zimtsterne) and the Hazelnut and lemon hearts (Haselnuß-zitronenherzen). Advent will make my best books of 2021 for it's beauty, recipes, stories and the warm feelings that develop while paging through it.
Special thanks to the publisher for providing three copies of this title in our promotion. Entry options include answering the following question in the comments section of this blog post.
Which recipe in the index would you like to try first?
Please note that you must be logged into the Rafflecopter contest before posting or your entry won't be counted. For more information on this process, please see our step-by-step help post. Once you log in and enter your member name you will be directed to the next entry option – the blog comment. After that, there are additional options that you can complete for more entries. Be sure to check your spam filters to receive our email notifications. Prizes can take up to 6 weeks to arrive from the publishers. If you are not already a Member, you can join at no cost. The contest ends at midnight on February 19th, 2022.* Extended due to delays of books arriving at warehouse.
a Rafflecopter giveaway